P.K. Subban maintains his dynamic personality and style of play in move from Montreal Canadiens to Nashville Predators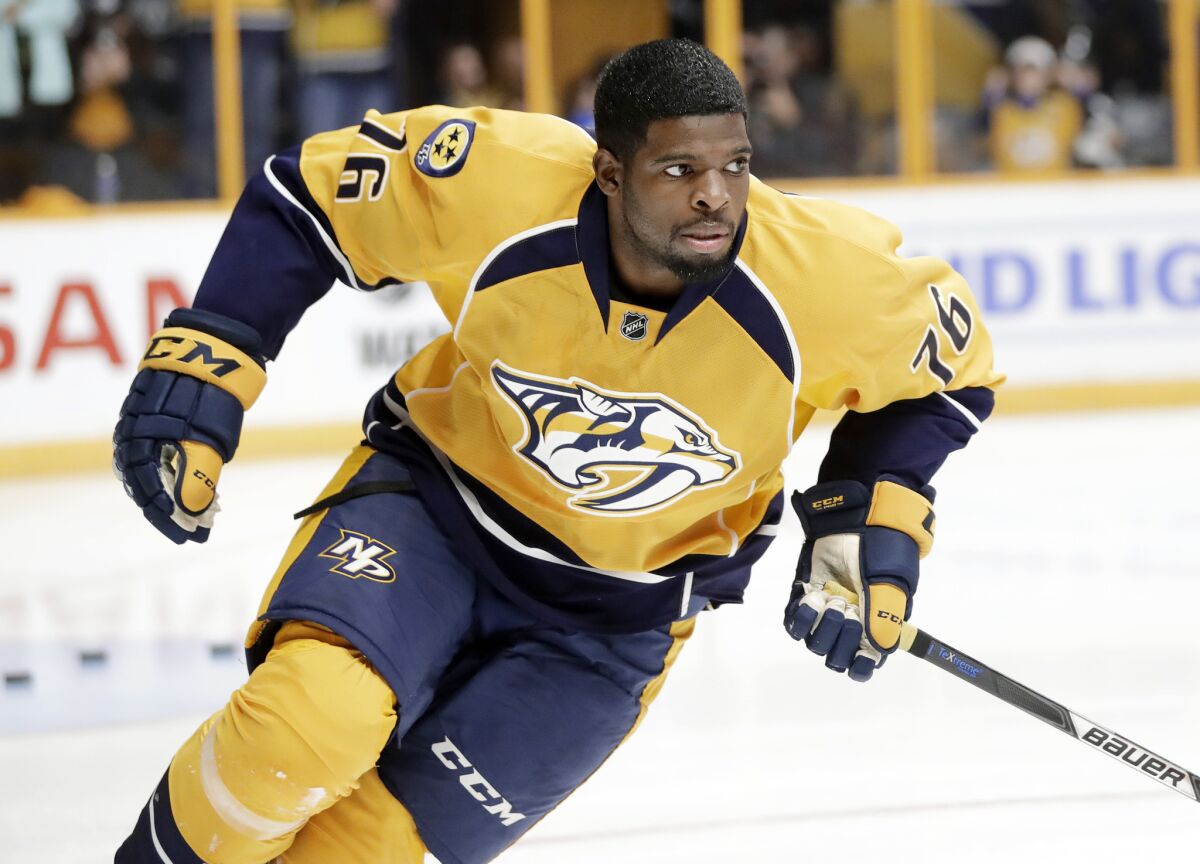 Whatever Nashville Predators defenseman P.K. Subban does he plunges into it wholeheartedly, on the ice or off. Last Sunday, that meant stealing the show in the role of the Tennessee Titans' honorary 12th man.
Subban, acquired by the Predators from the Montreal Canadiens in June for defensive stalwart Shea Weber, cemented his bonds with his new city by displaying unbounded passion at the NFL Titans' game against Indianapolis.
He energetically shook the pompoms he had borrowed from cheerleaders, planted the sword of honor at midfield with gusto, and ripped off his Titans jersey before whipping it over his head, sending the crowd into a frenzy.
Anyone who knows Subban wasn't surprised. Anyone who didn't know much about him got a glimpse of the big, outgoing personality that makes him wonderfully unique in the NHL, whose culture sadly discourages individuality.
"That was a lot of fun. I'd never been to a football game like that on the field before, so it was pretty exciting," Subban said in a phone interview Tuesday before the Predators traveled to Southern California to play the Ducks on Wednesday and the Kings on Thursday. "It was a good experience for me, but it would have been nicer if they'd gotten the win."
Subban's personality made him a fan favorite in Montreal, where he pledged $10 million to Montreal Children's Hospital and last Christmas wore a giant, snowflake-patterned onesie when he surprised kids there with a bounty of gifts. But the Canadiens' management didn't take a kind view of his openness and enjoyment of the spotlight, even though he won the Norris Trophy as the NHL's best defenseman in 2013.
Coach Michel Therrien banned the triple-low-five celebration Subban and goaltender Carey Price used to share after victories and often criticized Subban's misplays. And Subban did make mistakes, though the considerable benefits of his skating and excellent puck-carrying skills outweigh the risks of his offensive forays.
Still, the trade that sent Subban to Nashville for Weber was a shocker. Subban, 27, is four years younger than Weber. They're both outstanding but in different fashions, with the more-physical Weber using his booming shot to great effect on the power play and the mobile Subban carrying the puck more.
For the Predators, who have long been considered a nice little team but have been unable to get past the second round of the playoffs, Subban brings a new, dynamic dimension that could lead to a long-awaited breakthrough. However, they've started slowly, at 2-3-0, and Subban has two goals and five points in five games with a minus-four defensive rating. Weber has two goals and seven points in the Canadiens' 5-0-1 start, but the season is long and so is the window for Subban to have a major impact in pushing the Predators to new heights.
"I think I can definitely be a part of it. I've never won a Stanley Cup before," said Subban, a Toronto native whose parents immigrated to Canada from the Caribbean.
"Really, we're still just trying to figure out the steps it takes to get there and to be a Cup contender, but I enjoy that process. I don't really listen if people want to peg us as Stanley Cup favorites, or whatever. It doesn't really matter. We just have to go out and work hard and execute. It doesn't really matter if you're the first-seeded team or the eighth-seeded team, as long as you get to the playoffs, that's all that matters."
Most important, Predators General Manager David Poile has kept his promise that he wouldn't try to change Subban's playing style or subdue Subban's enthusiasm.
"I think they take every player for what they have and they are, and they're not trying to manipulate that or change that, regardless of their status on the team," Subban said. "I think sometimes, depending on where you are, if you're seen as a leader or captain, you're not supposed to be outgoing, but for me, obviously, that's the complete opposite. I'm a little different that way. But I think they do a really good job just embracing guys for the personalities that they have and not try and change them, and it's great."
Subban hasn't yet gotten as involved in local charities as he was in Montreal but he has partnered with the Predators on a photo booth at Bridgestone Arena, with the proceeds to be split between his foundation and the team's foundation. And, like most visitors to Nashville, he has been to the legendary honky-tonk Tootsie's, making an strong impression by belting out Johnny Cash's "Folsom Prison Blues" onstage his first time there.
Clearly, the man isn't shy. Good for him, and good for fans in Nashville and everywhere else.
"It's been great. It's been very positive," he said of his reception. "I couldn't really ask any more."
---
Get the latest on L.A.'s teams in the daily Sports Report newsletter.
You may occasionally receive promotional content from the Los Angeles Times.