Column: Nashville Predators have benefited from change in leadership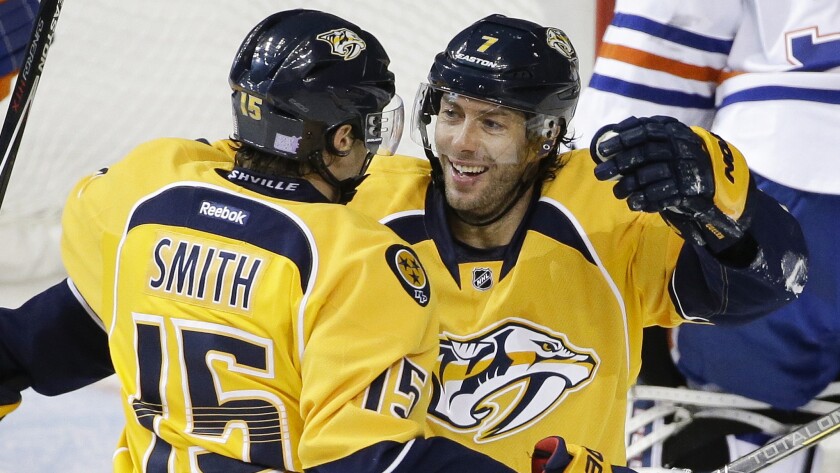 From NASHVILLE, Tenn. —
With Barry Trotz as their coach, the Nashville Predators were always pesky, competitive, and solid defensively. He had stood behind their bench from their birth as an expansion team in 1998, a constant presence while the NHL's coaching carousel careened around him.
But in time his defense-first approach became an endpoint, not a beginning. When the Predators missed the playoffs last spring for the second straight season and General Manager David Poile decided not to renew Trotz's contract, Poile went to the opposite end of the spectrum for a new coach and turned to Peter Laviolette's offense-first philosophy.
"If you're going to make a change you want to do something different. I think there's a little bit different style of play," Poile said. "Our players were certainly on their heels when Peter came in to see what kind of difference he was going to make and I think everybody has been very open-minded to it. It's been good so far."
So it has. The Predators — who will play the Kings on Tuesday at Bridgestone Arena — have been battling St. Louis and Chicago for the Central division lead. They've won three of their last four games and seven of their last 10. They're averaging 2.85 goals per game, up from 2.63 for all of last season.
The Predators have also had an uptick at the box office with an attendance average of 16,817, 98.3% of capacity. That's up from 98% last season.
"Sponsors are up, season tickets are up, attendance is up. Everything is tracking really well for a team that hasn't made the playoffs the last two years," said Poile, whose team will host the 2016 NHL All-Star game. "If we can do our job on the hockey side, get a competitive team, I think it's not going to be that far off before we're almost in a sold-out situation. That's how confident I am in the franchise and the city."
Credit goes to Poile, who churned the mix up front, and to Laviolette, who coached the Carolina Hurricanes to the Stanley Cup in 2006 and led the Philadelphia Flyers to the Cup Final in 2010. But the most positive change for the Predators is that goaltender Pekka Rinne is healthy after being hampered by hip problems for two seasons, and he's a difference-maker.
"The last two years have been very difficult because of his hip issues and missing 51 games last year. That's huge for him to come back and play," Poile said. "Our defense, which we felt good about last year, is a year older and led by arguably one of the best defensemen in the league in Shea Weber. He's really, really good and I think we'll have a terrific defense as long as we can keep them together. They're all young players and I think they're all getting better. And our forwards, with all due respect, just weren't good enough last year."
They're better now, led by top rookie scorer Filip Forsberg (nine goals, 22 points, plus-20), left wing James Neal (nine goals, 14 points) and center Mike Ribeiro (five goals, 17 points).
"In a nutshell, we're finding ways to win, versus the last couple of years, where we just couldn't find that way and we'd lose that game. We'd always lose one-goal games instead of winning them," Poile said. "I'm happy with where we are but I still think it's a team that's a work in progress."
Poile also said he's adapting to having lost the vision in his right eye in a freak accident last February. He was struck by a puck as he stood near the bench, a place he rarely ventures. Three surgeries didn't restore his sight.
Amazingly, he's able to joke about it. "I'm driving, and I always kid that going from the left lane to the right is sometimes an adventure," he said. "But everything is good. As far as being able to do my job, nothing has changed. I was very unlucky, but it happened."
A Hull of an idea
Hall of Famers Ed Belfour, Brett Hull and Joe Nieuwendyk were in Dallas last Saturday to honor recent inductee Mike Modano, and all agreed that Guy Carbonneau should be with them in the Hall.
A three-time winner of the Selke trophy as the NHL's best defensive forward, Carbonneau didn't have flashy numbers. But he won the Stanley Cup twice with Montreal and once with Dallas and was immeasurably valuable.
"I think at some point they've got to take a look at a Guy Carbonneau and look at his body of work without the numbers and look at what he did as a defensive centerman and a leader and a Stanley Cup winner and numerous Selke awards," Hull said. "At some point, they've got to start putting some players like Guy Carbonneau into the Hall of Fame. So what, they don't have 500 goals. But without them, you don't win championships."
Hall of Fame selection committee, are you listening?
Slap shots
A lower-body injury sidelined St. Louis Blues defenseman Jay Bouwmeester on Sunday and ended his consecutive-games-played streak at 737, which was the longest active streak in professional sports. The longest active streak now belongs to Ducks forward Andrew Cogliano, at 562.... The Penguins probably will look for a top-six winger after being told Pascal Dupuis will need up to six months to recover from a blood clot in his lung. His versatility and leadership will be tough to replace.... Longtime Kings broadcaster Bob Miller is featured in an 80-minute documentary film, "Voice of the King," which will open Dec. 5 at Regal Cinema at L.A. Live. It's scheduled to run through Dec. 11.
---
Get the latest on L.A.'s teams in the daily Sports Report newsletter.
You may occasionally receive promotional content from the Los Angeles Times.