Ducks' Cam Fowler skates for first time since his knee injury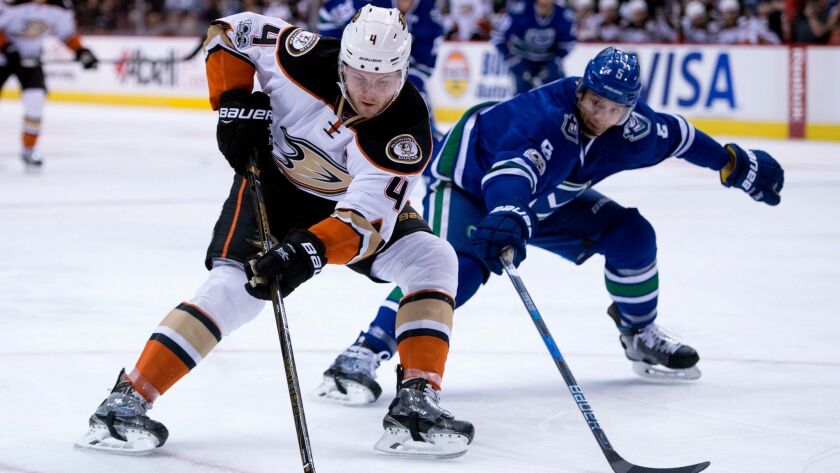 Reporting from Calgary, Canada —
Ducks defenseman Cam Fowler skated Monday for the first time since April 4, when he took a knee-on-knee hit from Calgary defenseman Mark Giordano and was knocked out of the lineup.
Fowler, the Ducks' regular-season minutes leader and the linchpin of their defense, declined to comment when asked if he thought the hit was deliberate and said he's progressing well in a recovery that was projected to take two to six weeks. However, he said it has been "painful" to watch the Ducks facing the Flames without him in the teams' first-round playoff series.
Asked if his goal is to return during this series, in which the Ducks hold a 2-0 lead entering Game 3 on Monday night at the Scotiabank Saddledome, Fowler hedged in his reply.
"My goal is to return as quick as possible without putting the team or myself in jeopardy," he said. "So whenever that is, but yeah, as soon as I can I'll be back out there."
Fowler wouldn't say if he thought the damaging open-ice hit was delivered on purpose. Giordano wasn't penalized but he was challenged to fight later in that game by Ducks defenseman Josh Manson.
"It's something that's in the past that honestly I don't want to get into too much. I don't want to be a distraction to the team," Fowler said. "It's something that happened. It was dealt with at the time. It's all in the past now. We have a big series. The guys have a big one tonight so I'm focused on the team and any way I can contribute."
But Fowler acknowledged he was frightened at the time of the impact, a fear that was heightened by his history of knee problems. He stopped wearing a knee brace this season but will wear one when he returns, though he said wearing one likely would not have lessened the damage done by the knee-on-knee contact.
"That's the scariest time, when you don't know exactly what it is. You just know that something is wrong," he said. "When things settle down after you're able to take a deep breath but initially it was scary, yes.
"Any injury that you suffer as a player is tough. Unfortunately I've had some incidents lower-body-wise. These collisions happen. It's part of the game. It's fast. So I was a little discouraged, to be honest with you. I had a lot of confidence. I was having a lot of fun playing. To kind of suffer a setback like that was tough for me initially. Once we got the diagnosis, it could have been a lot worse. I'm happy with where I'm at, how I'm progressing. My main focus is just to try and get back and contribute to the team any way I can."
In his absence, the Ducks have capitalized on their depth on defense and have used Korbinian Holzer and Brandon Montour to replace Fowler and to replace Sami Vatanen, who missed Game 2 because of an upper-body injury. Coach Randy Carlyle said Vatanen looked good in Monday's morning skate and might play if the training staff and Vatanen believe he can return.
Fowler also said he would wait to see how his knee reacts to Monday's venture on the ice before planning the next step of his recovery. His initial feeling was positive.
"It was a good first day," he said. "Obviously the first time on the ice so you're going to test the waters a little bit, but about as good as it could be for the first day so I'm happy about that."
---
Get the latest on L.A.'s teams in the daily Sports Report newsletter.
You may occasionally receive promotional content from the Los Angeles Times.