Flames hoping to ride crowd's energy to Game 3 victory over the Ducks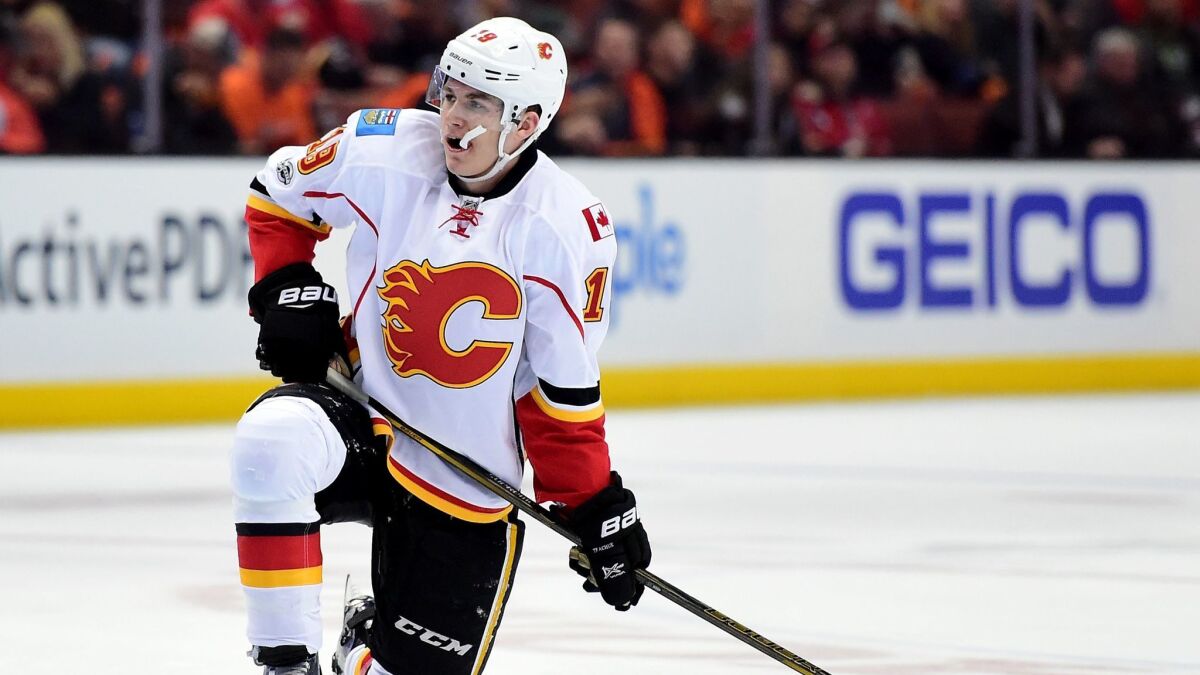 Reporting from Calgary, Canada —
Greetings from Calgary, where taxis are flying Flames flags and people downtown are wearing Flames jerseys in honor of Game 3 of the first-round Stanley Cup playoff series between the Flames and the Ducks. The Ducks won the first two games at Anaheim, and fans at the Scotiabank Saddledome will be providing a background of red jerseys and raucous cheers to give their team inspiration Monday night. Game 4 will be played here on Wednesday.
Flames rookie Matthew Tkachuk will be playing his first home playoff game, and he said after the team's morning skate that he's very much looking forward to the atmosphere in the arena Monday night.
"Definitely excited. There's some nerves going through your head, just because you've heard so many great things about this building," said the 19-year-old son of former NHL standout Keith Tkachuk. "I wouldn't say nerves — just so anxious to finally play."
He said he's finding the balance between being ready but not so ramped up that he's out of control. "You have to have your mind on straight but you also have to be emotional in these games," he said. "We're down, 2-0, right now. We need this win tonight. So you have to put everything you have in this win tonight."
Flames forward Kris Versteeg, a member of the Chicago Blackhawks' 2010 and 2015 Stanley Cup championship teams, said he had no fears about his young teammate's ability to perform under pressure in the postseason.
"There's nothing much to say. He's a kid, you watch him out there, he's pretty much a driven player," Versteeg said. "He's one of the most polished professionals I think I've seen as a teenager in my entire career. It's really spectacular to see him like that. There's not really much to say. I'm sure his old man has said enough to him."
Flames Coach Glen Gulutzan said he's hoping the crowd can be a factor and give his players "that little extra juice." He added that he also hopes his team will have a better start than it did in the two games at Anaheim. The Ducks scored 52 seconds into Game 1 and scored at 3:21 and 6:44 of the opening period in Game 2 and went on to win each game by a 3-2 count.
"Our starts have put us down and it's hard to claw back like that in the playoffs," Gulutzan said. "I think we've got better starts in us. Maintaining a level would probably be the best way to put it."
Gulutzan also praised Ducks goaltender John Gibson but said his own players haven't made Gibson's job hard enough. Gibson has stopped 61 of 65 shots, with two of Calgary's goals resulting during power plays.
"I think he's played well. He's made some real good saves. We can certainly get more traffic in front of the net and I thought he got to see a lot of clean shots," Gulutzan said. "I think we can do a better job getting to the front, to the blue paint."
---
Get the latest on L.A.'s teams in the daily Sports Report newsletter.
You may occasionally receive promotional content from the Los Angeles Times.