Ducks hoping to embrace and erase playoff deficit against Sharks
Reporting from San Jose —
Will Southern California's two hockey teams manage to win a Stanley Cup playoff game this spring?
The Ducks, who lost the first two games of their first-round series to the San Jose Sharks at home, will get the next chance to earn a win for Southern California when they face the Sharks on Monday night at SAP Center. The Kings, who lost the first three games of their series against the Vegas Golden Knights, will try to avoid elimination Tuesday at Staples Center.
The Ducks have been down two games after opening a series at home in three of their previous four playoff ventures. In 2017 they lost the first two games of their second-round series against Edmonton at home but rallied to win the series in seven games. They erased an 0-2 deficit against Nashville at home in the first round in 2016 but lost that series in seven games; they also erased an 0-2 deficit against the Kings in the second round in 2014 and took a 3-2 series lead before the Kings won in seven.
So they're familiar with being in straits, if that's any help now.
"You can't get scared of the fact even that we're down two games. You've got to be sure that you take it the right way," right wing Jakob Silfverberg said after the Ducks' morning skate. "It's a position that we don't like to be in, but at the same time you can't look at it and go, 'Whoa, whoa, what's going on?' You've got to make sure you look at it the right way. It's a challenge, and a lot of guys have been in this position before, so you've just got to embrace it."
Defenseman Josh Manson said that's exactly how the team will approach Monday night's game. "I think everyone in this room knows all it takes is one game and momentum can shift in playoff series so easily. All it takes is one game and all of a sudden you're only one game back," he said. "We're confident in our group and we just know we've got to go out and play our best hockey. We just want to give ourselves the best chance."
To do that, they've got to stay out of the penalty box — the Sharks have had nine power plays to the Ducks' five — and they must be more productive. They've scored two goals in two games, both in their 3-2 loss in Game 2, and one of those was on the power play. Their difficulties can partly be explained by the continued absence of defenseman Cam Fowler, their power-play quarterback. He has an injured shoulder and isn't on the trip; Coach Randy Carlyle said Fowler is "a ways away" and hasn't begun skating with the team.
Losing Fowler hurts, but the Ducks have enough depth to have scored more than one even-strength goal in two games. Carlyle put winger Ondrej Kase up with Rickard Rakell and Ryan Getzlaf on the top line in Game 2 in an effort to create combinations that will be effective in the tough areas around the net where most goals are generated during the playoffs. So far, not so good.
"We've got to create more chances and score more goals. And tighten up defensively," defenseman Francois Beauchemin said. "I think we did get better in the second game by blocking more shots especially from the point, because that's where a lot of their offense comes from, with their [defensemen] shooting the puck and guys in front deflecting. So, better coverage in the D zone will create things for us offensively at the same time."
Carlyle tartly noted the discrepancy in the number of power plays so far. During the regular season the Ducks averaged the fifth-highest penalty minutes per game, at 9 minutes and 58 seconds, and fourth-most penalties (346). In the playoffs they're eighth in penalty minutes per game at an average of 11 minutes, and eighth in the number of penalties, at 11. The Sharks have averaged seven penalty minutes per game and seven penalties, ranking 15th in both categories.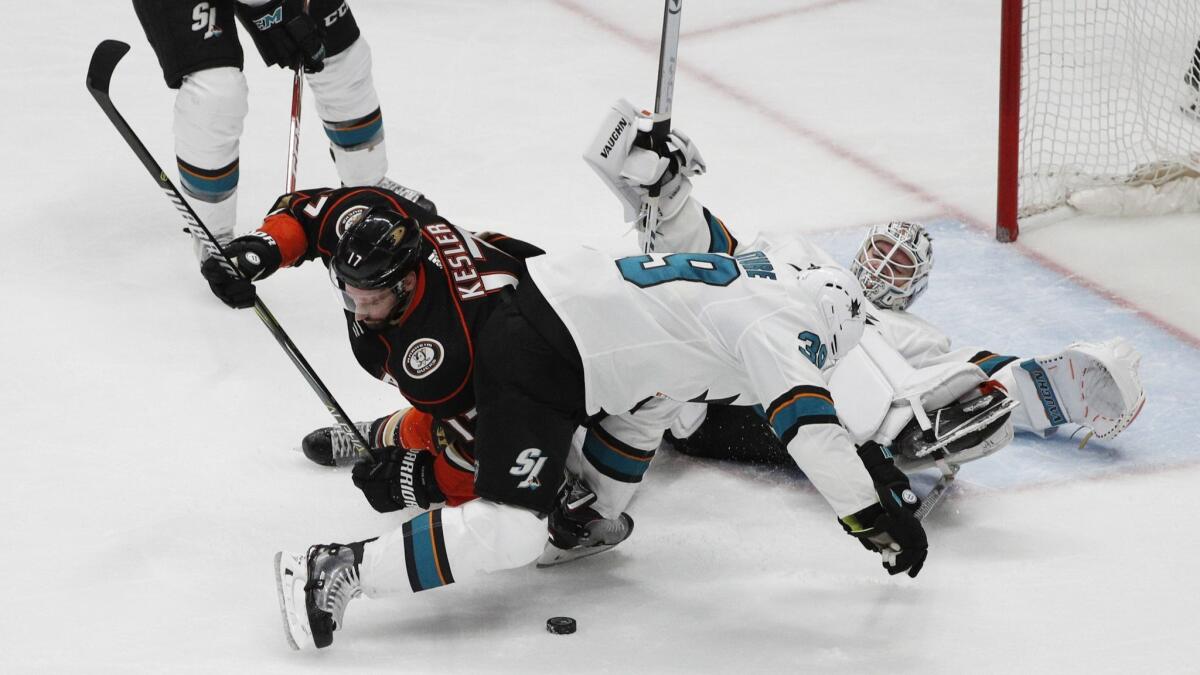 "We seem to be accustomed to this, that the opposition, it doesn't matter who we play, seems to enjoy more power plays than we do, almost to a double rate," he said. "And there are some things that we can do better, but the other side of it is that when you get your power play opportunity it has to provide you with some level of confidence that you can go back out there and gain momentum from it or score a goal. They got a five-on-three goal and one power play goal. We got a five-on-four goal.
"I have no qualms about penalties that are called against our hockey club. We're not about that. What we're about is if the same infractions are happening against us then we deem that they should be called, that's all. That's how I view the officiating. They've got a tough job. A lot of things going on out there. And that's the way I've looked at it all along. We're not going to stand here and say we're unfairly criticized. All I look for is if the same thing is happening on the other side, I expect the call to be made."
Get the latest on L.A.'s teams in the daily Sports Report newsletter.
You may occasionally receive promotional content from the Los Angeles Times.