Great Read: Blind fan inspired USC's football team; now he could be a part of it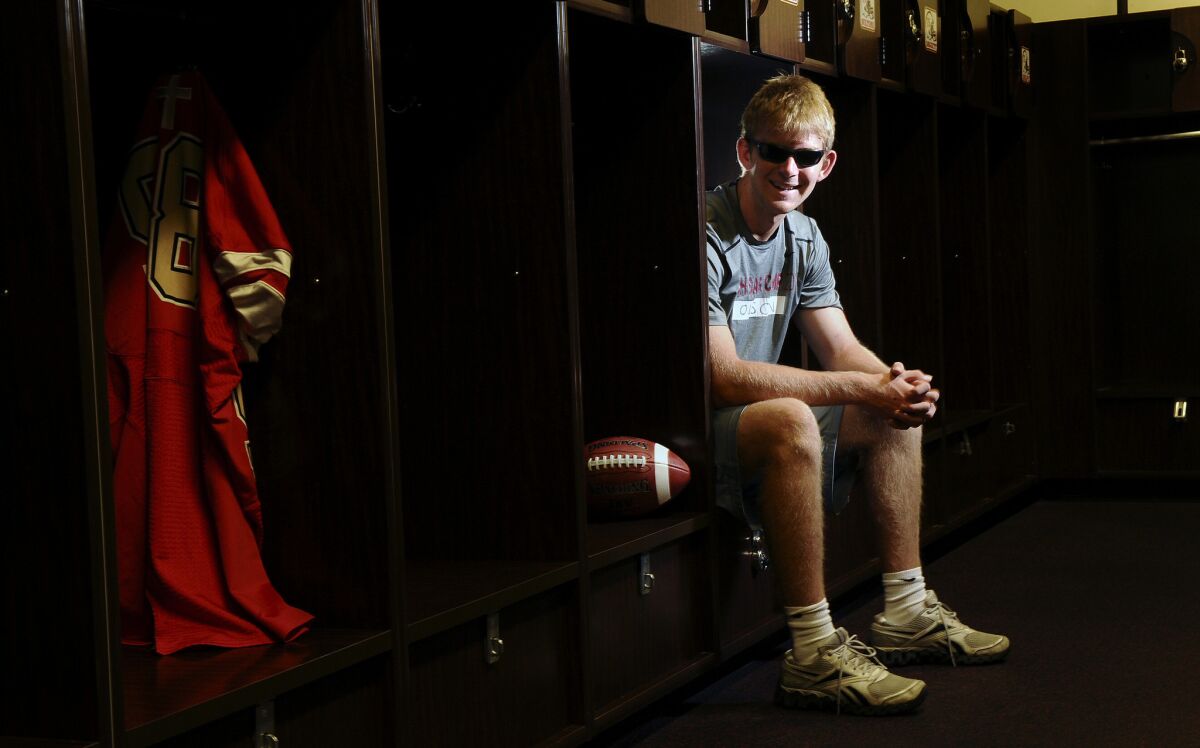 Jake Olson has walked through the Los Angeles Memorial Coliseum tunnel side-by-side with USC football players, soaked in the roar of the crowd and reveled as the marching band played "Fight On" after Trojans touchdowns.
Over the years, while on the field as a guest of the program, Olson crouched like a center and felt the stadium turf with his hands.
"Any time I was down there," he said, "I always tried to feel almost as if I was reaching for a ball."
Olson is blind, but sometime in the next four years it's possible he could trot onto the field and be guided by a USC teammate to the ball at the line of scrimmage.
The holder will line up Olson's hips then turn and take a knee seven yards behind him. He will yell a cue, and Olson, a long snapper, will hike the ball back in a tight spiral for an extra-point or field-goal attempt.
The timing and precision on such a play must be perfect, but if all goes well, the kick will split the uprights.
If that scenario seems improbable, well, you don't know Jake Olson.
::
Olson was born with retinoblastoma, a rare cancer of the retina. He lost his left eye at 10 months and endured numerous procedures designed to save the right eye. He was 12 when doctors determined it would need to be removed.
By then, he had become an avid USC football fan, and he wanted to watch the Trojans as much as possible before the surgery.
Pete Carroll, then coach of the Trojans, heard about Olson and invited him, his twin sister, Emma, and their parents, Cindy and Brian, to meet the team.
When Olson arrived at a 2009 USC team meeting, he said hello to quarterback Matt Barkley and other players, then prepared to observe from the back of the room.
Carroll introduced Olson, and the players loudly chanted his name. The coach motioned him forward. Center Kristofer O'Dowd, Olson's favorite player, escorted him to a seat next to his.
"We wanted to make him a part of it as much as possible," O'Dowd said.
Olson attended strategy meetings and enthusiastically encouraged players in the locker room and on the sideline at games. He chose to spend his last day with sight at a USC practice.
"There were nights of crying and stressful times when I couldn't get the thought of going blind out of my psyche," Olson said. "But every time I was up at SC or talking to one of the players or just being around, it was just pure fun.
"And, truthfully, pure peace."
Five days after surgery, with some guidance from his team, Olson played center in a flag football game for his middle school.
"I learned quickly that I need to use other senses and realized that by using these other senses that things were possible," he said. "It wasn't limiting, it was just a different way of doing it."
Carroll left USC to become coach of the NFL's Seattle Seahawks after the 2009 season but he remains connected to Olson and his family.
"He's always blown me away, how much confidence he has and how capable he is and what a factor he is with people he meets," Carroll said. "I just love the fact we had a chance to meet him and watch him grow up."
Olson visited Carroll several times in Seattle and at the last two Super Bowls.
"I think he sees me in the same way as one of his players," Olson said. "Like, 'He's got a challenge and I'm going to help him drive through it, and I'm going to be standing there just smiling at him the whole way when I see him prospering.'"
Olson also stays in contact by text message with players such as O'Dowd and Barkley. O'Dowd, who has attended USC games with the teen, said Olson inspired players with his courage.
"I was going through a difficult point with injuries," O'Dowd said, recalling 2009. "It made my bad days look amazing and really put things in perspective for me.
"We really healed each other that year."
::
Olson sat in the stands during football games in his first two years at Orange Lutheran High, but he longed to play a sport he loved.
When he broached the idea of becoming a long snapper, the only position that does not require a player to visually track the ball or the movements of opponents, his mother feared he might be rebuffed. Or injured.
"I wasn't sure that was a good idea," she said.
Olson sought out Orange Lutheran Coach Chuck Petersen near the end of 2012 and asked if he could join the team. Petersen told him to return after the team finished out that season.
"I didn't want to kill the kid's spirit, so I just said 'Oh, OK'… and thought I'll probably never hear about this again,'" Petersen said.
Olson showed up in the spring and again asked for an opportunity.
"I told Jake, 'You of all people don't want this to be a charity case; you're going to have to earn your spot,'" Petersen said.
Progress was initially slow — "You can't say, 'See how I'm throwing this ball?'" said Dean Vieselmeyer, an assistant coach — but Olson practiced relentlessly.
As Olson began mastering technique, the speed and accuracy of his snaps improved and he won the starting position.
Teammates would guide Olson onto the field and help him line up with the ball, but he otherwise performed as any other player.
"We didn't see him as a blind person," kicker Jerry Fitschen said. "We saw him as a football player."
Olson experienced a memorable moment last season against Servite High in Anaheim. Orange Lutheran trailed by a large margin but fought back to within three, 25-22.
With a few minutes left, Olson came on for the snap for a field-goal attempt. He lined up and experienced something for the first time: Amid the noise of a boisterous crowd, "everything kind of got quieter," he said, and recalled thinking, "Well this is pretty cool."
The snap, hold and kick were perfect, and Orange Lutheran tied the score.
::
Olson's is the kind of resume that would impress any college admissions official:
He has a 4.3 grade-point average. He played varsity football and golf, sang in the school choir, co-wrote two faith-based books about overcoming adversity and has been featured several times on national television. He is also an accomplished public speaker and, through his Out of Sight Faith foundation, raises money to put technology in the hands of the blind.
The 6-foot-4, 195-pound Olson has been admitted to USC, but not as one of the university's incoming 24-player football recruiting class. He is a recipient of a Swim With Mike scholarship, awarded annually from the Physically Challenged Athletes Scholarship fund.
Swim With Mike began in 1981 as a benefit for former USC swimmer Mike Nyeholt, who was paralyzed from the chest down in a motorcycle accident. It has since raised more than $16 million and has funded scholarships at 85 universities, said Ron Orr, a USC senior associate athletic director and former Trojans swimmer who founded the program.
An annual swim-a-thon at USC on April 11 generated more than $950,000, with six satellite fundraisers scheduled in the next four weeks.
Olson, 18, was introduced as a Swim With Mike scholarship winner in February during an event where video highlights of incoming football players were shown to Trojans fans. He would join the program as a walk-on.
Olson said he was "stoked" to be headed to USC, which also accepted his sister.
"It's a dream come true," he said.
::
Olson has a guide dog named Quebec but handles most everyday tasks without assistance. He zips his fingers across his iPhone and sends text messages using the device's VoiceOver screen reader, which translates speech to text.
Out on the golf course, Brian Olson serves as his son's caddie and eyes. They talk about club selection, the slope of the terrain and hazards such as sand bunkers, trees and lakes. At the tee, Jake sets his feet and Brian kneels, grasps the end of the club and squares the club head to the ball. Then he steps back and Jake rips a shot down the fairway.
Jake, who typically shoots in the 80s, said not having sight can be an advantage. "I'm not staring at a huge lake, thinking, 'Oh no, there's a huge lake?'" he said. "I'm just focused on the mechanics of the swing."
On greens, Jake walks the path between his ball and the hole, reading surface undulations with his feet.
"It's definitely created a bond," Brian said of the golf partnership. "I treasure that. It's become a gift that's drawn us closer together."
Marianne Brizendine, Olson's grandmother, helps shuttle Olson to football workouts and practices. She said she has never heard him complain.
"One time I said, 'Jake, how are you feeling?' And he says, 'You know Grandma, the only thing I'd really like someday, I'd really like to be able to open my eyes and see the greens when I'm playing golf.'
"That's it."
::
Steve Sarkisian, USC's football coach, wouldn't be surprised if a movie were made about Olson's journey.
Contributing to an extra point or field goal for the Trojans could be part of the story.
"Someday, he's going to snap in a game for us," Sarkisian said. "When? I don't know. But it will happen.
"When that day comes, it will be awesome."
Carroll would not be surprised. "I can't even fathom what an extraordinary thing that would be," he said.
Olson is not expecting special treatment.
"Just the opportunity," he said, "to prove myself like anyone else."
Twitter: @latimesklein
---
Get our high school sports newsletter
Prep Rally is devoted to the SoCal high school sports experience, bringing you scores, stories and a behind-the-scenes look at what makes prep sports so popular.
You may occasionally receive promotional content from the Los Angeles Times.