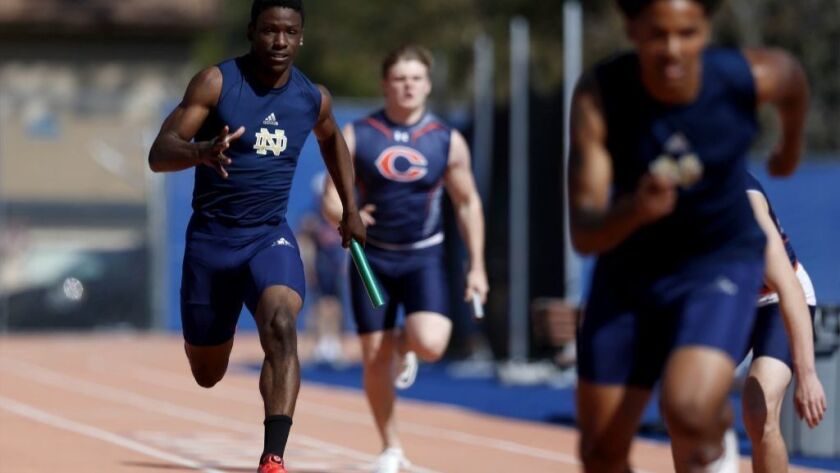 There are a few events that sports fans in Southern California must include on their bucket list to experience.
A USC-UCLA football game. The East L.A. Classic high school football matching Garfield vs. Roosevelt. A Dodgers-Giants game at Dodger Stadium. A Lakers-Celtics game at Staples Center. The Santa Anita Derby. The Arcadia Invitational.
Your lucky day is happening on Saturday. The Santa Anita Derby takes place in the afternoon at Santa Anita Park, and then you can walk to the Arcadia Invitational in the evening at Arcadia High. You won't see faster athletes anywhere.
Track and field used to be more popular than basketball. Thousands would fill the Coliseum for outdoor meets. Now people mostly pay attention to track athletes during Summer Olympics years.
That's why a visit to the Arcadia Invitational is like entering a time machine. Close your eyes. Listen to the roar of the crowd in the packed stands as the announcer promotes the latest national best effort. It takes you back to the days when adult high school fans were so pumped they were placing bets in the bleachers on whether Quincy Watts of Taft or Bryan Bridgewater of Washington Prep would win the 100 meters.
Sprinters, boys and girls, always create excitement at Arcadia. The competition is so intense and the environment so appealing that athletes can't help but do their best even though they're supposed to save a little for the section and state championships more than a month away.
A record 730 high schools from a record 31 states, plus Canada, Norway and Mexico, submitted entries to participate in the two days of competition, which include rated races on Friday.
Sign up for our daily sports newsletter »
The 100 meters has a rising boys star in senior Christian Grubb of Sherman Oaks Notre Dame. He signed to play football as well as run track at Arizona State and has been sprinting faster than former Notre Dame state champions Khalfani Muhammad, Justin Fargas and Rodney Glass. Grubb ran 10.41 seconds in the 100 meters last month.
Meet organizer Rich Gonzalez is going to make Grubb's task of emerging victorious a little difficult with top sprinters from Oregon and Maryland scheduled to compete. Grubb also has a state-leading time of 20.93 seconds in the 200.
In the girls' 100, defending state champion De'anna Nowling of Calabasas has a season-best time of 11.40 and also will be receiving a challenge from out-of-state foes.
The girls' national leader in the pole vault, Chloe Cunliffe, is coming from Washington. Solomon Strader from Valencia West Ranch is looking to lower his season-best time of 47.27 in the 400. Nico Young of Newbury Park is a rising talent in distance events. Caleb Lutalo Roberson of Upland and Brayden Borquez of Studio City Harvard-Westlake could push each other to a record in the 300 hurdles.
"It's all kids talk about, getting into the Arcadia Invitational," Notre Dame track coach Joe McNab said. "It's like a midseason state meet."
The invitational portion starts at 5:25 p.m. on Saturday. Admission is $20. Maybe you can parlay a winning wager in the Santa Anita Derby to pay for Arcadia. Good luck.
Twitter: @latsondheimer
---