San Fernando again hands Reseda big loss in 59-6 rout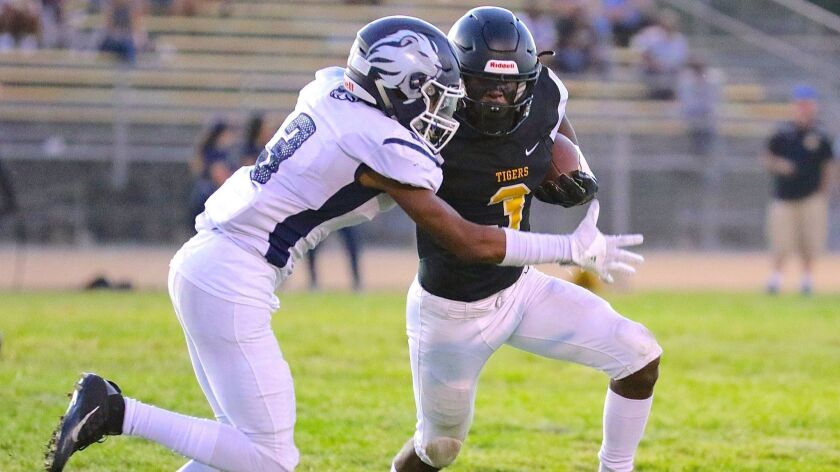 Last season, San Fernando just missed an opportunity to participate in the City Section's inaugural Open Division football playoffs.
This season, the Tigers intend to leave nothing to chance and cleared a major hurdle toward their goal of securing an Open berth — and their third consecutive league title — with a stunning 59-6 rout of previously undefeated Reseda in their Valley Mission League opener Friday night at San Fernando High.
Nehemiah Thompson, who left last week's game with dizziness after an 80-yard touchdown run in the first quarter against Sherman Oaks Notre Dame, scored on runs of 25 yards and five yards and tackled Regents receiver Derek Boyd in the end zone for a safety for the Tigers (3-2), who were seeded No. 1 in the Division I playoffs last fall and won their eighth City title by beating Dorsey 28-21 in the final.
Making up for the absence of last year's 1,700-yard rusher Trevor Gill, who left the program earlier this season along with his brother Trent (a safety), Kyle Bryant gained 100 yards in 11 carries, including a 20-yard touchdown late in the first half that gave San Fernando a 52-0 lead.
"This year, Division I isn't enough," Bryant said. "We want to go to the Open and earn some respect for the Valley. We weren't worried about their quarterback at all. We saw on film that they didn't match up with our defense."
Relying on receiver-turned-quarterback Dranel Rhodes, the Regents (5-1 overall, 1-1 in league) won their first five games by an average margin of 20 points, but the sophomore had to sit out Friday because of a targeting penalty on defense the previous week against Canoga Park.
Ezekiel Savage II made his quarterback debut for Reseda after sitting out the first five weeks under transfer eligibility rules. He was sacked five times and threw three interceptions, two to Chris Parker.
It was the 15th consecutive league win for San Fernando, whose last league setback was a 15-14 home loss to Canoga Park on Oct. 26, 2015.
It was also the third straight time San Fernando dealt the Regents their first loss of the season. In 2016, Reseda got off to a 5-0 start before losing at San Fernando 45-0. Last fall the Regents won their first five contests before a 51-26 home defeat to the Tigers.
San Fernando scored on every drive in the first half. Adrian Lopez threw a 16-yard touchdown pass to Robert Valdez and a 63-yarder to Andrew Hernandez, both in the second quarter.
A running clock was used in the second half.
---
Get the latest on L.A.'s teams in the daily Sports Report newsletter.
You may occasionally receive promotional content from the Los Angeles Times.