Father and son help power Garfield to its first City Section boys' basketball title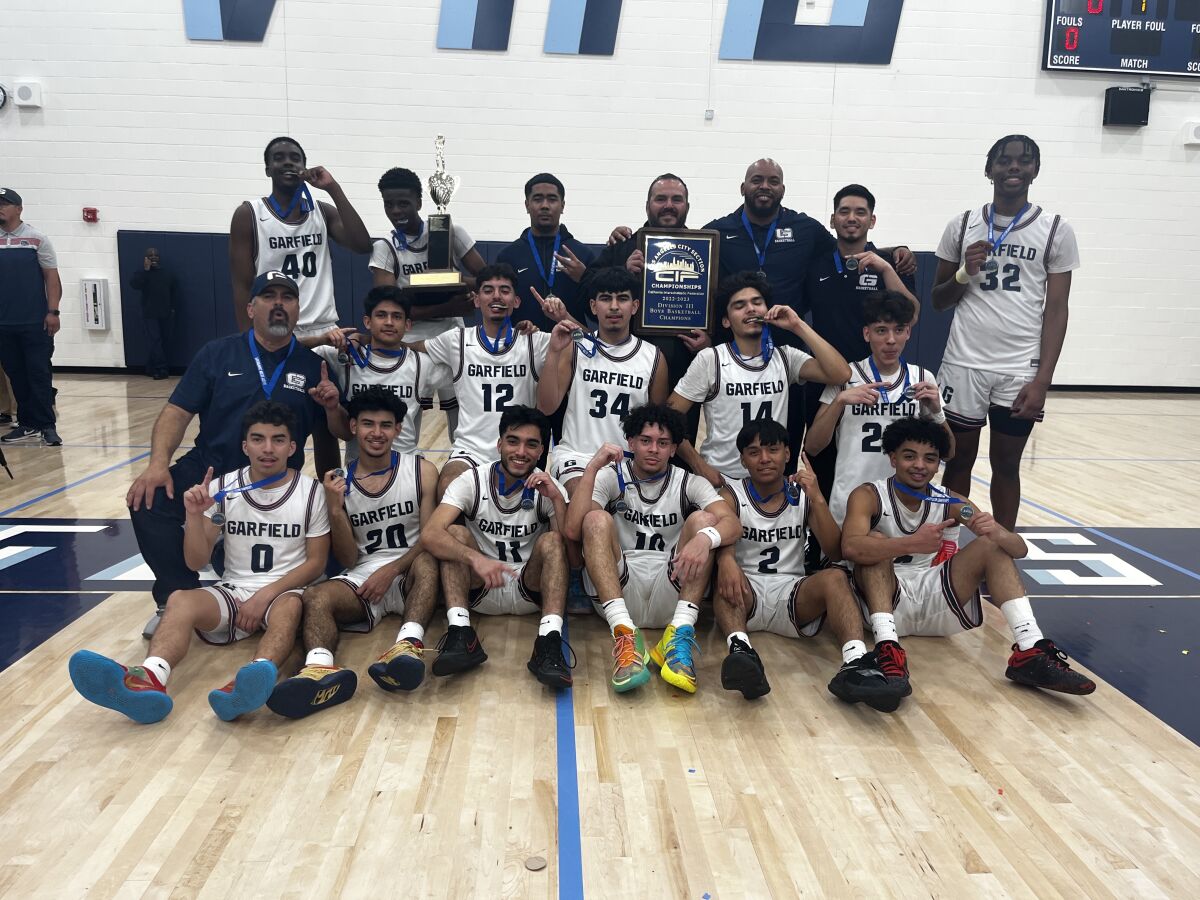 Eventually, Jamaal Barnes realized he simply couldn't lose his son.
The Garfield High coach didn't quite see it until this year. His son Jayden was also his point guard, and after two mostly fruitless years, his son had become his point guard. There was no dad in postgame car rides, only Coach, and his son would shut down more often, the reason not dawning on Barnes until his wife told him he had to be both.
"It took a toll on our relationship," Barnes said of he and Jayden, "because I thought I had to be a coach all the time."
Eventually, Jayden told him how he was feeling, and Barnes realized, he said, that basketball was just a game. Not life or death. Not worth straining their relationship. And the two have worked on their relationship, drawing a more clear boundary that propelled father and son into Friday night's Division III City championship game against Arleta.
"If we were to win it and be the first boys' Garfield basketball team to win it, to bring a championship home to the school, I think it'd be more special because I can say I was able to do it with my son," Barnes said.
And up by two points Friday with just seconds remaining and a stop needed, Jayden Barnes picked the pocket of Arleta's Abraham Soto and dove for the loose ball, slapping teammates' hands in sheer ecstasy after getting fouled. When his jumper went dry, it was two-sport star Jayden's relentlessness on defense and late-game free throws that earned Garfield a 47-42 win — and first-ever City title in program history.
In front of a crowd roaring the anthemic "East L-A!" at Venice High, Barnes raised the championship trophy to the rafters postgame amidst an explosion of confetti, his son flexing with a smile.
"This'll forever be a memory near and dear to my heart," Jamaal Barnes said of winning the title with Jayden.
In front of a roaring home section, they withstood a grueling first half — down 20-19, a veritable football score — and six-point deficit in the fourth quarter when Arleta had every shred of momentum. The Mustangs' Robert Gomez was dishing and grinding in the post,, and Arleta's offense had started torching the Bulldogs in the second half.
But Garfield, larger than the father and son, is a group of grinders from the Eastside that came all the way back from a 9-17 record last season. And after a putback from center Adam Nouri, a massive three-pointer from senior Giovanni Rosa swung momentum and gave the Bulldogs a one-point lead.
Rosa had been working at a juice shop throughout the season to help support a single-parent family, Barnes said. Last week, in the City semifinals, the coach had to adjust shoot-around around Rosa's shifts.
"Just seeing them put their big-boy pants on and take care of the things they need to take care of was everything for me," the coach said of the team's journey.
And son Jayden finished it off, fouled three times in the final minute and draining the clinching free throws. A standout wide receiver on Garfield's football team, he ran over in sheer elation and slapped football coach Lorenzo Hernandez's hand after a late whistle.
"He's a high-caliber DI kid," Hernandez said.
San Pedro wins girls' Division II City title
With the pressure suddenly turned up, on the wrong end of a 27-8 run, San Pedro junior Noelani Raigans took the inbounds pass and delivered one of the most audacious shots you'll ever see.
Down by five with less than a minute to play in a raucous City Section Division II title game against Chatsworth, reeling after a corner three by Madison Guerrero, Raigans knew her Pirates needed a three to stay alive.
She had no idea she'd try what came next. It was all happening so fast.
Pushing the ball up the court, in the blink of an eye, she set her feet a couple steps inside half-court and launched a three. Cash. And suddenly, a Chatsworth crowd that threatened reasonable decibel levels was quiet.
"I knew I could hit those," Raigans said postgame.
Even as Chatsworth threw the kitchen sink at San Pedro in a thrilling overtime affair, the Pirates pulled out a 52-51 win and a City title Friday night behind timely shotmaking from Raigans.
She finished with 17 points, her teammates hoisting her by the legs for postgame photos as she cradled the championship trophy, the San Pedro crowd serenading her with chants of "M-V-P!"
"We didn't want to get cocky, but we knew that it would be a good game," Raigans said. "So we're definitely going to party after this."
Girls' soccer
On a waterlogged turf from a pouring day of rain in Los Angeles, Newhall Hart won the Southern Section Division 2 title 1-0 over Harvard-Westlake.
South Gate, meanwhile, beat Canoga Park on penalty kicks to win its third City Division II title.
Get our high school sports newsletter
Prep Rally is devoted to the SoCal high school sports experience, bringing you scores, stories and a behind-the-scenes look at what makes prep sports so popular.
You may occasionally receive promotional content from the Los Angeles Times.