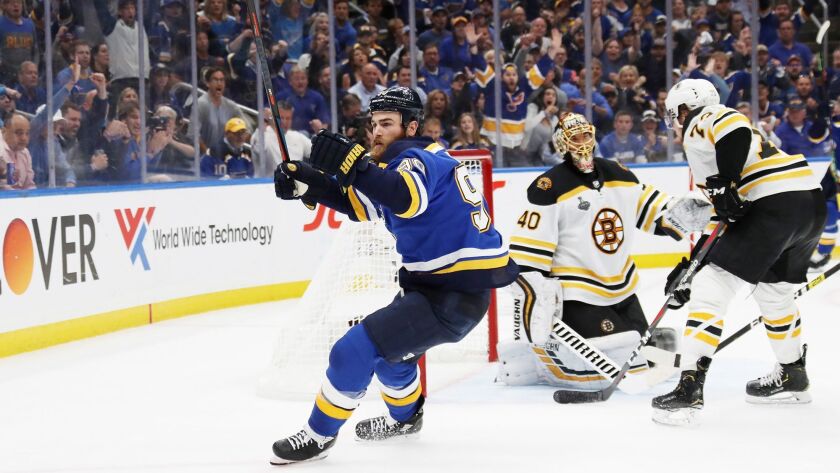 Reporting from boston —
Ryan O'Reilly doesn't need much more inspiration to play the biggest game of his life. Everything he's worked for in his career boils down to Game 7 of the Stanley Cup Final.
But he can draw a little extra from his 99-year-old grandmother.
Throughout the playoffs, Deidre O'Reilly has emailed the St. Louis Blues center encouragement from her home in Seaforth, Canada, a small town in the southern part of the Ontario province. The latest message arrived Monday.
"She's 99 and she's been a huge supporter of my brother [Cal] and I and a massive part of our family," O'Reilly said. "The goal is to hopefully bring one back to her, bring a Cup back. I'm sure she'd be very excited."
The way O'Reilly has played this postseason, he could bring back more than the Stanley Cup when the Blues play the Boston Bruins on Wednesday at TD Garden.
O'Reilly has made a case for the Conn Smythe Trophy for most outstanding player in the playoffs with his beastly two-way play. His 21 points, on six goals and 15 assists, are tied for the most in a single playoff in Blues history, last accomplished by Brett Hull in 1990.
But O'Reilly stamps his mark on all facets of the game, from faceoffs to penalty killing to shutting down the opponent. And he's done it so effectively that he's crowded the Blues' side of the MVP conversation that was initially thought to start with goalie Jordan Binnington.
"We need him to keep being great for one more game," St. Louis coach Craig Berube said of O'Reilly.
That would be the cherry on top because O'Reilly has been the one constant in the Blues lineup since he arrived from a trade from the Buffalo Sabres last July. He's provided St. Louis with a do-everything center, even when the Blues weren't doing much of anything in the first three months of the season.
"He's our most consistent player from start to finish," Brayden Schenn said. "Even when the team was playing terrible at the start, he was still [scoring a] point a game. He was leading us right from the beginning … he's unbelievable. The more you play with a guy, you learn how good he is."
It all started for O'Reilly back in Seaforth, where he played out Game 7 fantasies in games with his family and buddies. "We called it the O'Reilly Center," he said. O'Reilly envisioned himself as Pavel Bure or Wayne Gretzky.
Blues teammate Patrick Maroon would play in his basement, to the point where "there were some good fights between brothers that led up to going upstairs and crying," Maroon said.
"We broke a lot of stuff. Our basement was beautiful," he said. "And then we started putting holes in it, and that didn't go over too well. It wasn't good. A bunch of grinders in our family. No skill."
And on it went Tuesday as players recalled living out their Game 7 dreams as kids. Boston goalie Tuukka Rask grew up in Finland and "for me, it was always just me and my buddies playing outside and [if] you score, I'd just say, 'We start over.' "
Rask is the clear-cut choice on the Bruins' side for the Conn Smythe. He has been especially impenetrable in elimination games this spring, with a .973 save percentage in five such games. That breaks down to 145 saves on 149 shots.
Rask has won a Vezina Trophy as the best goalie in the regular season. If there were doubts about his legacy, they would be erased with a Cup ring as the No. 1 guy in net.
"I think when you win championships, it cements that," Boston coach Bruce Cassidy said. "That's part of your legacy. Certainly winning a championship at those key positions — quarterback, starting pitcher, goaltender — a lot of times is what defines you down the road."
Wednesday will define both franchises in some way.
Boston can win its first Cup at home in a Game 7. The Bruins carry a sense of unfinished business after they lost the 2013 Cup, which lingers just as much as their 2011 win.
"Winning and losing sticks with you forever," Brad Marchand said. "You don't forget everything that happens when you win, and you definitely don't forget what happens when you lose. Unfortunately, there's going to be both sides of that."
St. Louis contrasts that with the hunger for its first Cup after more than half a century of falling short. The Blues will either make history or fall excruciatingly close after they took a 3-2 series lead. There was so much excitement in the city that Busch Stadium in St. Louis reportedly will open its doors for a watch party because Enterprise Center is sold out.
O'Reilly is new to St. Louis and has gained an appreciation for the fervor. It goes without saying that he has to have an impact in making those Cup dreams happen.
"This has got to be the best game of my life," O'Reilly said. "I feel everyone in the room feels that as well, and that's what Game 7 of the Stanley Cup Final is. It's that. It's everyone bringing everything they have and our best will hopefully beat their best."
Sign up for our daily sports newsletter »
Twitter: @curtiszupke
---