Column: Blues coach Craig Berube questions penalty calls on his team in Stanley Cup Final's first three games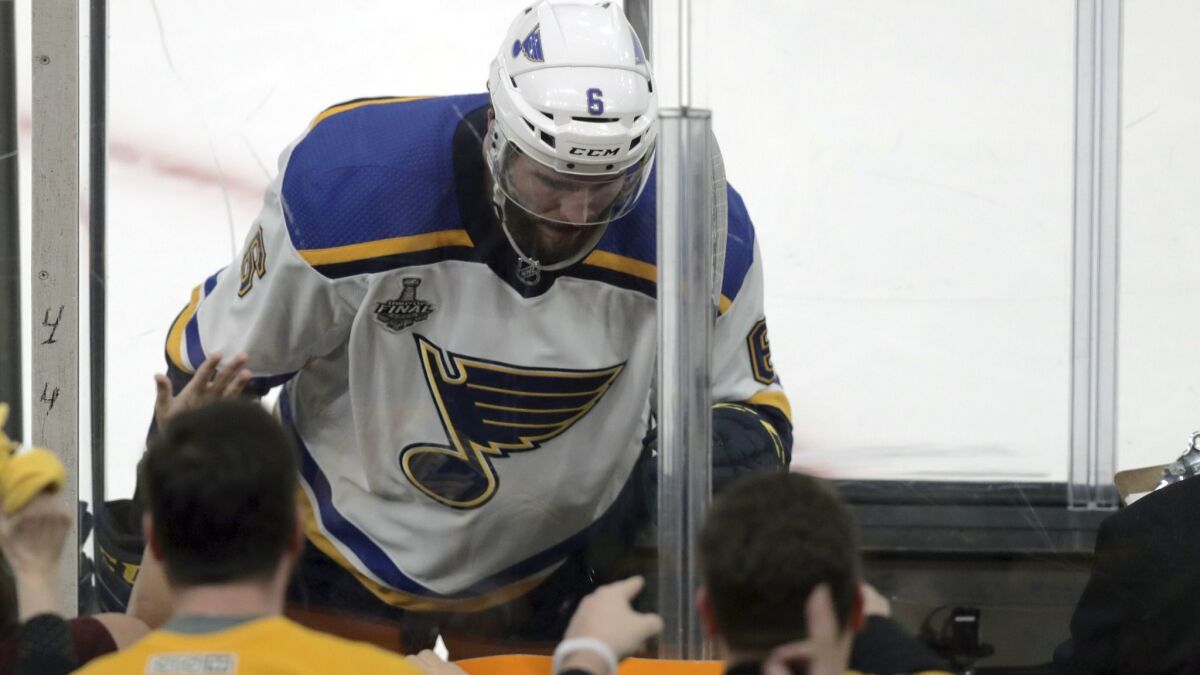 Reporting from st. louis —
The St. Louis Blues went on the offensive Sunday, even though it was a practice day during the Stanley Cup Final.
Suggesting they've been given too many penalties in their first three games against the Boston Bruins might have more impact than any adjustments they make on Monday at Enterprise Center. In a league whose referees — consciously or not — issue makeup calls to balance power-play opportunities or compensate for previously missed offenses, the Blues' complaint is sure to be heard and likely will be felt. Planting that seed isn't a bad strategy for them to implement as they try to prevent Boston from expanding its 2-1 series lead.
Blues coach Craig Berube, irked after his team was given seven minor penalties and got burned by four power-play goals in a 7-2 loss to the Bruins on Saturday, questioned how his group had gone from the NHL's least-penalized in the first three rounds to getting more penalty minutes than Boston has gotten. The Blues averaged 6.32 penalty minutes per game in the first three rounds of the playoffs but are averaging 11.33 penalty minutes against the Bruins, on 17 penalties for 34 minutes in three games. The Bruins, who averaged 6.35 penalty minutes per game in winning the East, have averaged 8.67 minutes in the first three games of the Cup Final, on 12 penalties for 26 minutes.
Some of the Blues' punishment was justified. Winger David Perron has been invisible in the Final aside from committing three needless penalties. Losing an offside challenge on Boston's third goal on Saturday resulted in a mandated delay of game call. And the Bruins are deeper and more experienced than the Blues' previous opponents, triggering frustration among the Blues. That often leads to the holding and hooking penalties players commit when they can't keep up.
"I think it's our forwards. They're always buzzing in the zone. It's hard to keep up with them," Bruins defenseman Connor Clifton said. "As the game goes on, I bet they're getting tired of covering them. It's as simple as that."
It's not so simple to Berube. Asked if he sees a common thread in the calls, he acknowledged fault on his players' part but questioned the frequency. "First of all, we were the least penalized team in the league in the first three rounds, now all of a sudden we've taken [17] penalties in one series. So I don't know. I don't buy into all of that, to be honest with you," he said. "I think that we could definitely be more composed after the whistle. I think we've let some frustration get in there where we maybe do too much after the whistle. So we'll clean that up, for sure. But like I said, we were the least penalized team in the league coming into this series. I don't agree with all of the calls."
Sign up for our daily sports newsletter »
Blues forward Brayden Schenn sidestepped a question about whether things are being called differently against the team than in earlier rounds. "We're not officials. We go out there and we play the game," he said. "At the end of the day, we don't see what they see at that time….We don't have to worry about the officials."
It couldn't hurt that Berube planted a seed of doubt. What will help them more is if the Blues are disciplined, move their feet, and avoid borderline offenses. St. Louis has scored 46 goals during five-on-five play in 22 playoff games, to 37 for the Bruins in 20 playoff games. In the Final, the Bruins are six for 14 on the power play and the Blues are one for 10.
"They've got a power play that's been good all playoffs and gets their top guys feeling confident," Blues forward Jaden Schwartz said of the Bruins, whose power-play conversion jumped to 35.9 percent after their four-for-four performance on Saturday. "Our [penalty killing] has got us momentum all year and has been good for us but we just have to do a better job of staying out of the box."
The Blues' penalty killing should benefit from the return of forward Oskar Sundqvist, who served a one-game suspension on Saturday for an illegal hit to the head of Boston defenseman Matt Grzelcyk in Game 2. Also on the Blues' side is the resilience they showed in rising from last overall on Jan. 2 to win the West and again in erasing Dallas' 3-2 lead in the second round of the playoffs and San Jose's 2-1 lead in the West final.
But they'll need a significant bounceback from goaltender Jordan Binnington, who was pulled on Saturday for the first time in his career after yielding five goals on 19 shots. He got little support from his teammates, but he didn't make any galvanizing saves, either. "He's been a rock for us. He's come back strong in every game, which is a testament to mental fortitude," Blues defenseman Robert Bortuzzo said. "We're lucky to have him."
Berube said the poised rookie will start again on Monday. "My confidence level is high," Berube said. "He's always rebounded very well."
True enough, but maybe Berube was again hoping the power of suggestion will kick in.
Follow Helene Elliott on Twitter @helenenothelen
Get the latest on L.A.'s teams in the daily Sports Report newsletter.
You may occasionally receive promotional content from the Los Angeles Times.