A bunch of jerks made the Stanley Cup playoffs, and that's a good thing.
The "bunch of jerks" is the Carolina Hurricanes, so nicknamed by pompous Canadian TV commentator Don Cherry because they dared to celebrate home victories in fun ways. After leading fans in a Viking clap, on various occasions players held their sticks like limbo poles so teammates shimmied beneath, turned themselves into human bowling balls and pins, pretended to be playing baseball and basketball, or threw themselves shoulder-first into the glass in unison. It was exuberant and wasn't disrespectful because they waited for the visiting team to exit before they began the show. This is a game, and fun is allowed. That's important to remember in a market where hockey is a tough sell.
But noooo. Cherry, whose loud, multi-colored jackets suggest he's not afraid of unconventional choices, deemed their actions stupid. But that didn't faze the Hurricanes, who qualified for the playoffs for the first time since 2009 and only the second time since they won the Stanley Cup in 2006.
Carolina captain Justin Williams has said the team won't continue its celebrations, presumably out of respect for the serious nature of postseason play. They might not have many chances to celebrate anyway: As the first Eastern Conference wild card they drew the defending Cup champion Washington Capitals, who were fueled by Alex Ovechkin's eighth 50-goal season in winning their fourth straight division title.
The Capitals' road had some bumps. Coach Barry Trotz resigned less than two weeks after the Cup triumph because he and general manager Brian MacLellan couldn't agree on a new contract, and associate coach Todd Reirden stepped in. Reirden had to ride out a seven-game losing streak in January, but a seven-game winning streak in February and March and the acquisitions of winger Carl Hagelin and defenseman Nick Jensen restored the Capitals' swagger. "We're ready," center Nicklas Backstrom told reporters Tuesday. "I feel like we've been waiting for this since last year. So let the fun things begin."
Trotz proved his worth by coaching the low-scoring New York Islanders to second place in the Metropolitan Division and home-ice advantage in the first round against the Pittsburgh Penguins. The Islanders split their home games between Barclays Center in Brooklyn, which has terrible sight lines for hockey, and the renovated version of their old home, the Nassau Coliseum. The new building holds only 13,917 fans, but those fans make it feel like thousands more are in the arena. "We really wanted home ice," goaltender Robin Lehner told the Islanders' website. "We've seen how special the Coli has been with all the fans. It's going to be a really fun series. They are a good team and it's going to be a good challenge. If we stick to our game I like our chances."
The Islanders and Carolina are among five playoff teams that didn't make it last spring; the others are Calgary, Dallas, and St. Louis. Among the missing are the Kings and Ducks, Chicago Blackhawks, Detroit Red Wings, Montreal Canadiens, New Jersey Devils, and New York Rangers. No Canadian team has won the Cup since Montreal triumphed in 1993, and the responsibility to bring it back falls on the Winnipeg Jets, Toronto Maple Leafs and Calgary Flames.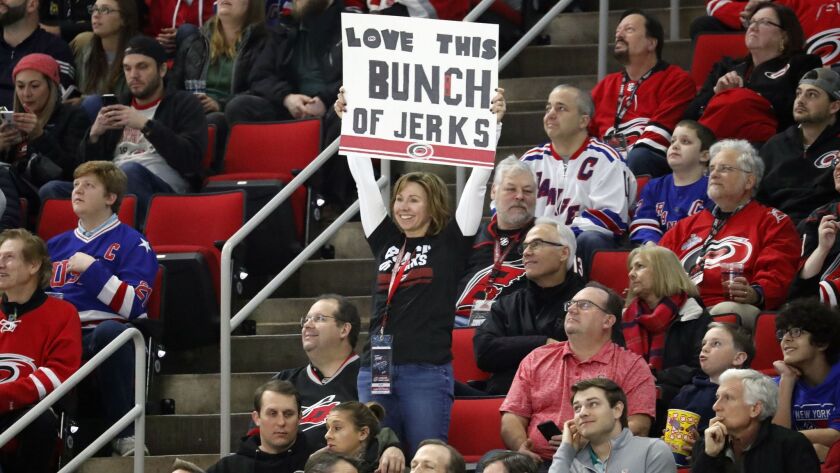 The Flames (50-25-7) reached 50 wins for only the second time in the franchise's existence in Atlanta and Calgary. The first occasion was in 1988-89, before they went on to win their only Cup championship. They were a high-scoring bunch this season — they jumped 71 goals from last season to 289 — and tied Boston for the second-most points (107). They stumbled after the All-Star game and lost five of six games but recovered impressively to finish first in the Pacific, their first division title since 2006.
"We've got a good team in here. I know there's some expectations but no pressure," left wing Johnny Gaudreau told reporters in Calgary. "We feel good about our game right now. We've done a great job the last two, three weeks of the season to get where we're at today."
The overriding question is whether anyone can beat the Tampa Bay Lightning, who tied an NHL record with their 62 wins and clinched the President's Trophy (best overall record) absurdly early.
The President's Trophy doesn't guarantee postseason success — only eight teams that won it also won the Cup — but the Lightning seem formidable enough to defy that pattern. And Tampa Bay got some good news during its final preparations, when Norris Trophy-winning defenseman Victor Hedman returned from an upper-body injury that had kept him out of the last four games and was pronounced ready to go by coach Jon Cooper.
An interesting twist to Tampa Bay's first-round series against Columbus is that the Blue Jackets are coached by fiery John Tortorella, who led the Lightning to their lone Cup title in 2004. "He's an important part of our history," Cooper told reporters in Tampa. "It's tough we're going against him but exciting in the same way."
The NHL enjoyed a good season. Scoring crept up to 6.0 goals a game, six players recorded 100 points, two players scored 50 goals (Ovechkin had 51 and Edmonton's Leon Draisaitl had 50), and 13 scored at least 40 goals. According to league statistics, players aged 23 or younger accounted for 28% of the goals scored in regulation and overtime, emphasizing the overall trend toward youth.
A bunch of good things and a bunch of jerks could make these playoffs especially competitive.
Follow Helene Elliott on Twitter @helenenothelen
---