Kings, Ducks unlikely to make major moves before Monday's NHL trade deadline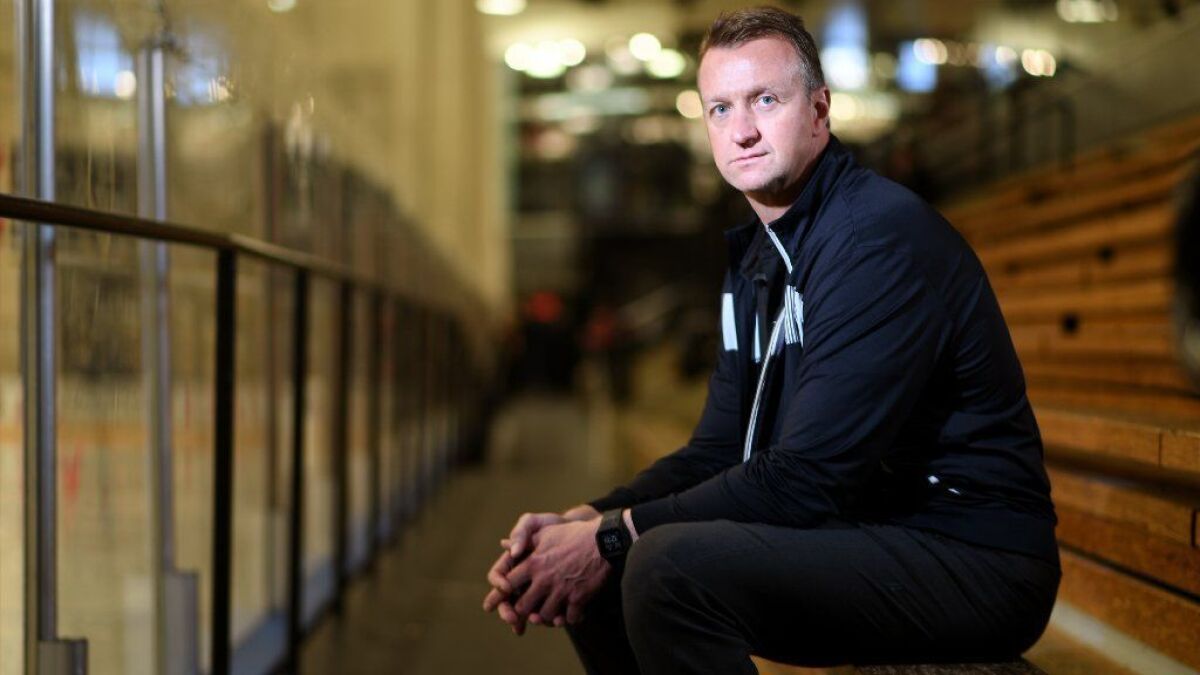 When Rob Blake hunkers down in his office for the final hours leading up to the NHL trade deadline Monday, he'll be just like any other general manager.
He'll stare at the organizational depth chart on the white board and try to improve his team. But it's going to take a special deal for Blake to get out his black marker and move major pieces around.
Since he became Kings general manager last year, Blake has stuck to his approach of keeping them contending without compromising the future. He got a jump on the deadline in the last two weeks when he added veteran defenseman Dion Phaneuf, forward Nate Thompson and speedy winger Tobias Rieder, all without giving up draft picks or prospects. Of course, Blake isn't done searching, but those moves addressed the Kings' two most pressing needs heading into Monday.
"I think we've identified speed," Blake said. "We identified an element of scoring. There are things we've set out to do."
Blake has already stated he's not interested in high-price rentals, or players on expiring contracts. That didn't stop the rumor mill from churning as Sportsnet reported Saturday that the Kings are making a "push" for Montreal Canadiens forward Max Pacioretty. Not only is that not believed to be true, it goes against the building-block strategy the Kings have preached.
Blake has said he's mainly interested in hockey deals, which would mostly involve freeing up money or stocking the cupboard. The Kings have elite prospects at several positions in forward Gabriel Vilardi, defenseman Kale Clague and goalie Cal Petersen, and moving them would hurt the team's already below-average minor league depth.
The Kings have dusted off that cupboard this season in giving long looks to Michael Amadio and Jonny Brodzinski, among others, along with the development of Adrian Kempe and Alex Iafallo.
"I think what you're seeing now is what we have," Blake said. "We don't have a lot coming that's going to step in here and score us a goal this year again from the minors. We understand what our depth is, but those guys are also capable of playing here."
While the Kings know what they have, the Ducks are in the unusual position of assessing whether they warrant adding significant pieces. Injuries rendered the first half of the season a wash, and the past 20 games have still made it befuddling.
They didn't clarify matters with a 2-0 loss to the Arizona Coyotes on Saturday. It also doesn't help that goalie John Gibson is hurt and Ryan Kesler is playing through injury. General manager Bob Murray has voiced his frustration at the inconsistency and, given his history of high activity, it's likely that Murray will try to improve his club.
One potential target is winger Thomas Vanek of the Vancouver Canucks, according to a report by Elliotte Friedman of Sportsnet. It seems likely that the Ducks would seek a lower-profile option along the lines of their acquisition of Patrick Eaves last season. In an unrelated depth move, the Ducks reportedly agreed to terms on a one-year contract with Chris Kelly, captain of the Canadian Olympic team.
The Kings and Ducks were never players in major deals that went down Sunday, such as the New York Rangers' long-awaited trade of Rick Nash to the Boston Bruins, for Ryan Spooner, Matt Beleskey, prospect Ryan Lindgren, a first-round pick in 2018 and a seventh-round pick in 2019. In a rare trade between historic rivals, the Canadiens traded Tomas Plekanec, along with prospect Kyle Baun, to the Toronto Maple Leafs for Rinat Valiev, Kerby Rychel and a second-round pick this year.
Deadline day is always unpredictable, but given their situations, the Kings and Ducks aren't looking for a savior so much as supplemental players to add to foundations that they hope will spark soon.
Kings coach John Stevens summed it up Sunday when asked if he thought this was essentially their team now.
"We believe the group in here is a group that's capable of winning," Stevens said.
Twitter: @curtiszupke
---
Get the latest on L.A.'s teams in the daily Sports Report newsletter.
You may occasionally receive promotional content from the Los Angeles Times.