What we learned in the NHL last week: Enjoy the increase in scoring because it probably won't last
What we learned from the last week of play in the NHL:
Scoring is up … but don't get too excited
Some 7-6 and 8-5 outcomes suggested scoring is on the rise, but the uptick was typical of what happens early each season. According to the Elias Sports Bureau, through the first 73 games the average number of goals scored per game was 6.22 (excluding the goal awarded for winning a shootout). Through the first 73 games last season it was 6.16, but that dropped to a final average of 5.86 goals per game. Through the first 73 games of the 2016-17 season the average was 6.01 and fell to 5.45. Give enough coaches enough time and they'll find ways to squeeze the life out of any successful offensive strategy.
Oil isn't flowing
The Edmonton Oilers are bucking the slight increase in scoring. They've produced five goals in their first three games, and reigning scoring champion Connor McDavid has scored or set up each one. They've had a punishing schedule — they went to Germany for an exhibition, to Sweden to start the regular season and then to Boston and New York and will play at Winnipeg before they open at home Thursday — but they've got to find their footing soon. Their offense must be prolific and balanced to make up for their shaky defense. It's not a bad idea to take coach Todd McLellan in the first-coach-to-be-fired pool, though the blame goes to a succession of poor general managers who left holes in the lineup despite years of having prime draft positions.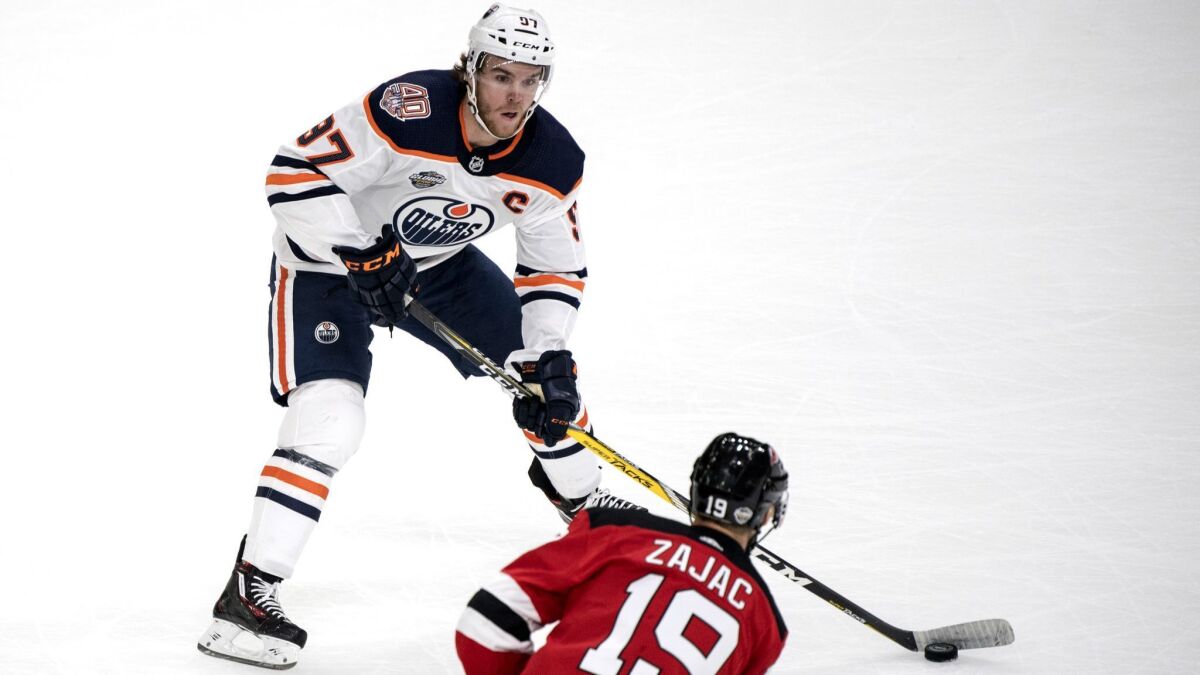 There's life in the old guys
Chicago captain Jonathan Toews took a lot of criticism last season when he scored 20 goals and 52 points — career lows for a full season — and the Blackhawks missed the playoffs. And he looked like an old 30. But Toews has had a surprisingly good start this season: He has earned at least one point in each of Chicago's five games and has five goals and nine points overall. Teammate Patrick Kane, who will be 30 next month, also has started well and has at least a point in every game for Chicago (3-0-2). Kane has five goals and eight points. Two other oldies but goodies reached milestones: Defenseman Duncan Keith played his 1,000th game and Brent Seabrook became the franchise leader in games played by a defenseman at 1,009, passing current Ducks general manager Bob Murray.
Hockey talent runs in the Tkachuk family
Keith Tkachuk had a fine NHL career, scoring 538 goals and 1,065 points in 1,201 games, but he might be eclipsed by his sons, Matt and Brady. Matt, drafted sixth by the Calgary Flames in 2016, scored 13 goals and 24 goals in his first two seasons and has one goal and seven points in five games; Brady, drafted fourth by the Ottawa Senators in June and the biggest of the family at 6 feet 3, had three goals and six points in his first four games. Brady needed only three games to score five points in the NHL, while Matt needed 10 games and dad Keith needed 13. Daughter Taryn plays hockey, too — field hockey, in high school in St. Louis.
The greatest sense is a sense of humor
The Nashville Predators raised three banners at their home opener to celebrate their 2017-18 feats. One was for winning the Central Division and another for winning the Presidents' Trophy (the best record), and both are banner-worthy accomplishments. More debatable is the banner they raised calling themselves the Western Conference regular-season champions, ignoring the small detail that they lost in the second round of the playoffs. Social media reaction to that banner was overwhelmingly negative, but the Predators responded well. On Friday they tweeted, "We raised more banners," with those banners Photoshopped to say, "Hottest Chicken in the NHL," "Coldest Building in Nashville," and "Regular Season Bachelorette Party Capital." Much better.
New role for Cogliano?
Forced to play Andrew Cogliano on the power play Sunday when injury struck yet another forward, the Ducks were rewarded when he scored his first man-advantage goal since Dec. 2, 2011. Maybe he should get more power-play time. In truth, he has been a valuable penalty killer and had scored 16 short-handed goals in that stretch between power-play tallies.
---
Get the latest on L.A.'s teams in the daily Sports Report newsletter.
You may occasionally receive promotional content from the Los Angeles Times.