What we learned in the NHL last week: Ken Hitchcock is back; Ron Hextall is out
What we learned from the last week of play in the NHL:
The league is more interesting with Ken Hitchcock coaching
Hitchcock's retirement from coaching lasted only a few months. Edmonton Oilers general manager Peter Chiarelli, desperate to save the season and his job, had no trouble persuading the NHL's third all-time coaching winner (825 wins) to replace Todd McLellan after the Oilers had negated a solid start by losing six of seven games. The thoughtful and blunt Hitchcock, an Edmonton native, is 1-1-1 since he took over last Tuesday, including an overtime loss at Anaheim and a 5-2 loss to the Kings that was a one-goal game in the final minute. He's emphasizing defense, a difficult task with the Oilers' weak defense corps, but he has players' attention. "I think guys are buying in. Guys are trying to buy in," said Connor McDavid, winner of the last two NHL scoring titles. "We understand the way he wants us to play and the way that we need to play to be successful and guys are making a conscious effort to do that, but there are still strides to make." Hitchcock, the Oilers' eighth coach in 10 years, isn't intimidated. "I'm really more impressed than I am disappointed," said Hitchcock, 66, the oldest active NHL coach. "I know I see a group that cares deeply. I see we need to work on some things and I got after it [Sunday] pretty good on the bench a couple times to get people to change their thinking, but I see a lot of things as a coach you've got to really like. There's a willingness to learn. Overall, I'm really excited by the potential and I know we can get better and I know that it's there."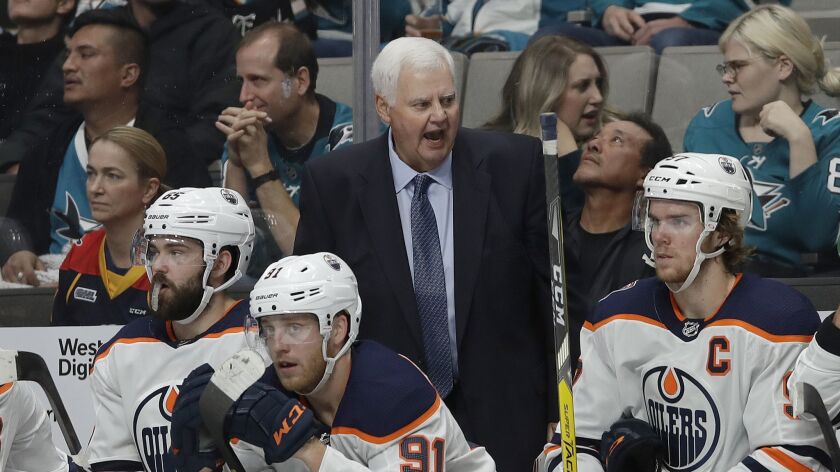 Ron Hextall's flaw: he couldn't play goal anymore
Though feisty in his playing days, Hextall was patient and deliberate as general manager of the Philadelphia Flyers while following the draft-and-develop model he learned as assistant general manager of the 2012 Stanley Cup champion Kings. His bosses in Philadelphia ran out of patience and fired him Monday because "we no longer share the same philosophical approach concerning the direction of the team," club President Paul Holmgren said. Hextall did a good job of restocking talent but displayed debatable judgment — and had terrible luck — with goalies. Hextall's former Kings boss, Dean Lombardi, is a Flyers consultant and would be an interesting replacement. The future of coach Dave Hakstol, who had Hextall's support, depends on the Flyers' next move. Hextall was the first GM fired this season after four coach firings: John Stevens (Kings, Nov. 4); Joel Quenneville (Chicago Blackhawks, Nov. 6); Mike Yeo (St. Louis Blues, replaced by Craig Berube last Monday); and McLellan.
Buffalo wings it to No. 1
The Buffalo Sabres spent a few days last week in a place they hadn't visited for a long time: first overall. A nine-game winning streak, matching a club record, has given them a 16-6-2 record and 34 points. Their most recent win came in a seven-round shootout against the Detroit Red Wings on Saturday. After missing the playoffs for seven straight seasons, this is heady stuff. "The biggest thing is a lot of us have been through tough times in this room," defenseman Jake McCabe told the Buffalo News. "Now we're finding some success and we're just rolling with it. We're having a blast doing it." According to the Buffalo News, the Sabres are 9-0-2 in one-goal games, 11-0-2 when they score first, 10-0-2 when they're leading after one period and 11-0-1 when leading or tied after two periods. Kudos to coach Phil Housley, who guided them past a rocky start and cries for his head, and to forward Jeff Skinner, who's making the most of his impending free-agent status and ranks among the league leaders with 18 goals.
A grumpy man yelled at a cloud
The Carolina Hurricanes celebrate home wins in unusual ways. After the visiting team exits the ice, Hurricanes players have led fans in claps, dashed around and hurled themselves into the glass and, last week, formed a huge "W" before falling like dominos. Fans love it. But longtime NHL executive Brian Burke, who counts Anaheim among his many stops, doesn't approve of such frivolity. In an interview with a Toronto radio station last week he called their celebrations "pee-wee garbage." How dare the Hurricanes have harmless fun while engaging and entertaining people? Time to lighten up, Burkie.
Patrik had a hat trick (and more)
Winnipeg right wing Patrik Laine can do no wrong. The 20-year-old Finn scored 11 goals in four games last week, capped by a five-goal performance Saturday against the Blues. It was the 57th five-goal game in NHL history, and he joined Wayne Gretzky and Don Murdoch as the only NHL players to record a five-goal game before their 21st birthday. He has set a Jets/Atlanta Thrashers record by scoring 16 of his league-leading 19 goals in November and has two more games to pad that total.
Twitter: @helenenothelen
---
Get the latest on L.A.'s teams in the daily Sports Report newsletter.
You may occasionally receive promotional content from the Los Angeles Times.