Here's what we've learned in the NHL from the last week:
Artemi Panarin continues on the path toward free agency
The gifted forward, who has said he won't re-sign with Columbus because he plans to become an unrestricted free agent July 1, recently became a client of agent Paul Theofanous, who also represents Blue Jackets goaltender Sergei Bobrovsky. Since Bobrovsky also can become a free agent, speculation has begun that Panarin and Bobrovsky will become a package deal when free agency opens. Not even a Columbus distillery's offer of free vodka for life could change Panarin's mind about leaving. "It's amazing," he told the Columbus Dispatch. "I feel really good after that. I say it's harder for me to keep talking about my free agency because I see how people want me to stay in Columbus, and it's harder, but it's my life. … We only have one life and I want to, like … it's 10% of my life, seven or eight years, you know? I want to stay happy every day and I want to see more options." But first comes the Feb. 25 trade deadline, and it's unclear whether the Blue Jackets will keep or trade one or both players. The Blue Jackets have done a good job of not getting tripped up by the focus on Panarin and Bobrovsky's respective futures. Columbus is third in the Metropolitan Division and is riding a three-game winning streak.
A change doesn't always do you immediate good
Randy Carlyle became the sixth coach fired during this season when the Ducks dismissed him Sunday. He followed Chicago's Joel Quenneville, Edmonton's Todd McLellan, the Kings' John Stevens, Philadelphia's Dave Hakstol and St. Louis' Mike Yeo. Of all those teams, only the Blues, who were 7-9-3 when Craig Berube was appointed interim coach, are in a playoff position. A six-game winning streak has propelled them into the first West wild-card spot and improved their record to 27-22-5.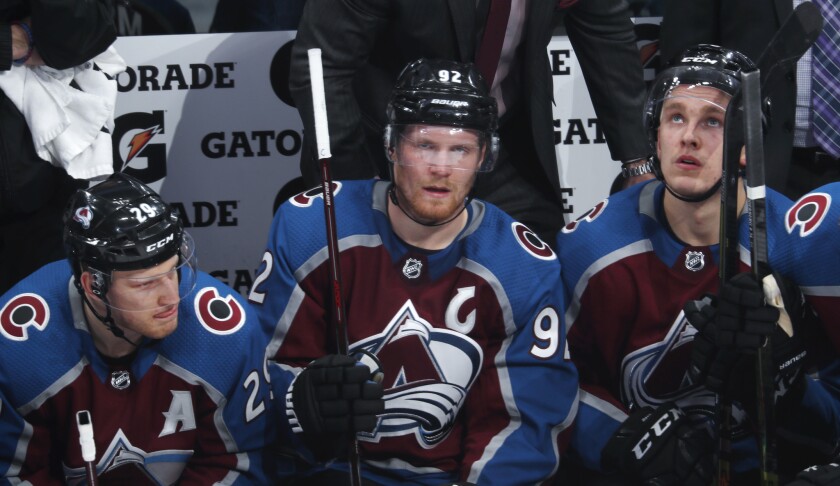 Colorado's slide continues
Losing eight of their last 10 games has pushed the Colorado Avalanche out of the top eight in the West and toward becoming sellers leading up to the trade deadline. General manager Joe Sakic is being realistic in plotting his course. "We'd love to make the playoffs but you don't want to slow down the building process. I will not give up top picks and top prospects because we're going to need them," he told the Denver Post. "We're in a salary-cap era and you're going to need those players coming into your system. If there's something that's going to help us get us in the playoffs we'll do that, but it won't be at the cost of some of our top prospects and high picks." Sakic has his own first-round pick and the first-rounder he got from Ottawa in the Matt Duchene trade. With the Senators last in the overall standings, Sakic will have a good shot at winning the draft lottery and getting a shot at U.S.-born forward Jack Hughes, who's considered the gem of the draft.
One championship in 79 years is worth celebrating
The New York Rangers on Friday staged a classy ceremony to welcome back players and executives from their 1994 Stanley Cup championship team, which was the first to win since the 1940 squad. Coach Mike Keenan, who was diagnosed with prostate cancer last year, was able to attend the festivities, which featured current Rangers goaltender Henrik Lundqvist wearing a special mask designed to look like the Statue of Liberty mask Mike Richter wore in 1994. After honoring the winners, the current Rangers promptly dishonored the occasion by losing to Carolina 3-0, though they did rebound to defeat Toronto two days later thanks to 55 saves by rookie goalie Alexandar Georgiev.
Sign up for our daily sports newsletter »
---