Reporting from st. louis —
Patrick Maroon could have gotten more money or security — or maybe both — if he had rejected the St. Louis Blues' one-year, $1.75-million free-agent offer last summer and chosen another of the teams that had interest in him. A brawny winger who made his NHL debut with the Ducks, the St. Louis native earned $2 million last season in the final year of the three-year deal he had signed with Anaheim.
He wasn't far removed from the 27-goal season he had for Edmonton in 2016-17. He could have shopped around.
But Maroon couldn't put a price on spending time with his son from a previous relationship, who has grown up here. Maroon struggled during the season and was the subject of rumors at the trade deadline, but his decision to come home was affirmed when Anthony, 9, wept for joy after seeing his dad score the double-overtime goal that lifted the Blues past Dallas and into the Western Conference final.
That support has sustained Maroon along the road to the Stanley Cup Final, which will resume Saturday at Enterprise Center. The Blues and Boston Bruins split the first two games.
"Everyone's excited in the family," Maroon said after the Blues practiced Friday. "My mom and my dad are excited. My son, obviously. … I've been trying to hold in my excitement. Just trying to hold my emotions in, because we're just close to something special here. I think you hold it in and focus on your game, focus on what you can do and what you can control."
Maroon, one of the few left wings who found success as a Duck alongside Ryan Getzlaf and Corey Perry, said the city of St. Louis needs the emotional lift provided by the Blues' first home Stanley Cup Final game since 1970 and the excitement of the Cardinals-Cubs series being played nearby this weekend.
"I think losing the football team and having the Cardinals and the Blues, the city has been waiting for something special for so many years and they finally get it," he said. "With everything, losing the Rams and trying to get a soccer team, we're trying to get more people into the city because this is a huge, huge sports town."
In and Out
The Blues will make at least one lineup change, because of the one-game suspension imposed by the NHL against center Oskar Sundqvist for a hit that injured Bruins defenseman Matt Grzelcyk early in Wednesday's game. The likely replacement to center the fourth line is Zach Sanford, who was born in Salem, Mass., but grew up in New Hampshire as a Bruins fan.
Sanford even had a poster of the iconic photograph of an airborne Bobby Orr scoring the Cup-winning goal against the Blues in 1970.
Is he still a Bruins fan? "Not right now," said Sanford, who played in the Blues' first three playoff games but hasn't been in uniform since then. "Hopefully I'll get a picture of us beating the Bruins this year."
Losing Sundqvist could hurt the Blues' penalty killing, but coach Craig Berube wouldn't comment on the suspension. "It doesn't matter if I agree or disagree. It's just a league thing and they handled it so it's over with," Berube said. "We miss a lot. He's a good player. He does a lot of good things for us on both sides of the puck. Good penalty killer, plays center, wing, great defensively and has produced for us in the playoffs."
Sundqvist had four goals and nine points in 21 games; the Blues' penalty-killing efficiency stands at 78.4% and has neutralized eight of 10 disadvantages in the Final.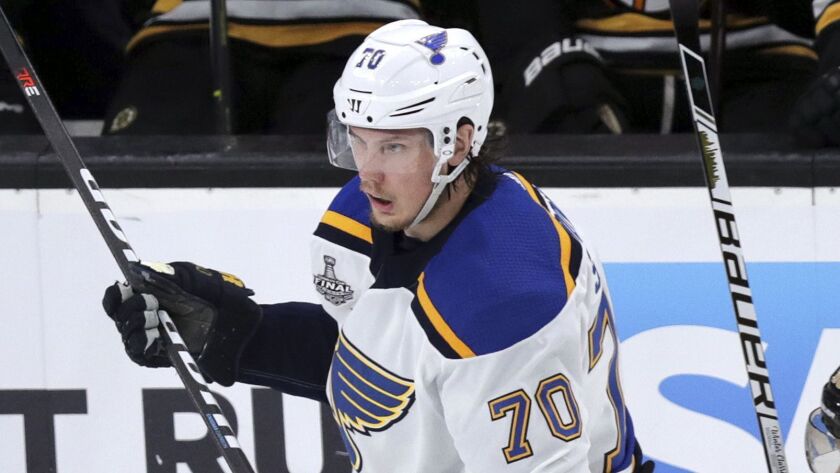 Grzelcyk went through concussion protocol and didn't practice or travel with the Bruins. Coach Bruce Cassidy called Grzelcyk doubtful for Saturday and said John Moore is the probable replacement.
Defenseman Zdeno Chara said Grzelcyk will be missed. "Matt is a player that we rely on skating pucks out of the zone. He's a great puck mover. He sees the ice well. It's very important he's on the ice," Chara said. "But we believe that he's going to recover fast and we have obviously good enough players in our system that will fill that role."
Bruins' top line isn't top producer
Boston's top line of Brad Marchand, Patrice Bergeron and David Pastrnak has produced one goal in two games, an empty-net score in Game 1. Credit goes to a solid effort not just from the Blues' defense but from the forwards too.
Cassidy said he's encouraged by the fact they're still getting good looks. "They'll eventually get to their game and I think it will be [Saturday]," Cassidy said.
Follow Helene Elliott on Twitter @helenenothelen
---