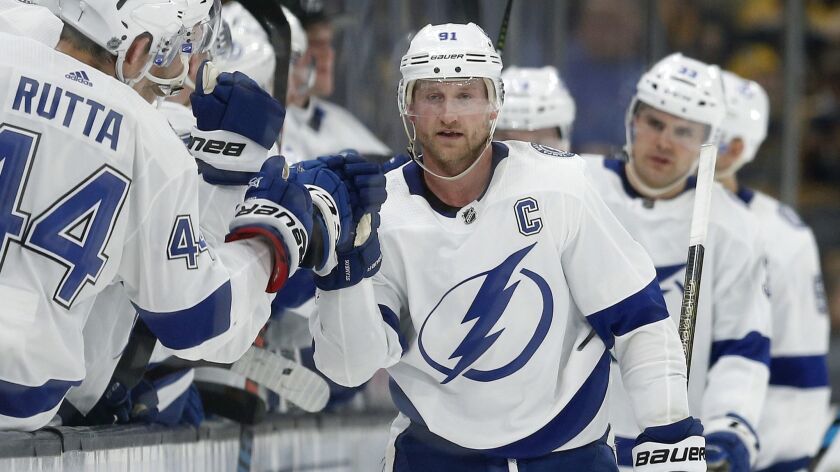 Tampa Bay Lightning vs. Columbus Blue Jackets
Power play: Lightning 28.2% (1st); Blue Jackets 15.4% (28th).
Penalty killing: Lightning 85.0% (t1st); Blue Jackets 85.0% (t1st).
Top scorers: Lightning, Nikita Kucherov 41-87—128; Blue Jackets, Artemi Panarin 28-59—87.
Outlook: Tampa Bay tied an NHL record with 62 wins, one of its many spectacular feats. Besides having the best power play and penalty killing, the Lightning scored a league-high 325 goals, the most by any team since 1995-96. They also were the first team in 23 years to have three players score 40 goals, with Kucherov (41), Steven Stamkos (45) and Brayden Point (41). They led the NHL in comeback wins (29) and multi-goal comeback wins (10). Oh, and they outscored Columbus 17-3 in three regular-season games. So you're saying there's a chance? Um, maybe not so much. Columbus gambled by keeping impending free agents Panarin and goaltender Sergei Bobrovsky at the deadline, hoping for a long playoff run. This feels more like a short sprint.
Pick: Tampa Bay in five.
Boston Bruins vs. Toronto Maple Leafs
Power play: Bruins 25.9% (3rd); Maple Leafs 21.8% (8th).
Penalty killing: Bruins 79.9% (t16th); Maple Leafs 79.9% (t16th).
Top scorers: Bruins, Brad Marchand 36-64—100; Maple Leafs, Mitch Marner 26-68—94.
Outlook: The Bruins and Maple Leafs met in the first round last year, with Boston prevailing in seven games. Injuries forced Boston to put youngsters in key roles this season, and they responded well. In addition, Marchand toned down his peskiness and focused on scoring. Patrice Bergeron (32 goals, career-best 79 points) remains the consummate two-way center. David Pastrnak scored a career-best 38 goals despite being limited to 66 games because of injuries. Toronto got 47 goals from center John Tavares and has a dynamic offense, but its defense is iffy even after acquiring Jake Muzzin from the Kings. The Maple Leafs can't afford another fade by goalie Frederik Andersen, whose playoff save percentage last spring was .896.
Pick: Boston in six.
Washington Capitals vs. Carolina Hurricanes
Power play: Capitals 20.8% (12th); Hurricanes 17.8% (20th).
Penalty killing: Capitals 78.9% (24th); Hurricanes 81.6% (8th).
Top scorers: Capitals, Alex Ovechkin 51-38—89; Hurricanes, Sebastian Aho 30-53—83.
Outlook: Ovechkin partied hard but avoided the traditional Cup hangover and won the Rocket Richard Trophy (as the NHL goal-scoring leader) for the eighth time. Six other Capitals surpassed 20 goals, depth that will be difficult for Carolina to neutralize. Washington will miss defenseman Michal Kempny (torn hamstring), and will need late-February acquisition Nick Jensen to step up. The Hurricanes, led by three-time Cup winner and former Kings forward Justin Williams, thrived under first-year coach Rod Brind'Amour. They have a mobile defense and lots of creativity in Aho, Teuvo Teravainen (21 goals, career-high 76 points) and 19-year-old Andrei Svechnikov (20 goals). They can push, but the Capitals are too strong.
Pick: Washington in five.
New York Islanders vs. Pittsburgh Penguins
Power play: Islanders 14.5% (29th); Penguins 24.6% (5th).
Penalty killing: Islanders 79.9% (t16th); Penguins 79.9% (t19th).
Top scorers: Islanders, Mathew Barzal 18-44—62; Penguins, Sidney Crosby 35-65—100.
Outlook: Robin Lehner and Thomas Greiss of the Islanders won the Jennings Trophy, awarded to the goalies who played at least 25 games for the team that gave up the fewest goals. They benefited from their team's acceptance of Trotz's defensive system. The Penguins got an outstanding season from Crosby but went through some strangely flat stretches. Evgeni Malkin, plagued by injuries, dipped to 21 goals after scoring 42 last season, but Jake Guentzel hit personal bests in goals (40) and points (76), and Phil Kessel scored 27 goals. Goalie Matt Murray (.919 save percentage, 2.69 goals-against average) improved after a slow start. The Islanders play this round in the renovated Nassau Coliseum, which should be a genuine edge.
Pick: New York in seven.
Sign up for our daily sports newsletter »
---