Ned Colletti to remain as SportsNet LA Dodgers analyst while scouting for NHL team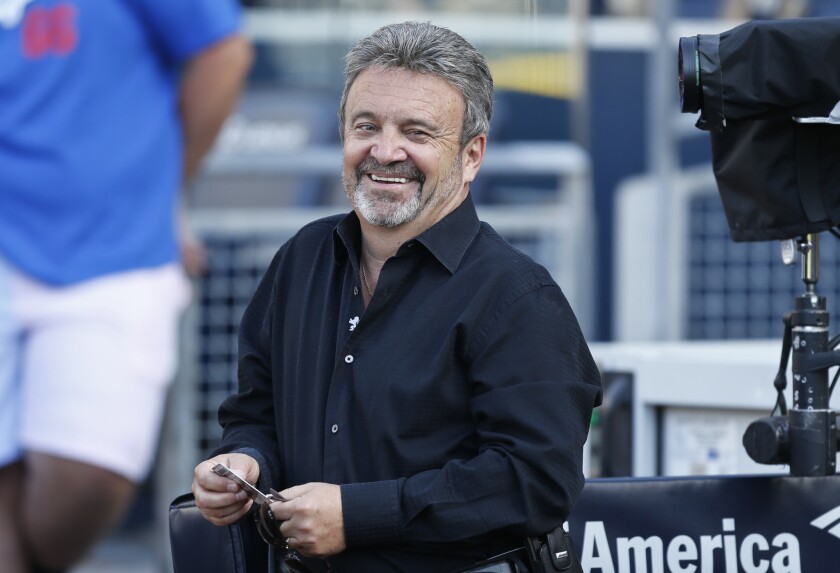 Ned Colletti is not the retiring type. The former Dodgers general manager turned 65 in April, but while many of his peers are transitioning away from work, Colletti took on a second job Friday as a professional scout for the San Jose Sharks.
Colletti, who led the Dodgers to five playoff appearances in nine years (2006-2014) as GM, will continue in his role as a pregame and post-game analyst on the team's SportsNet LA telecasts. His off-seasons will now be spent scouting the American Hockey League and NHL for the Sharks.
"I don't see it as work," Colletti said. "I watch so many baseball and hockey games … it's really what I do. It's what I've been doing my whole life. I love the work. I talked to the Dodgers, the Sharks, and they were aware of my thought process.
"The regular seasons don't really overlap. The post-seasons do, but most of the scouting I'll be doing for the NHL will be done when baseball starts. I'll mix and match a little bit in October. It kind of blends perfectly."
Colletti grew up in Chicago rooting for the Blackhawks, and one of his first jobs in sports was as a beat writer covering the Flyers for the now-defunct Philadelphia Journal in 1980-81.
Cody Bellinger has batted .237 since July 16, even though the Dodgers star's power numbers remain strong. Why the drop in average?
Colletti went on to a near-four-decade career in baseball, including 13 years with the Chicago Cubs and nine as an assistant GM of the San Francisco Giants (1997-2005). He has known Sharks GM Doug Wilson for more than three decades, and the two had spoken for years about finding a role for Colletti.
"Hockey is one of my great passions," Colletti said. "I've had a deep interest in it for as long as I can remember, going back to my youth. I spent a lot of time in a lot of GM offices and coaching offices and world junior tournaments, just trying to learn it, dig deep into it.
"I know a handful of GMs. I've known Doug Wilson for years, and we started kicking this idea around. I thought it would be the opportunity of a lifetime."

Hill climber
Rich Hill, sidelined since June 20 because of a left forearm strain, threw to hitters in a two-inning, 33-pitch simulated game Friday, his final step before returning to the rotation Thursday in Baltimore.
"It went well, it felt good," said Hill, who gave up a home run to Jedd Gyorko in the first inning. "That first inning, I was excited, a little jumpy. The second inning I was much more relaxed, my mechanics were good, I had the same release point."
Manager Dave Roberts has penciled in Hill for four starts this month, the last one scheduled for the Sept. 29 regular-season finale at San Francisco. That will give Hill time to build from a two-inning, 30-pitch start next Thursday to about five innings and 75 pitches.
Hill said his intention is to return as the team's fourth starter for the playoffs—and not pitch in relief—but the Dodgers are also considering left-hander Julio Urias for that spot.
"That's been the plan the whole time," Hill said. "If anything needs to be amended along the way, we'll cross that bridge when we get there."

Rotation shuffle
The Dodgers will skip Hyun-Jin Ryu in the rotation next week, pushing the struggling left-hander's next start back by nine or 10 days.
Ryu, who entered August as the National League Cy Young Award favorite, is 1-3 with a 9.95 ERA in his last four starts, giving up 21 earned runs and 31 hits, including five homers, in 19 innings, his season ERA jumping from 1.45 to 2.45.
"Right now," Roberts said, "to forego a start in early September makes more sense."
Walker Buehler's next start, originally scheduled for Sunday, will be pushed back a few days to give the right-hander extra rest. Urias will start Sunday, and Buehler will likely pitch Tuesday in Baltimore.

Short hops
Max Muncy (right wrist fracture) took soft-toss swings and played catch at 60 feet, the infielder reporting no pain but a little stiffness. "It's feeling all right," said Muncy, who hopes to return by the end of next week. "It's progress. That would be the best way to describe it." … Catcher Austin Barnes was recalled from triple-A Oklahoma City.
---
Get our Dodgers Dugout newsletter for insights, news and much more.
You may occasionally receive promotional content from the Los Angeles Times.