Kings trade Tyler Toffoli to Canucks for two players and two draft picks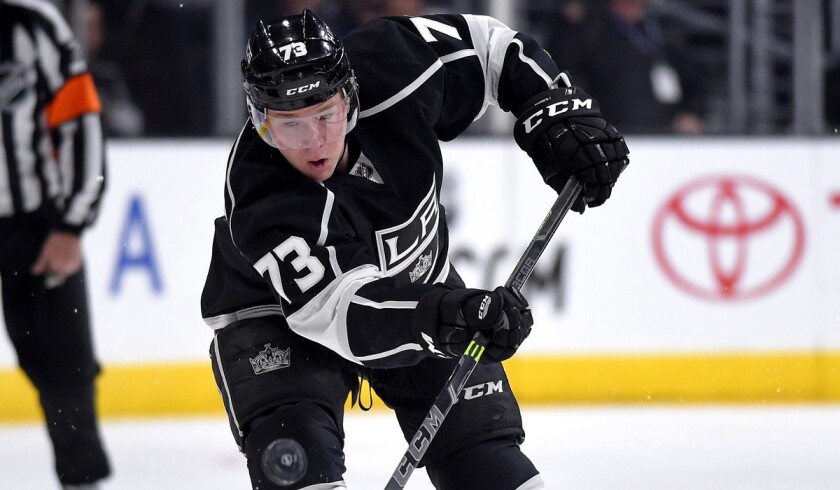 Tyler Toffoli braced for the Rocky Mountain cold, his breath condensing in the air in front of him, as an NBC television reporter asked about the inevitable.
The forward had just recorded the first hat trick in an NHL outdoor game during the Kings' 3-1 win over the Colorado Avalanche on Saturday at the Air Force Academy's Falcon Stadium in Colorado Springs.
Yet, at the end of his postgame interview, Toffoli was forced to talk about trade speculation.
As he had all season, he did his best to brush it aside.
"It's tough," Toffoli said. "But it's times like this where my teammates are behind me. Both [Alex Iafallo] and [Anze Kopitar] were looking for me for the hat trick. It's those little things that go a long way. I'm very grateful. We'll keep going and see what happens."
Then, Toffoli turned and skated off the ice. Two days later, his time with the Kings came to an end.
Toffoli was traded Monday to the Vancouver Canucks for 29-year-old depth forward Tim Schaller, the rights to 20-year-old prospect Tyler Madden, a second-round pick in this year's draft, and a conditional fourth-round pick in 2022 — a seemingly strong haul for a player on an expiring contract.
Tyler Toffoli scores twice in the final minute to send the Kings to a 3-1 win over the Colorado Avalanche in an outdoor game at the U.S. Air Force Academy.
"Tyler has been a huge impact on the Kings organization with the Stanley Cups and everything that will be remembered for how hard he worked and everything he's been able to accomplish," Kings general manager Rob Blake said, bidding farewell to a long-time fan favorite.
The Canucks, currently in third place in the Pacific Division but only four points clear of the playoff cut line, acquired a skilled forward who adds much-needed depth after a recent rash of injuries.
The last-place Kings, meanwhile, added to their ever-growing collection of future assets.
"We've always understood there's a certain level that Tyler, if he was to be moved, would have to bring," said Blake, who didn't think waiting to make the move closer to the Feb. 24 trade deadline would net a better return.
"When you look at the possible deals that you may have to make and you put a range on what the return will be, I think my feeling is once that's met, you move forward on it."
From the jump this year, Toffoli looked like an obvious trade chip. In the last season of a contract worth $4.6 million in annual average value, he was an offensively gifted luxury for a team that has long lost hope of a playoff push.
However, Toffoli struggled in the season's opening two months. In his first 30 games, the 2010 second-round pick recorded only 13 points and a minus-10 rating. He was healthy-scratched by coach Todd McLellan on Oct. 30 and dropped to the fourth line by mid-December. After tallying a career-low 13 goals in 2018-19, his play appeared to be trending in the wrong direction again.
Then, he turned his season around.
Beginning with a two-point performance against the New York Rangers on Dec. 10, Toffoli went on a hot streak. In his last 28 games, he had 21 points (12 goals, nine assists), a plus-six rating, three game-winning tallies and a strong 13.6 shooting percentage. He ascended back to the top line and took the team lead in goals (18). After his four goals in two games last week, he was named the NHL's third star of the week.
"Todd challenged him early," Blake said. "He had really responded."
Toffoli's teammates noticed. In a postgame TV interview Saturday, Kopitar couldn't hide his joy over Toffoli's big night, which included a game-winning goal in the final minute on which Kopitar assisted.
Kings fans gathered in L.A. to watch the team's Stadium Series game against the Colorado Avalanche. It's been rough lately but they recall better years.
"It's great," Kopitar said. "I've played with Tyler for close to 10 years. To see him get on the scoreboard in any game is really fun for me. A hat trick in this setting has to be special."
Though Toffoli, who has 290 points in 515 career games, is a known commodity around the NHL, his recent return to form only strengthened the Kings' leverage in the trade market.
Madden seems like the most prized return, a former third-round pick considered one of the Canucks' best prospects. Currently playing his second season of college hockey with Northeastern University, he has 37 points (19 goals, 18 assists) and a plus-four rating in 27 NCAA games and helped the Huskies to a tournament victory in the four-team Beanpot championship last week.
"Our guys have followed Tyler Madden from his draft-eligible year on to the two years at Northeastern," Blake said. "[He profiles] along the lines that we've been stating here; [he has] the [will to] compete and character. He has some high-end vision and skill. He's coming off a big week with the Beanpot championship. Unfortunately broke his finger on the weekend. That will set him back a little bit. But we're excited about having him in this deal."
The acquisition of the second-rounder was a bonus too, giving the Kings 10 picks in the seven-round draft this summer, including multiple selections in the second, third and fourth rounds.
Blues defenseman Jay Bouwmeester went into cardiac arrest during a game against the Ducks on Tuesday. Ducks medical personnel helped save his life.
Schaller's inclusion, meanwhile, helped make the deal financially possible (the Canucks have less than $1 million in salary-cap space, according to CapFriendly). The sixth-year forward, who will start on the NHL roster but is unlikely to play against Winnipeg on Tuesday, has only six points in 51 games this season and will be an unrestricted free agent on July 1.
"We knew this upcoming deadline [was important], getting everything in order and having to project what the lineup a year from now will look like," Blake said.
There is an intangible emotional cost to dealing Toffoli, one of only eight remaining players from the Kings' last Stanley Cup-winning team in 2014. Since the Kings' need for a rebuild became evident, Blake knew moves would be coming. And just like when he dealt Jake Muzzin last year, or Kyle Clifford and Jack Campbell earlier this month, his phone call with Toffoli on Monday night was emotional.
"They are never easy," Blake said. "I know there was a lot of speculation, but it still doesn't make any call in this type of matter any easier at all."
Still, in the long run, the move was necessary.
"Once we identify a player that potentially could get moved," Blake said, "you look for the best return."
Which, the third-year GM believes, is exactly what he got, parting with another beloved bargaining chip as he banks on the promise of a brighter future.
---
Get the latest on L.A.'s teams in the daily Sports Report newsletter.
You may occasionally receive promotional content from the Los Angeles Times.