Kings hire John Wroblewski to coach minor league Reign as part of rebuild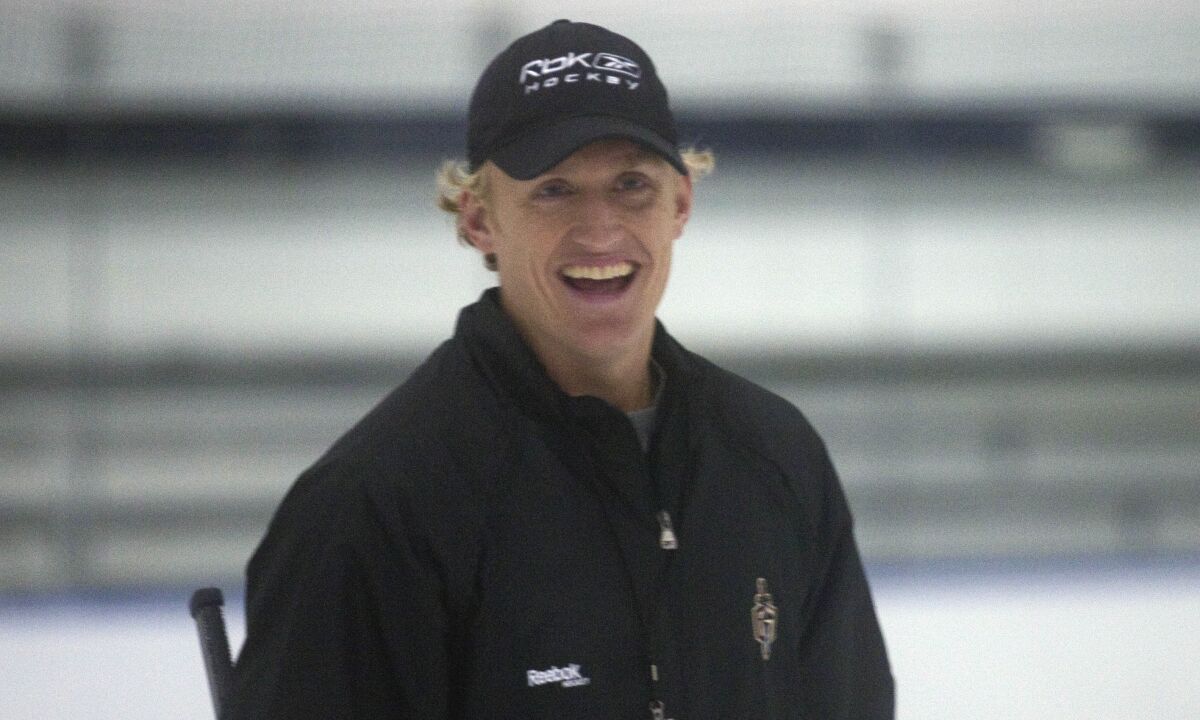 The Kings agreed to terms with a new coach for their minor league affiliate Monday, tabbing 39-year-old John Wroblewski to take over the Reign ahead of what figures to be a key season in the franchise's rebuild.
Wroblewski joins the Kings' American Hockey League affiliate after a successful tenure with USA Hockey's renowned National Team Development Program, where he coached more than a half-dozen eventual first-round NHL draft picks, including 2019 No. 1 overall selection Jack Hughes, and highly regarded Kings prospect Alex Turcotte and Ducks prospect Trevor Zegras.
Wroblewski's task in Southern California will be similar, with the Kings' set to welcome a tidal wave of up-and-coming talent to the professional ranks next season.
"He's been around the younger kids and star players in the [NTDP] and had an ability to coach them in that," Kings general manager Rob Blake said. "We fully understand what we're going to assemble in Ontario and eventually develop those prospects into the next Kings players."
Added Reign general Rich Seeley: "It's John's ability to be empathic but yet stern, to have that balance. . . . I expect John will be direct and clear with his expectations, yet he'll provide a little bit of leeway for some of our players to be creative."
Prior to his time with the USNTDP, Wroblewski was an assistant coach in the AHL and head coach in the USHL and ECHL, becoming a co-recipient of the latter's coach of the year award in 2011-12. As a player, he attended Notre Dame before a four-year minor league career that ended in 2007.
Mike Milbury may have been overcome by pure exhaustion, but he was wrong to say the NHL should use three-on-three play or shootouts to decide playoff games.
Wroblewski's hiring, which came after the Kings decided in May to not renew the contract of longtime Reign coach Mike Stothers, is an important step in what Blake has described as "a whole revamp of the development model."
"Not just Reign-wide," Blake told The Times in June. "Organization-wide. Something we want to continue to build on. I think it's the proper time with the dramatic change to players at both levels, the youth influx."
After years of draft-pick accumulation and meticulous trade acquisitions, the team's NHL and AHL rosters alike are entering a transitional year. Players who spent much of last season with the Reign — such as Gabe Vilardi (2017 first-rounder), Jaret Anderson-Dolan (2017 second-rounder), Mikey Anderson (2017 fourth-rounder) and
Tobias Bjornfot (2019 first-rounder) — could make a full-time jump to the NHL.
Meanwhile, highly regarded prospects — including Turcotte (the fifth overall selection last summer), Tyler Madden (acquired in a trade with Vancouver in February), Akil Thomas (2018 second-rounder), Samuel Fagemo (2019 second-rounder) and Cole Hults (a 2017 fifth-rounder) — could all embark upon their first full professional season in Ontario — that is, if they don't play well enough to progress immediately to the NHL instead.
A former member of the Los Angeles Kings "Ice Crew" has accused the man who plays the team mascot of sexual harassment in a lawsuit.
"We take a lot of pride in our development," Blake said. "How we continue that development during the season is probably what we're looking at revamping the most. Development in the summer has been good over the years, the direction we wanted to go. I think overall as an organization, we want to include it much more.
"I think there's a lot off-ice you can do development-wise. And it's not just hockey skills. The whole aspect of what a player goes through to be a professional hockey player. There's a lot of things we want to incorporate in there. But like I said, I think the organization's at a stage where we can do that now with the changeover on both rosters and the amount of youth coming in."
Wroblewski's attack-minded approach matches the Kings' club-wide approach, as did his familiarity with Los Angeles and the South Bay, where he spent many offseasons.
"But," Wroblewski added at the end of a Monday video call, "the intrigue of this job has very little to do with living in Southern California. It's a nice bonus. But the reason I was ultimately so excited about this opportunity was the responsibility of taking on these players and helping Todd McLellan and the L.A. Kings realize the potential of these young men and make the most of it. That's the big intrigue to this job. Just can't wait to get going."
---
Get the latest on L.A.'s teams in the daily Sports Report newsletter.
You may occasionally receive promotional content from the Los Angeles Times.