Bob Murray resigns as Ducks general manager, will enter alcohol abuse program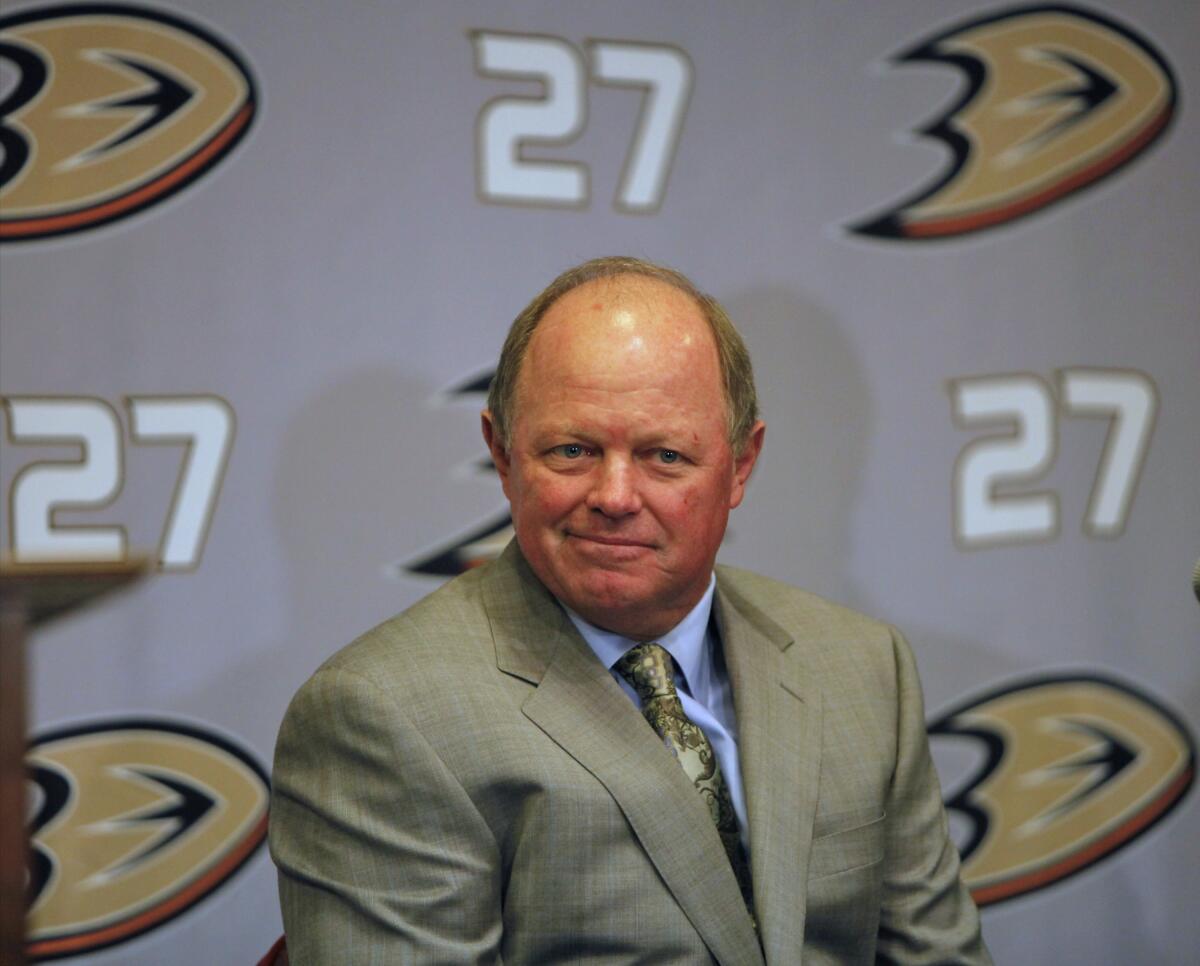 Ducks general manager Bob Murray resigned his job effective immediately and will enroll in an alcohol abuse program, the club announced Wednesday.
Murray, 66, had been put on administrative leave Tuesday based on recommendations of a law firm the Ducks hired to investigate allegations that he had created a toxic workplace by repeatedly shouting at team staffers in an intimidating fashion, sending angry messages to players, and yelling at the coaching staff.
Jeff Solomon will be the Ducks' interim general manager.
The Ducks placed GM Bob Murray on administrative leave Tuesday pending an investigation into allegations of unprofessional conduct.
"I want to apologize to anyone adversely affected by my behavior. I vow to make changes to my life, starting with enrolling in a treatment program," Murray said in a statement released by the Ducks. "I want to thank [owners] Henry and Susan Samueli, and [chief executive] Michael Schulman, as working for them has been one of the highlights of my career. As I step away from the Ducks, I will focus my attention on where it should be: improving my life for the betterment of my family and friends."
The Samuelis will pay for Murray's treatment. They said in a statement: "First and foremost, we apologize on behalf of the organization to anyone affected by misconduct from Bob. We expect every member of our organization to be treated with respect and will not stand for abuse of any kind.
"Bob tendered his resignation [Wednesday] morning, while also informing us of his decision to enter an alcohol abuse program. While we do not condone his conduct, we fully support his efforts to improve his physical and mental health by asking for help. We will now begin a methodical, extensive search for a permanent General Manager to lead us forward. We expect to complete this process no later than next summer."
A hotline set up by the NHL a few years ago that allows players and club personnel to anonymously report abuse was the starting point for the investigation into Murray's behavior. The league issued a statement saying it supported Murray's decision to resign.
"While we understand that he is seeking appropriate counseling and treatment for his issues, there is no excuse and there is no place in our League for that type of behavior that was recently reported through the NHL Hotline," the statement said. "We thank the Ducks' organization for its prompt and appropriate response to the Hotline reports. The League and its Clubs are committed to a safe and welcoming workplace across the NHL and will continue to take any and all action necessary to achieve that goal."
Murray was appointed general manager on Nov. 12, 2008 and ranked third in seniority among NHL general managers behind David Poile of Nashville (1997) and Doug Wilson of San Jose (2003). The Ducks missed the playoffs the last three seasons while Murray rebuilt the roster, often with debatable signings and trades, but the team has won five straight games and has been playing at a high level this season.
The 2021-22 season was Murray's 47th in a row in the NHL as a player and executive, including 14 as executive vice president and general manager of the Ducks. Before that he was their vice president of hockey operations, the title that accompanies his name on the Stanley Cup for the team's 2007 championship. Murray is one of five men who have played in and been general manager of a team for 1,000 NHL regular-season games.
In 2009, Murray was accused of assault by a TV stage manager who claimed he had thrown a chair at her after a playoff game involving the Ducks and the Red Wings at Detroit's Joe Louis Arena, causing injuries to the left side of her chest, her arm and her shoulder. The lawsuit contended her injuries led to her losing her job, car and home. A jury cleared Murray of the assault charge in 2012.
The Murray news comes at a time the NHL is examining its culture and the good-old-boys ethos that for decades promoted the coverup of bad or unethical behavior.
The league is still reeling following an investigation that determined the Chicago Blackhawks had failed to investigate prospect Kyle Beach's report he had been sexually abused by video coach Brad Aldrich in 2011. The team allowed Aldrich to continue working for several weeks; during that time, he made advances on an intern. Aldrich was allowed to resign without consequences and in 2014 pleaded guilty to sexual assault of a minor in Michigan, where he was coaching youth hockey. At the request of the Blackhawks, the engraving of Aldrich's name on the Stanley Cup was covered up.
Stan Bowman, who was the Blackhawks' general manager in 2011, and assistant GM Al MacIsaac resigned; Bowman also resigned his position as GM of the U.S. men's Olympic hockey team. Then-coach Joel Quenneville, who had left Chicago to coach in Florida, resigned as coach of the Panthers. The league fined the Blackhawks $2 million, with $1 million directed to Chicago-area organizations that aid abuse victims.
Gary Bettman defended the NHL's response to allegations of sexual abuse against a Chicago Blackhawks coach that were ignored by the team for a decade.
In 2019, Bill Peters resigned as coach of the Calgary Flames after acknowledging he had directed racial slurs toward a player, Akim Aliu, when both were with Rockford (Ill.) of the American Hockey League. NHL deputy commissioner Bill Daly recently said the league had completed its investigation of Aliu's allegations and had spoken to his representatives, but Aliu's attorney, Ben Meiselas, said via social media he had not heard from the NHL. Peters faced separate allegations that he had kicked and punched players in Carolina.
Also in 2019, Mike Babcock, who was accused of verbal abuse in Toronto and Detroit, was fired as coach of the Toronto Maple Leafs. Late that same year, the Blackhawks suspended assistant coach Marc Crawford following accusations he had kicked two players and made homophobic comments to another during his previous coaching stops. He underwent therapy and was reinstated.
Get the latest on L.A.'s teams in the daily Sports Report newsletter.
You may occasionally receive promotional content from the Los Angeles Times.