Column: Lightning show heart of champions, win Game 5 to stay alive in Stanley Cup Final
DENVER —
The Stanley Cup was in the house on Friday, but it remained in the white-gloved hands of its keeper.
The Tampa Bay Lightning, mentally exhausted by playing 70 playoff games over three seasons, bruised and aching and forced to play without injured forward Brayden Point while facing the end of their two-season hold on the Cup, found the strength to push back against the Colorado Avalanche and prolong their reign by at least two days with a hard-earned 3-2 victory at Ball Arena.
Colorado will have another chance on Sunday in Game 6 in Tampa to win the Cup for the third time in franchise history. A seventh game, if necessary, would be played in Denver on Tuesday.
"Listen, we would've loved to finish it off, but at the end of the day it's a seven-game series. It's not supposed to be easy and it's not going to be," Colorado captain Gabriel Landeskog said. "I hope the fans feel the same way. The sun's going to go up again tomorrow and we'll be right back at it."
Tampa Bay's victory on Friday was part grit, part muscle memory, and all heart. After scoring only one power-play goal in 14 tries in the first four games, the Lightning came up with a four-on-three goal by Nikita Kucherov in the second period to give them life and a brief lead. Colorado came back, but Tampa Bay wasn't going to be denied.
Their bodies might be weak after two successful Cup runs, a quick turnaround from last season's COVID-delayed playoffs to the start of this season and the challenges of another long run, but their will never flickered.
"You could tell in that room that there's still hockey to be played, and that's how we're looking at it," said Lightning forward and former Duck Corey Perry, who's playing in the Cup Final for the third straight season after losing to Tampa Bay with Dallas and with Montreal the last two seasons. "We want to push this and see where this thing goes and there's no giving up."
Nazem Kadri scored at 12:02 of overtime and the Colorado Avalanche beat Tampa Bay 3-2 on Wednesday night in Game 4 of the Stanley Cup Final.
The Lightning scored first, after defenseman Jan Rutta lugged the puck up ice and unleashed a hard shot from the top of the right circle that got through Darcy Kuemper's pads at 15:23 of the first period. Colorado tied it at 5:07 of the second period, after Tampa Bay was called for icing. Landeskog beat Tampa Bay's Nick Paul on a faceoff in the Lightning's end and the puck ended up on the stick of Cale Makar, whose shot bounced in front of the net. Valeri Nichushkin tapped the puck in, setting off roars from the crowd.
Tampa Bay regained the lead at 8:10 of the second, during a four-on-three advantage, when Kucherov's rising one-timer got past Kuemper, with Perry screening in front. But Colorado pulled even at 2:31 of the third period, after Makar's shot deflected off the skate of Tampa Bay defenseman Erik Cernak, a former Kings prospect. Fans began chanting "We want the Cup," but they didn't get to see it because of Ondrej Palat's splendid goal.
"We extended the season. That's what we wanted to do, find a way," Lightning captain Steven Stamkos said. "It was a great effort. Now we've got to do it again."
The teams split Games 3 and 4 in Tampa. Avalanche coach Jared Bednar said it matters less where they play than how they play.
"We've been good because we just continue to play our game regardless of the venue," he said. "Guys have been digging in on the road. We've seen it through the regular season. We've seen it really step up into the playoffs. Guys come in hungry and ready to play and play to our identity."
Corey Perry and Jack Johnson aren't the players they once were, but they're playing critical roles for the Lightning and Avalanche in the Stanley Cup Final.
But the Lightning on Friday played to their identity: they're two-time defending champions who gave themselves a chance at a third straight triumph by winning in a hostile building and with timely goals and special team contributions they hadn't been getting in the Final.
Perry laughed when asked if he and his teammates had been motivated by the idea that they'd invested too much time and sweat over the last two months to lose now. "I'm just trying to play hockey. I get my nap in the afternoon, I come to the rink and just focus on the game," he said. "It's not about what if, what if. It's about what you have to do and that's how we look at it. That's how our team looks at it."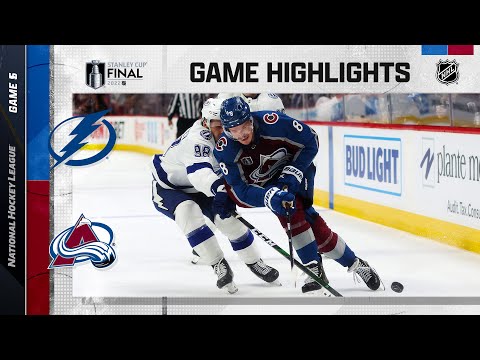 They're looking at one more chance, maybe two, to become the first team to win the Cup three straight seasons since the New York Islanders won four straight starting in 1980. "We're comfortable in our building. We wanted to get back, push it back, see what happens, see where it goes," Perry said. "We did our job tonight but there's a big task at hand in a couple nights that we have to do."
Their job on Sunday will be to keep the Cup in its traveling case again.
Get the latest on L.A.'s teams in the daily Sports Report newsletter.
You may occasionally receive promotional content from the Los Angeles Times.