Column: It's an emotional night for newest class at Hockey Hall of Fame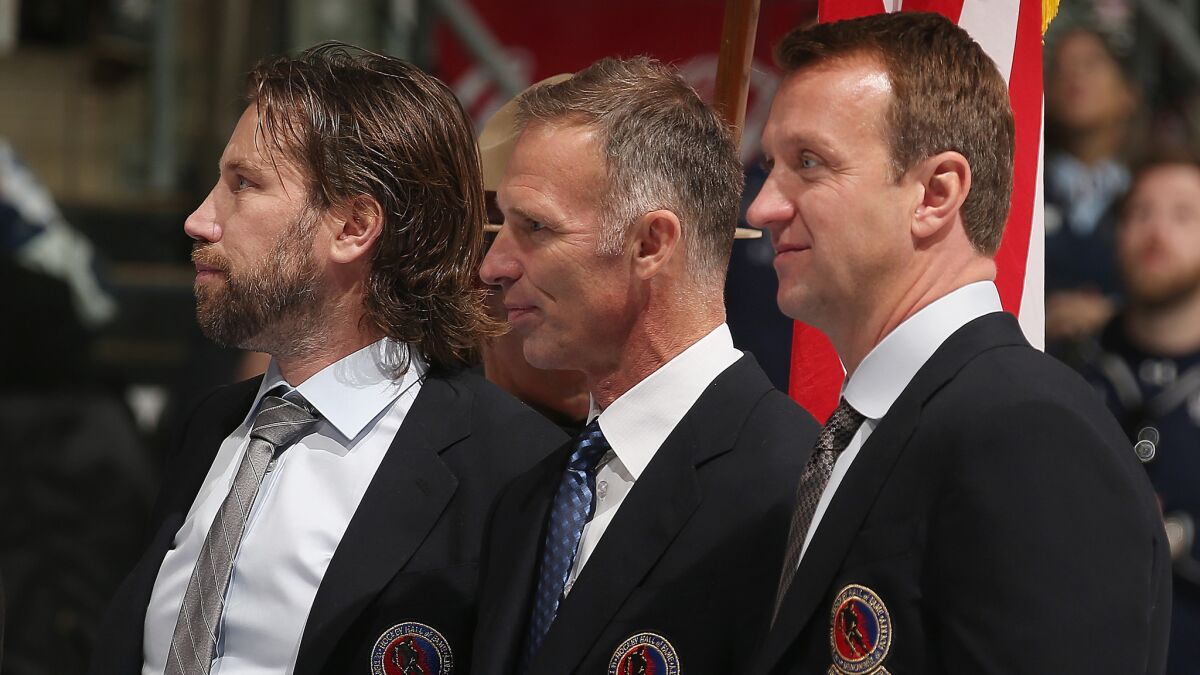 Their accents and homelands differed, but the six men inducted into the Hockey Hall of Fame on Monday expressed a common affection for the family and friends who helped them reach the pinnacle of their sport.
"Hockey is one language spoken passionately all over the world," Commissioner Gary Bettman said during the telecast of the ceremony in Toronto, words especially appropriate for the remarkable 2014 class.
Three Canadians — former Kings defenseman Rob Blake, the late coach Pat Burns and longtime referee Bill McCreary — were honored alongside two-time world and Olympic champion Peter Forsberg of Sweden, 1998 Olympic gold medalist Dominik Hasek of the Czech Republic and all-time American-born goals leader Mike Modano. Burns, a three-time coach of the year honoree who died of cancer in 2010, was represented by his widow, Line, and son, Jason.
Every speech expressed heartfelt gratitude for the support that buoyed them along the way. Blake, now the Kings' assistant general manager, spoke of being shaped by growing up on a farm and the pride his family took in its labor.
"Thank you for showing me hard work and preparation and what it can lead to," he told his parents, Robert and Sandra, who were in the audience. Blake also singled out longtime friends Nelson Emerson, Glen Murray and Mattias Norstrom, who joined him in Toronto for the occasion.
Hasek remembered his grandfather shooting tennis balls at him in his kitchen, and his mother and grandmother loading a baby carriage with his goaltending gear and pushing it to the rink in the dark so he could practice. His father made some of his first equipment when he was 6 years old.
"From that day on I never wanted to do anything else," said Hasek, whose unorthodox style helped him win the Vezina Trophy six times as the NHL's top goalie.
Jason Burns said his father wasn't bitter about being passed over for the Hall of Fame during his lifetime and instructed him, "you'd better look good and have a good speech ready" when Jason someday represented him. Jason Burns looked good and spoke movingly, but it was an irreparable shame that Pat Burns' election was delayed this long.
Forsberg, a two-time Stanley Cup champion with Colorado, thanked his parents, Gudrun and Kent. "They didn't just teach me to play hockey, they taught me to be a good person," he said before thanking friends he has known for 30 years.
McCreary teared up while thanking his late mother, "the best single parent and hockey mum a boy could ever have." Modano thanked his mother, Karen, saying she "made the best ice and smoothest ice in town and was never afraid to grab a garbage can when we needed a goalie." He said he had now lived his dream and hoped his infant twins, Jake and Kate, squirming in the front row, will achieve their dreams, too.
Their choice of words varied but their sentiments were the same, creating a worthy celebration of the game's best.
Good bet for NHL?
Although NBA Commissioner Adam Silver wrote an Op-Ed article in the New York Times endorsing the legalization of regulated sports gambling, Bettman seems less than enthused with the idea.
Bettman last week told CNN's Rachel Nichols he's concerned legalized betting could change the tone of sports events.
"I think there needs some attention to be paid to what sport is going to represent to young people, should it be viewed in the competitive team-oriented sense that it is now, or does it become a vehicle for betting, which may in effect change the atmosphere in the stadiums and the arenas," he said. "Do you want people at football and basketball games rooting for the spread or rooting for their favorite team?"
They're probably rooting for the spread already. But it's an interesting debate, especially since the NHL apparently is flirting with the idea of placing a team in Las Vegas in the next few years.
Howe struggling
Gordie Howe is struggling after suffering a minor stroke last week that set back his recovery from a massive stroke, his son Mark said last weekend.
"He's having a pretty hard time of it right now," Mark Howe told the Detroit Free Press. "We're praying we can get him some relief from his pain."
Mark said his father, 86, has had back pain and increased symptoms of dementia and is bed-ridden. The prognosis isn't good, but Gordie Howe never gave up on any fight.
Slap shots
Bravo also to Hall of Fame media honorees Kevin Allen of USA Today, winner of the Elmer Ferguson Award for distinguished contributions to hockey journalism, and Chicago broadcaster Pat Foley, winner of the Foster Hewitt Award for outstanding contributions to hockey broadcasting.
The Avalanche is likely to host an outdoor game next season at Coors Field as part of the NHL's Stadium Series, according to the Denver Post. The league cut back from six outdoor games last season to two this season, the Winter Classic on New Year's Day between the Chicago Blackhawks and Washington Capitals at Nationals Park, and a Feb. 21 matchup at Levi's Stadium between the Kings and San Jose Sharks.
Pittsburgh Penguins defenseman Olli Maatta was back on the ice just over a week after undergoing surgery to remove a cancerous tumor from his thyroid. Maatta, who isn't expected to need additional treatment, might return to the lineup this week. ... NHL general managers will discuss overtime procedures when they meet Tuesday in Toronto. The momentum-killing dry scrape will be evaluated and three-on-three play will again be debated.
Twitter: @helenenothelen
---
Get the latest on L.A.'s teams in the daily Sports Report newsletter.
You may occasionally receive promotional content from the Los Angeles Times.