Ducks are outplayed by Blackhawks in 4-1 loss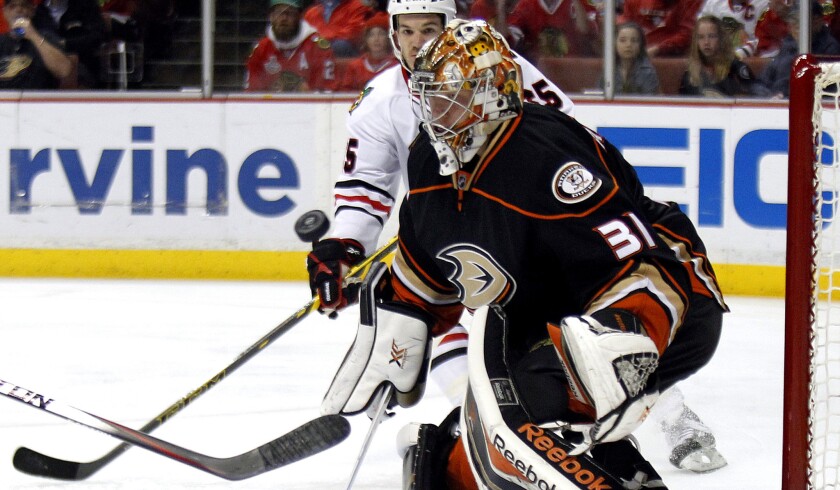 The Ducks know their planned destination well. A silver Cup is there.
Friday night, they were fully introduced to their biggest roadblock.
The Chicago Blackhawks, Stanley Cup winners two seasons ago and an overtime Game 7 playoff goal away from possibly going back-to-back last season, convincingly beat the NHL-points-leading Ducks, 4-1, at Honda Center.
Chicago goalie Corey Crawford stopped all but one of the 22 shots he faced, while the Blackhawks (31-16-2) continually buzzed the Ducks' net and finished with 33 shots on goal.
"You can obviously tell how far [we] have to go to be the best," Ducks Coach Bruce Boudreau said. "You can be in first place and everything, but they turned it up and we weren't able to handle it today.
"As a measuring stick, I hope this stays in our minds for a long time. They played so much faster than us, smarter, and that's what we'll focus on."
The Blackhawks' persistence and skill are forces the Ducks couldn't solve.
Chicago forward Patrick Kane upped his season goals total to 25 with two, beating Ducks goalie Frederik Andersen on a late second-period shot above the right shoulder.
And forward Patrick Sharp had an assist on all four Chicago goals, the last being a no-look dish from the boards to Kane to close scoring in the third.
"Best team in the NHL this year, we knew they were coming off a back-to-back game — three games in four nights — it was important for us to come out with a good effort [and] we played a perfect road game," Kane said.
Chicago complemented that with some salesmanship.
With the Blackhawks leading, 1-0, in the second period after he scored a goal in the first, center Jonathan Toews leaned on Andersen and tumbled backward upon him just as a hard low drive by defenseman Duncan Keith was bladed past for a 2-0 lead.
Referees consulted. Fans' booing and venom spewing from Boudreau scorched their ears.
But the goal stood.
Sharp now has 19 points in 15 career games against Anaheim.
It was the second game in two nights for the Ducks (32-12-6), who opened the twinbill with a rotten Thursday showing in San Jose.
There was cause to think something better than the 6-3 loss was coming Friday, since the Ducks were an NHL-best 16-4-2 in the second of back-to-back games dating to the start of last season.
But early in the second period, Crawford opted to pursue a puck behind the net as Ducks center Ryan Kesler raced toward him, ready to swipe a wobbling puck to the net for a tying goal that might've changed the complexion.
Except Crawford knocked it away and Kesler fell into the fortunate goalie.
"It's a game of millimeters at that point, I had an empty net," Kesler said. "Those are the types of swings in games … tonight, it didn't bounce right for us."
The Ducks are now left with three off days to take a sobering assessment of their place in the league.
"We regroup, have a good practice [Saturday] and forget about it," Kesler said. "Obviously, we didn't have it last night or tonight. We'll use these days to get better, rest and recover, and we'll finish this season strong."
---
Get the latest on L.A.'s teams in the daily Sports Report newsletter.
You may occasionally receive promotional content from the Los Angeles Times.