Kings allow six goals in second period in 7-1 loss to Avalanche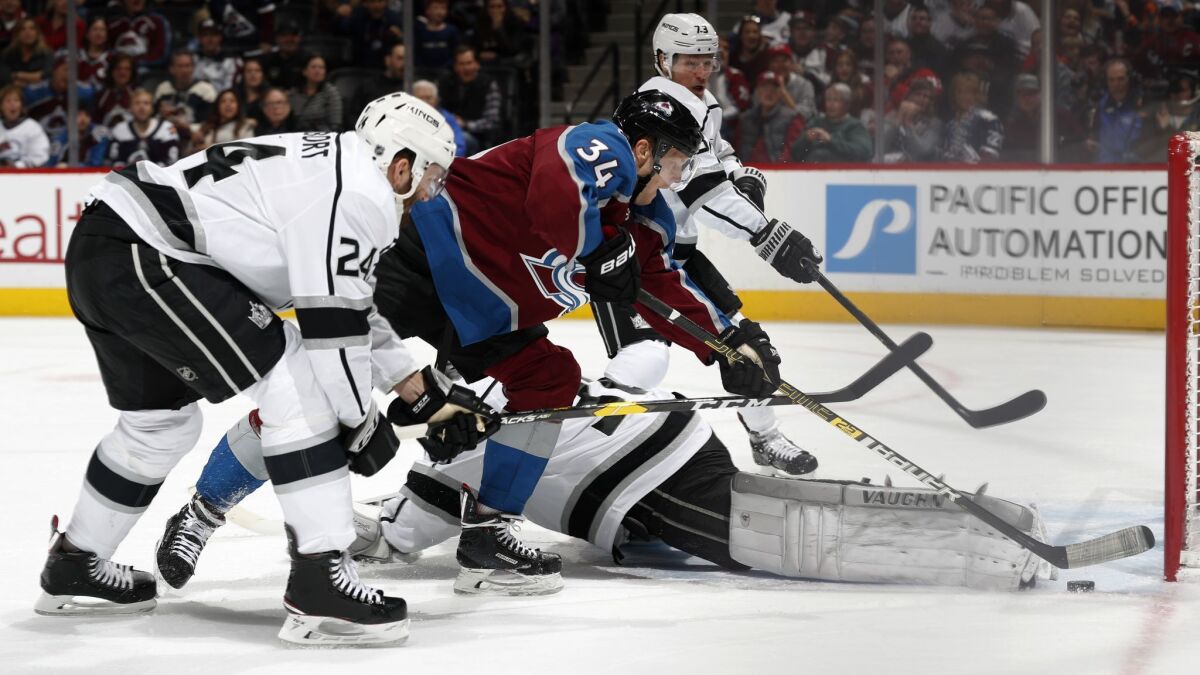 Reporting from Denver —
Their hockey bags were packed and stacked on a cart, ready to go. Their dressing room cleared out in minutes.
The Kings couldn't get out of Denver fast enough Saturday afternoon, partly to forget a 7-1 loss to the Colorado Avalanche but mostly because of embarrassment from it.
It's a never-ending season of lows, and the Kings got out their pick ax and dug a deeper and more disturbing one in allowing six goals in the second period. The lasting images were Jonathan Quick huffing off the ice after he argued the fifth goal to referee Jean Hebert, and the Pepsi Center video screen slowly panning the Kings bench to the song, "Bad Day," with about three minutes remaining.
"It comes down to the will to compete and execute and want to win," defenseman Drew Doughty said. "It's just embarrassing. We had a chance to have a great trip and get five of six points. We were really hungry before this game. We felt good. To just go out there and play like crap, sucks."
Sign up for our daily sports newsletter »
The loss further ignited talk about an impending organizational shakeup before the Feb. 25 trade deadline. The Kings have already had several of those types of losses this season. The particulars Saturday involved the Kings relying on their goalie too much, again, and an inability to stem an Avalanche team eager to stomp out its own losing run.
The Avalanche got two goals from Mikko Rantanen and scored on the power play and short-handed. The six goals were the most allowed by the Kings in a period since they gave up six to the New York Rangers in 1999, and it equaled the Colorado franchise record for most scored in a period.
"If there was anything, it was probably Colorado was due," interim coach Willie Desjardins said. "They hadn't been on top of their game and they were going to come hard … Everything that could go wrong with our team went wrong tonight."
Quick's blowup was frustration over what he thought was goalie interference by Matt Calvert on a rush that left Tyler Toffoli and Jake Muzzin chasing the Avalanche. Calvert ran into Quick after his shot attempt, and Sheldon Dries crashed the net to bat in the puck from mid-air to make it 5-0.
The NHL's Situation Room ruled that "the actions of Muzzin caused Calvert to contact Quick before the puck crossed the goal line." Quick banged his goal post and contested it to Hebert. Removed for Jack Campbell, Quick vented on the way to the bench and immediately went to the dressing room.
Colorado continued as if it were trying to trigger a mercy rule. Rantanen delivered an impressive backhand, unassisted, for his second goal. Colin Wilson skated in on a partial breakaway, past Dion Phaneuf and Sean Walker, and his shot trickled through Campbell for a 7-0 lead.
Tyson Barrie and Gabriel Landeskog also scored.
"It was just a pathetic second period," Doughty said. "I really don't even know what to say. Yeah, they played well but we just played poor. And we left our goalies out to dry again. And we're sick of doing that. When we win games, we leave them out to dry. When we lose games, we leave them out to dry. It's about time we play for them."
Doughty said he didn't see Quick's outburst but that "we obviously feel terrible about that" because they know it's their play in front of him that causes it.
About the only thing the Kings did right in front of Quick on Saturday was some agitation by Phaneuf. Ilya Kovalchuk got the Kings' only goal with a one-timer on the power play with the outcome already decided.
The Kings have typically done poorly in day games. They have one more of them before a long break.
"Each and every one of us has to make sure that we're ready for the puck drop on Monday," Kopitar said.
Twitter: @curtiszupke
---
Get the latest on L.A.'s teams in the daily Sports Report newsletter.
You may occasionally receive promotional content from the Los Angeles Times.