Kings goalie Cal Petersen gets his first NHL start at the place his collegiate career ended
Reporting from CHICAGO —
The last time Cal Petersen stepped onto the United Center ice here, it was the finale of his collegiate career at Notre Dame, a 6-1 loss to Denver in last year's Frozen Four.
More than a year later, the goaltender returns to make his first NHL start, for the Kings, when they play the Chicago Blackhawks on Friday.
"Oddly, it comes full circle," Petersen said.
A series of unfortunate injuries brought Petersen to this point. The situation actually grew worse Friday because Peter Budaj is ill and might not be able to serve as backup; the Kings were contemplating a recall.
But Petersen would have likely gotten the start anyway, and he will fulfill the hometown storyline, or at least home area. He grew up in Waterloo, Iowa, and played under-18 hockey for the Chicago Young Americans, based in Wheaton, Ill.
"I was able to catch a couple of 'Hawks games, too, when I was around," Petersen said. "I've got a lot of positive memories in this city and obviously the proximity to Notre Dame, so it kind of feels like home."
Petersen's parents, Eric and Mary, and sister, Annie, will be in attendance as he goes for his first NHL win. He's only been up for a short time but Petersen has demonstrated a maturity that shows he's ready, especially after a 15-save appearance in relief on Tuesday against the Toronto Maple Leafs.
'That's a big step, to come in and play, and that's a challenge for sure," Kings coach Willie Desjardins said. "But everybody wants it, you know? If you're a young guy, what more could you want than to start in Chicago? That's a pretty good opportunity."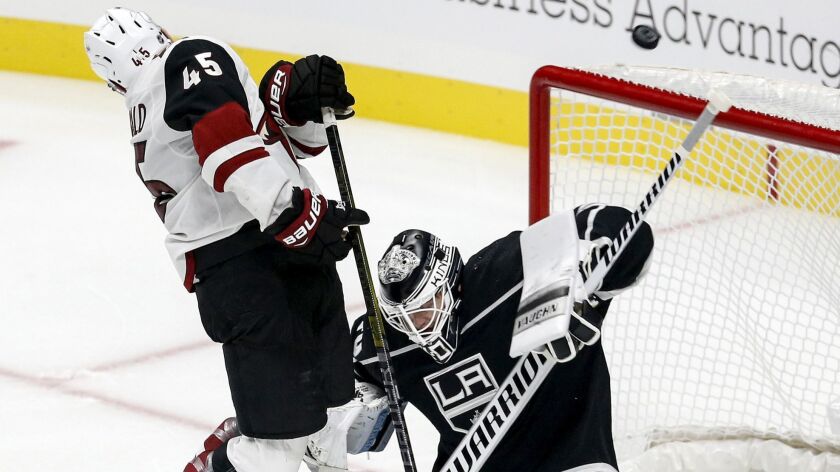 Hagelin debut
Carl Hagelin skated with Adrian Kempe and rookie Matt Luff in the morning as he prepared to play for his fourth team following a trade from Pittsburgh. Desjardins called Hagelin a player with something to prove, and rightly so. He's been traded three times, and he's learned to reboot.
"I'm a player who's always positive, and I always see the good things in life," Hagelin said. "Things happen for a reason, and now I'm here. I'm trying to make the most of this opportunity."
Fallen dynasties
The Kings and Blackhawks go into the game at the bottom of the NHL with minus-21 and minus-15 goal differentials, respectively. They have changed coaches and fallen off a cliff from their reign after having won a combined five Stanley Cups from 2010 to 2015, not to mention several epic playoff contests.
"For a while there, it was like, ourselves and L.A. were the teams to beat in the West," Chicago's Patrick Kane said. "We're going through a little bit of a different phase for us, as an organization, the franchises, but there's still big names. And they're going to try and turn it around. They have a new coach there and same for us. Big game."
Twitter: @curtiszupke
---
Get the latest on L.A.'s teams in the daily Sports Report newsletter.
You may occasionally receive promotional content from the Los Angeles Times.