Kings' rookies come up big in shutout of St. Louis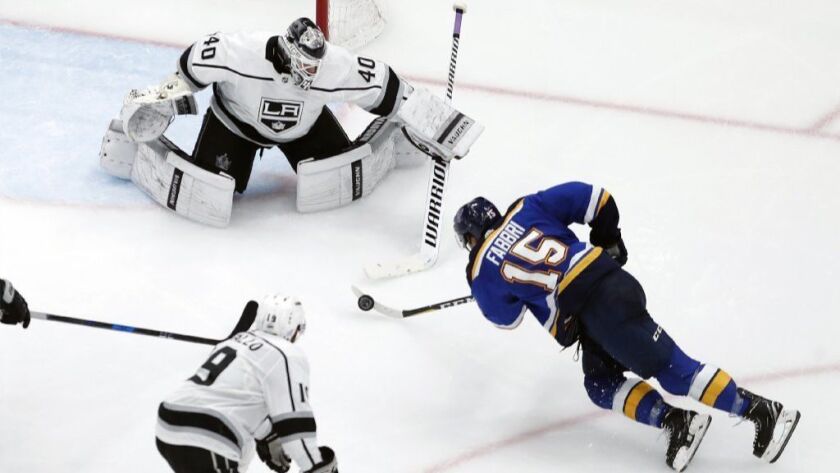 Reporting from St. Louis —
Behind his mask, Cal Petersen couldn't help but smile.
From almost 200 feet away, Petersen didn't know at first who had scored. Then he saw Matt Luff pump his hand as Luff giddily glided away from the net.
"I didn't realize it was him until the celebration," Petersen said. "He always has some kind of goofy celebration, so I knew right away from that."
Luff was the goofiness to Petersen's rock steadiness Monday night, when both experienced career moments in a 2-0 victory against the St. Louis Blues. Petersen earned his first NHL shutout and Luff scored his first goal.
It wasn't such a happy occasion for Blues coach Mike Yeo, whose firing was announced about 90 minutes after the game.
A procession of teammates congratulated Petersen after the horn, and perhaps none identified more with him than Luff.
The two toiled in the minors, through long bus rides and grinding practices that dissipated under the Enterprise Center lights.
"It's unreal," Luff said. "We were talking and whatnot. I was giving him the hug on the ice. I couldn't have picked a better day to have it happen, with him getting a shutout, so now I think we're going to talk a little bit on the plane. He's one of the best kids."
Petersen, who made his third start in four nights, has stopped 116 of 122 shots to start his career. He made 29 saves against the Blues, from a doorstep denial of Tyler Bozak early in the second period to a tricky perimeter slap shot by Colton Parayko that briefly handcuffed him in the tense final minutes.
Anze Kopitar sealed the win with an empty-net goal, and the Kings had to get through one last scramble to preserve the shutout. Petersen had 11 shutouts in college and four in the minors, but those don't compare.
"It has to be the top," he said, "for it to come at this level against this competition … [is] very rewarding, but at the same time, all the effort and sacrifice that the boys put in tonight, it's just as much a shutout on their part as it is on mine."
Luff delivered a replay-worthy goal in the second period. Adrian Kempe hit him in stride with a cross-ice saucer pass and Luff beat Jake Allen to trigger the impromptu joy.
"I thought I calmed it down," Luff said. "I usually have worse celebrations. I wasn't thinking, but I just threw my arm in the air and jumped into Kempe."
The pretty play polished a clash of two last-place teams known for grinding, physical games and plenty of friction, and the rookies' emergence was timely.
"We need these so-called kids, right?" Kopitar said. "I thought Cal did a fantastic job. Right from [his debut against the Toronto Maple Leafs] I thought he's made some really, really good stops. It's not easy. He's done a tremendous job."
Kopitar and teammates appeared to give Petersen the time-honored rookie treatment of sending him out by himself for a lap at warm-ups. But Petersen just went out early on purpose. He has tended toward precociousness anyway, and has allowed himself moments to take it all in.
"It's been a fair bit of a whirlwind, considering it's been three in four," he said. "But whenever I get a quiet moment, I've been able to talk to my parents. It's a time to take the time to soak everything in and appreciate the opportunity and also just all the good things and the good fortunes."
Etc.
The Blues and Chicago Blackhawks will donate proceeds from their 50/50 raffles to victims of California's wildfires. … The Kings unveiled a new ball hockey rink at Heartwell Park in Long Beach.
Twitter: @curtiszupke
---
Get the latest on L.A.'s teams in the daily Sports Report newsletter.
You may occasionally receive promotional content from the Los Angeles Times.