What we learned from the Kings' 4-0 loss to the St. Louis Blues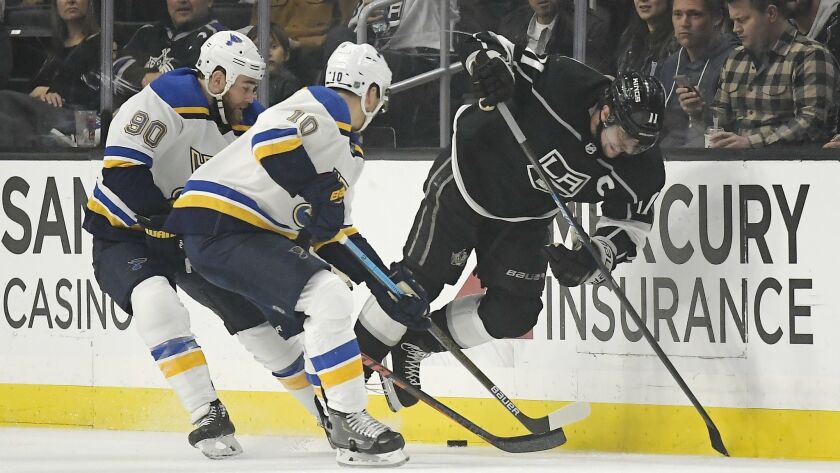 The Kings and St. Louis Blues fired their coaches within 15 days of each other back in November, because of seasons that were sinking fast.
It was painfully clear Thursday which team emerged from those depths. St. Louis looked like it had eyes on a playoff berth while the Kings remained stuck in neutral after a 4-0 loss at Staples Center.
In what is supposed to be a time to correct bad habits and play for one another, the Kings were just outplayed, and again left Jonathan Quick to fend for himself in a too-familiar angle that's egregious given some of the saves Quick made Tuesday.
Here's what we learned:
The Kings' lack of speed was exposed. Coach Willie Desjardins admitted as much postgame when asked about the high number of odd-man rushes allowed. St. Louis' top line feasted on it, as Ryan O' Reilly, Vladimir Tarasenko and Brayden Schenn combined for two goals and three assists.
The Blues have been known as more of a physical team in the past, in the same vein as the Kings, but they showed they can skate as well. Their third goal, a tic-tac-toe redirect by O'Reilly, was a dagger with 1.1 seconds left in the second period, when Drew Doughty and Derek Forbort couldn't get back to defend it.
"One of our defensemen went down on the play," Desjardins said. "He's trying to make something happen. They just broke out four-on-two. You break out four-on-two, they're going to have an open guy, and they found him going to the net."
The disparity in top lines was glaring. O'Reilly and his linemates have barely been together this season, but they've clicked when united. They have 56 points in 13 games, according to Lou Korac of NHL.com.
Schenn, a former Kings prospect, looked particularly good in back-to-back games against the Ducks and the Kings. Tarasenko delivered a laser shot from left wing with Doughty preoccupied with Schenn on the inside lane.
Tuesday wasn't one of the memorable ones for the Kings' top line. Anze Kopitar, Dustin Brown and Tyler Toffoli were a combined minus-6. Brown has moved to left wing and Toffoli is new to the line in a recent reshuffle, but those minus numbers are difficult to ignore.
Kyle Clifford spoke generally when asked about the Kings' performance.
"It's too easy all around, and we let our goalie [hang] out to dry tonight," Clifford said.
Give credit to St. Louis. The Blues were 7-9-3 when they fired coach Mike Yeo on Nov.19, following a 2-0 loss to the Kings and rookie goalie Cal Petersen. They've turned it around and moved to four points behind the Winnipeg Jets for second place in the Central Division with back-to-back wins against the Ducks and Kings.
Sign up for our daily sports newsletter »
St. Louis didn't let the Kings get under their skin with physicality, and it helped to have Jake Allen. The goalie improved to 6-3 with two shutouts and a 1.62 goals-against average and .947 save percentage in 10 games against the Kings.
"I thought the guys did a good job in the third [period], to be honest," Allen said. "That was the most important period for us. They didn't let [up]. You know, sometimes you get a 3-0 lead, you get on your heels and play a little passive. But the guys really stepped on the gas still and didn't give them much."
Twitter: @curtiszupke
---
Get the latest on L.A.'s teams in the daily Sports Report newsletter.
You may occasionally receive promotional content from the Los Angeles Times.