Column: Sutter praises Kings' strong effort in 1-0 loss to Bruins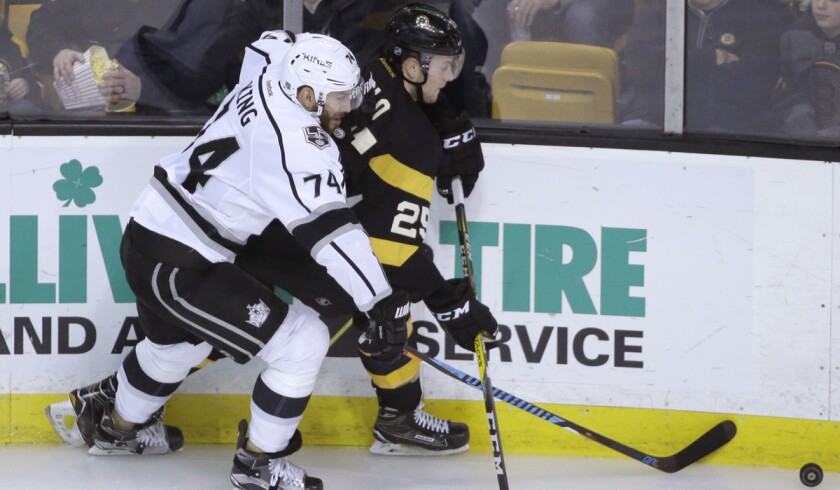 Reporting from Boston —
The consensus among the Kings was that they didn't get enough shots through the Boston Bruins' staunch defense Sunday afternoon, and that was unarguably true. The Kings mustered a season-low 18 shots on goaltender Tuukka Rask and had 20 other shots blocked by the Bruins, who got an early lead on a deflection by Jimmy Hayes and held on for a 1-0 victory at TD Garden.
But one verbal shot did get through, and it came from Coach Darryl Sutter in explaining why he held a healthy Marian Gaborik out of the lineup.
Gaborik had scored only one goal and had taken 21 shots in nine games since he recovered from a broken foot, and Sutter had recently reduced his ice time. Scratching Gaborik on Sunday, a day the Kings were without Dustin Brown because of an apparent minor upper-body injury and could have used some scoring threats, sent an unmistakable message that Sutter will tolerate nothing less than an all-out effort all the time.
"It was a coach's decision. We have that right in the locker room as players and coaches to have high expectations of players in terms of how they play," Sutter said of not deploying the 34-year-old Slovakian winger, who carries a salary cap hit of $4.875 million and last season scored only 12 goals in 54 games.
Sutter praised his players' strong effort Sunday in their fourth game in less than six days in four cities. Everyone played their butts off, he said, or something close to that.
"Guys that don't, got to rest. Guys that do, got to play again today and they left it all out there," said Sutter, who inserted Devin Setoguchi and Andy Andreoff into the lineup in place of Gaborik and Brown.
The Kings' second straight 1-0 decision — they had prevailed by that score at Pittsburgh in overtime on Friday — dropped them to 2-2 on a trip that winds its way to Columbus on Tuesday, Nashville on Thursday and Dallas on Friday before the Christmas break intervenes.
"I think it would have been a good trip so far if we had pulled it out this afternoon, but it's a little frustrating," said right wing Tyler Toffoli, who had no shots Sunday. "It's tough knowing that we have a couple days here until our next game and we couldn't do it."
The goal resulted from a faceoff in the Kings' zone. Nic Dowd was beaten on the draw by Dominic Moore, who sent the puck off the boards and back to defenseman Colin Miller, a 2012 Kings fifth-round draft pick who was dealt to Boston in the trade that brought Milan Lucic to the Kings. Miller faked a shot to fool Andreoff and then resisted the temptation to take a full windup and blast a shot on net. Instead, he took a short, compact shot that was redirected in front by Hayes and past Peter Budaj at 4:20 of the first period.
"I thought he made a great move on that first fake and he just got it to the net," Bruins Coach Claude Julien said.
Getting the puck to the net was something the Kings couldn't do often enough, largely because of the Bruins' determined effort to play a tight game while winger David Pastrnak, their top goal scorer, recovers from surgery on his elbow.
"When they were protecting their lead, they kind of packed all five guys in tight, so lanes were pretty hard to find," Kings left wing Dwight King said.
The Bruins have scored two goals or fewer in 22 of their 33 games, so they must play well defensively to survive.
But they're not alone in playing that way. "That's everybody in the league now," Kings defenseman Matt Greene said. "Everybody in the league, they're telling the forwards and the [defensemen] to block shots, and we've got to figure out a way to get it done."
They didn't get it done on four power plays — the most they've had in four games — and so left Boston with a sense of regret.
"Right now we've got to play tight games, and that was kind of the mantra after the first game of this road trip, to be really good defensively, take care of our own end and we'll take care of ourselves the other way there," Greene said, referring to the messy 6-3 loss at Buffalo that launched this trip. "But we've got to produce more there and win those games."
Twitter: @helenenothelen
---
Get the latest on L.A.'s teams in the daily Sports Report newsletter.
You may occasionally receive promotional content from the Los Angeles Times.