Kings score four goals, but lose to Canadiens in shootout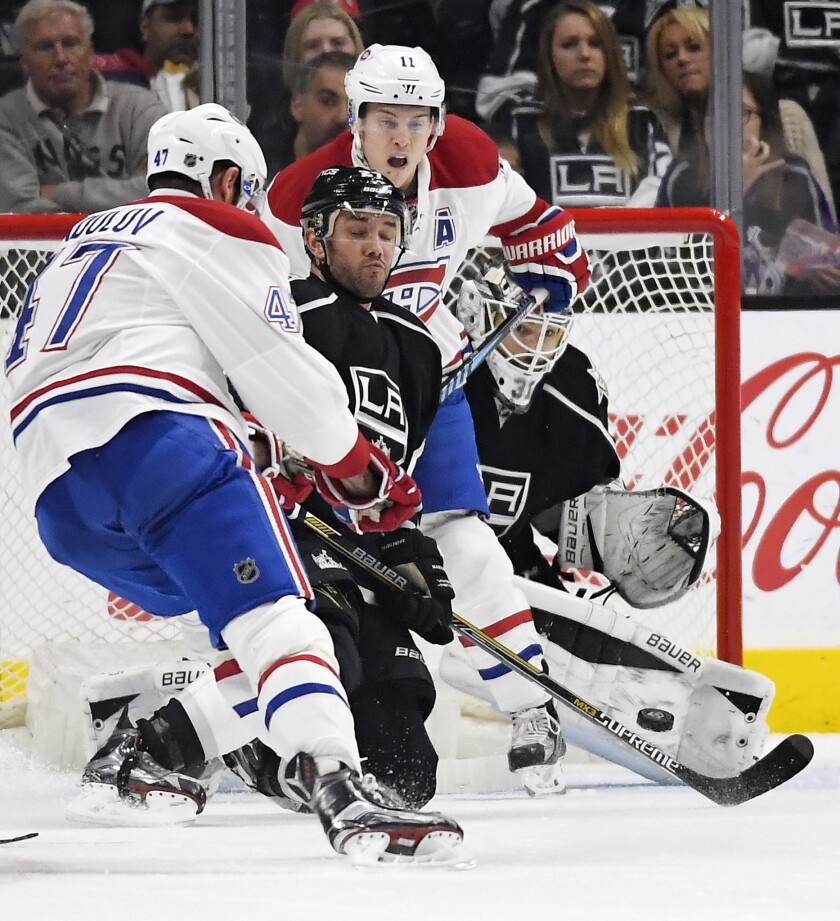 The formula usually works: Score four goals on the best goalie in the world and it almost always translates to a win.
Not only did the Kings get four against Montreal's Carey Price, they sent two more pucks past him in a shootout. Yet there was a feeling of disbelief in the Kings' dressing room because even that wasn't enough Sunday.
The Kings' normally rigid defense has slacked loose lately, and it allowed four goals to Montreal before the Canadiens won in a shootout, 5-4, in a wacky matinee at Staples Center.
The Kings have allowed 11 goals in their last three games.
"We pride ourselves on keeping it tight," center Anze Kopitar said. "Our goals against the last few years have been down. So giving up four, you're usually not winning the game. But we got four on Price today, which is good. We've just got to cut down on our goals against."
Paul Byron ended it with a goal against Kings goalie Peter Budaj in the fourth round. Kopitar and Jeff Carter beat Price with impressive wrist shots in the second and third rounds, respectively, before Price appeared to barely get a piece of Tanner Pearson's fourth-round attempt, a save that set up Byron.
Budaj, a former backup to Price in Montreal, kicked out a big rebound that Andrew Shaw converted to tie it, 4-4, just more than two minutes into the third period. Budaj, in his 23rd consecutive appearance, was beaten three times to the five-hole, including Max Pacioretty's second goal of the game.
"Our team did a good job," Budaj said. "Getting to Carey Price is not the easiest thing in the world. It's probably one of the hardest right now. It's a little disappointing that maybe I could have stopped one or two that I would like to get back."
Offensively, the Kings revived their power play with two goals; they had scored three at home all season prior to Sunday. They got more balanced scoring with goals from Nick Shore and Trevor Lewis, who topped a wild six-goal second period with a highlight backhand past Price that gave the Kings a 4-3 lead. Kopitar made a 70-foot cross-ice pass to Lewis on the play for his third assist of the game.
The period took on a whoever-has-the-last-power-play-turn-off-the-lights feel. Jeff Carter and Drew Doughty scored with the man advantage, and Shore scored his first goal this season when the Kings' fourth line beat Montreal's top line.
The Canadiens kept pace with goals by Pacioretty and Alexander Radulov. Kings Coach Darryl Sutter cited "a bad rebound" that tied it up but referenced Montreal's "high octane" lineup against a sagging Kings defense.
"We really hung in there and came back," Sutter said. "But, that's too many goals. . . . We were 1-1-1 [in the last three games] and giving up [four], three, four [goals]. That's 500. That's not playoffs."
Slap shots
The Kings will get a break from their schedule with three off days, beginning with their annual charity golf tournament Monday. "We'll train [Monday]," Sutter said. "They're working on their drives." . . . Dwight King and his wife, Lauren, had a boy, George, on Saturday, the team announced. . . . Teddy Purcell cleared waivers and was re-assigned. Andy Andreoff was activated from injured reserve but did not play.
---
Get the latest on L.A.'s teams in the daily Sports Report newsletter.
You may occasionally receive promotional content from the Los Angeles Times.