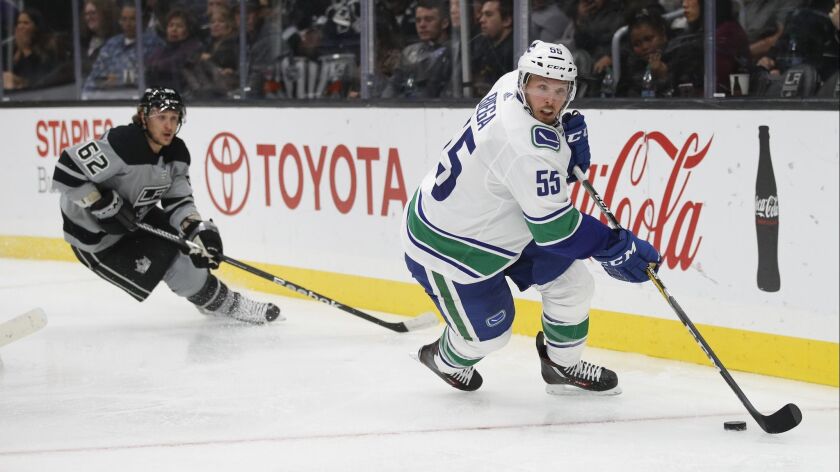 The Kings sure know how to ruin a good Luff story.
It's shaped up to be a good one so far. Few people probably would have guessed that Matt Luff would play an integral role for the Kings in November. But of course this season has taken some ugly turns, some of which have been negated by Luff's joyous goal celebrations.
For the third straight game Saturday, Luff let loose, this time with a big fist pump to shake up Staples Center. But it went down in another loss, 4-2, to the Vancouver Canucks.
It was Vancouver's impressive rookie, Elias Pettersson, who grabbed a Dion Phaneuf outlet pass and beat goalie Cal Petersen for the game-winning goal as Vancouver ended an eight-game losing streak to send the Kings further hurtling into a black hole.
"I think it's not putting together a full hockey game," Alec Martinez said. "I think it's little things. I think it's supporting each other, all over the ice. I think it's about detail. It's about special teams. I don't think they're good enough in this league. It's a lot of things."
Luff brought the building back to life with a breakaway goal to tie it 2-2. Carl Hagelin spotted Luff streaking down the right side, and Luff got goalie Jacob Markstrom to bite on a deke before he slipped the puck past him on his forehand.
The arena blasted "What Is Love," but the fun didn't linger. Pettersson struck midway through the third period when he stepped between two Kings and intercepted Phaneuf.
"It's my fault," Phaneuf said. "I cost our team one point, for sure, if not two. I thought we played really well. That's on me. That's a mistake that can't happen, and it happened. It's unacceptable."
Tyler Motte scored a shorthanded empty-net goal for Vancouver, which played Friday. It speaks to the Kings that they've lost two of three during Luff's scoring streak, and that they earlier broke their 0-for-16 power-play spell with Ilya Kovalchuk on the bench. The Kings instead put Anze Kopitar in Kovalchuk's former left-point spot, and the first unit scored on Drew Doughty's shot that found its way to the net with Dustin Brown blocking Markstrom at 7:23 of the second period.
Vancouver struck twice in the second period with goals by Sam Gagner and Adam Gaudette, the first of his career. Gagner, whose tripping penalty resulted in Doughty's goal, redeemed himself by converting a tic-tac-toe passing play in the slot on the power play.
Gaudette drove down untouched to slam in Jake Virtanen's cross-ice pass. Virtanen rode Oscar Fantenberg off the puck behind the net as the Kings succumbed to Vancouver's forecheck.
That the Kings couldn't break Vancouver in the third period was yet another sign of a team with enormous issues. Their start was solid and their power play found something, but culminated in the Kings' 14th loss. Last season, the Kings didn't absorb their 14th regulation loss until Jan. 13.
"I think our power play's going to come back and give us some stuff," coach Willie Desjardins said. "I feel confident in that. ... I think our battle level was OK, but we weren't at the level we needed to get the win."
TONIGHT
VS. EDMONTON
When: 7:30 p.m. Sunday.
On the air: TV: FSW; Radio: iHeartRadio (LA KingsAudio Network)
Update: Edmonton is 1-0-1 under Ken Hitchcock, who replaced the fired Todd McLellan. Connor McDavid and Leon Draisaitl have combined for 26 goals in 22 games. Former Kings defenseman Kevin Gravel has been in the lineup the past two games.
Twitter: @curtiszupke
---