Kings try to soak up trip to China and preseason games with the Canucks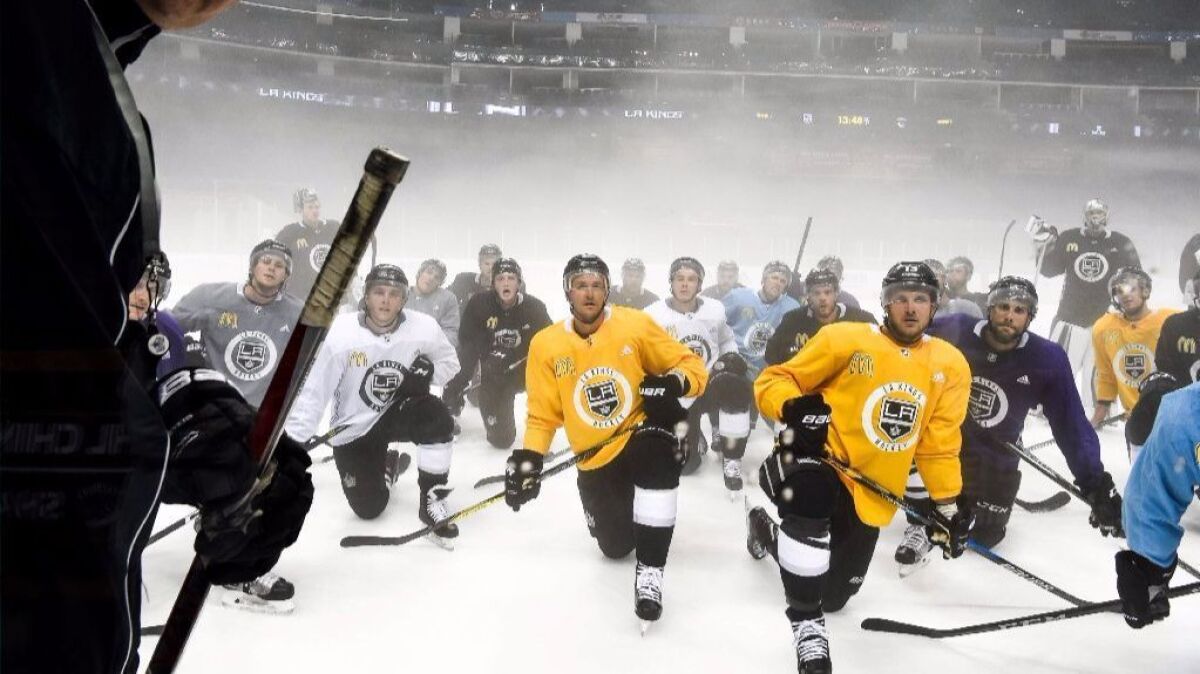 Certain sights and sounds associated with the Kings will be missing when they play the Vancouver Canucks in China.
Their Stanley Cup banners won't hang in the rafters, and Dave Joseph won't announce their goals. Presumably absent, too, will be Kings fans' well-worn heckle to opposing fans that typically isn't fit for most newspapers to print.

For the record:
11:45 a.m. Sept. 25, 2022An earlier version of this post referred to Mercedez-Benz Arena. It's Mercedes-Benz Arena.
"It's going to be interesting to see how the crowd reacts," Kings President Luc Robitaille said. "We were told not to expect the L.A. Kings crowd."
The Kings instead expect to break ground, along with the Canucks, when they play the NHL's first preseason games in China on Thursday in Shanghai and Saturday in Beijing.
They will play in front of some people who have never seen a hockey game in person and probably aren't as familiar with winter sports.
"I know they're going to have a lot of fun watching the game of hockey," defenseman Drew Doughty said. "I think when you watch the game of hockey live, it is completely different than watching it on TV. It is the one sport that is definitely better live."
The barnstorming trip is an NHL initiative to grow the sport in China, with a nod toward the 2022 Beijing Winter Olympics, although NHL players will not participate in the 2018 Winter Olympics in South Korea and no agreement is in place for their involvement in 2022.
The grassroots aspect will have the Kings and Canucks conduct youth clinics and a hockey demonstration with kids at a Shanghai mall. A China-based NHL partner, Bloomage International Culture & Sports Development Co., is also helping to expose the sport to a population of 1.3 billion.
There is a mandate to build hockey rinks in China, with the goal of having 300 million people playing winter sports in the next six years, according to the NHL.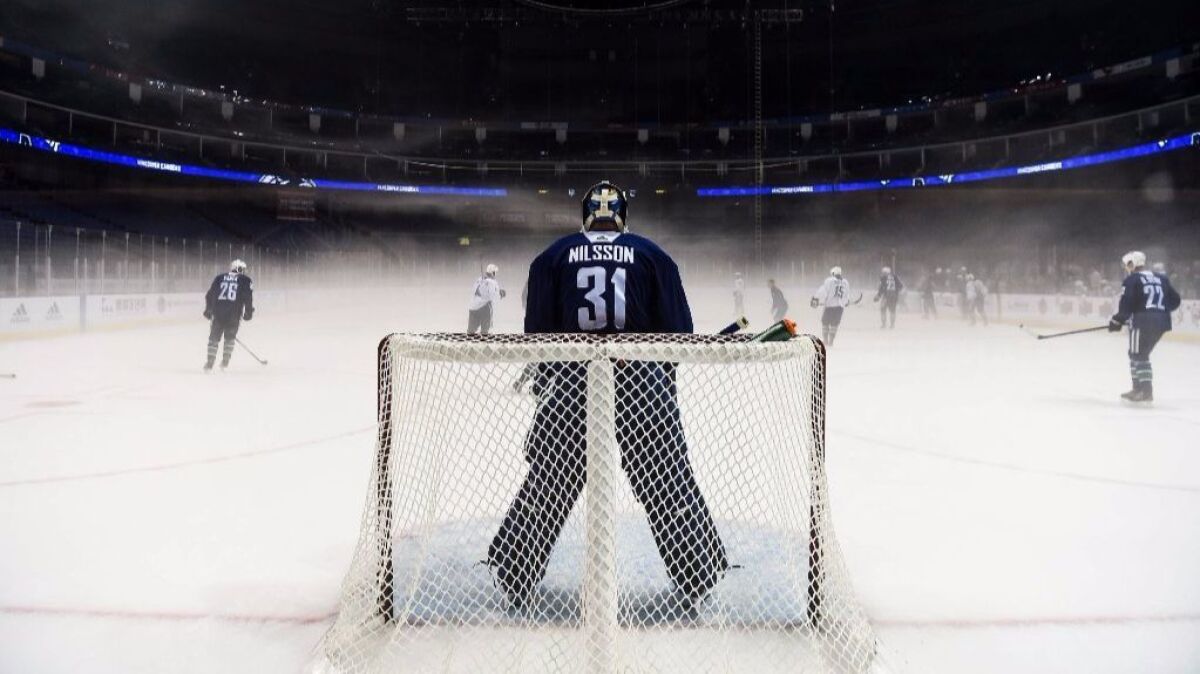 Hockey already has presence in Beijing because Russia's Kontinental Hockey League has a team based there, the Kunlun Red Star. Chris Lee, a defenseman in Kings training camp as a free agent, spent the previous four seasons in the KHL and has played in Beijing. He thinks the potential is there to grow hockey.
"As long as they promote it well and get people involved, they're the type of culture that once they get going on something, they really go hard at it and do it well," Lee said. "There's so many people there, and if they can get the young kids involved early enough, who knows?"
It's natural to draw comparisons to the exposure of hockey to Southern Californians upon the arrival of Wayne Gretzky in 1988. Within months, kids were playing street hockey in suburban neighborhoods.
Robitaille, who was part of a Kings contingency that visited China in March, said this could have similar potential, but it's a longer project on a bigger scale.
The NHL held games in Tokyo before and after the 1998 Winter Olympics in Nagano, Japan, but Bill Daly, the NHL deputy commissioner, told Sportsnet this week that that did not build the interest they had hoped.
"It's going to take time," Robitaille said. "We're going to have to work at it, but I know the government in China is really focused on developing hockey."
The Kings have a stake in that the two arenas, Mercedes-Benz Arena in Shanghai and Wukesong Arena in Beijing, are owned or operated by AEG, which owns the Kings. It is akin to the Kings' 2007 excursion to London for regular-season games against the Ducks at O2 Arena, which also falls under the AEG umbrella.
"When you own these arenas, you always want to have as many special events as possible," Robitaille said. "To host the first NHL games in China, we'll take that as a special thing for our team and our organization. I think everybody understands that this is a historical event."
The first curveball got thrown to the Kings on Tuesday. Humidity at Mercedes-Benz Arena produced fog above the ice surface for their practice, which made for cinematic photos on social media.
Kings coach John Stevens is hoping for more meaningful moments. He is tackling the trip with equal parts hockey preparation and life experience. His plan included an in-flight sit-down with players to discuss fitness and training camp expectations, and there will be team dinners and a visit to the Great Wall.
"To me, the icing on the cake is just getting an opportunity to grow the game in a country that's not familiar with it," Stevens said. "That's exciting."
Most Kings players have played primarily in North America and Europe. Even the most travel-tested veterans felt the 14-hour flight was challenging, but they agreed that the experience will last long after their careers end.
"Hockey brings you to some amazing places in the world that you never thought you would [visit]," center Michael Cammalleri said. "First and foremost, I think you worry about preparation and how you're going to feel. …Otherwise, you get to see some cool stuff that you never saw."
The Kings did bring one creature comfort along: Staples Center organist Dieter Ruehle is on the trip.
---
Get the latest on L.A.'s teams in the daily Sports Report newsletter.
You may occasionally receive promotional content from the Los Angeles Times.