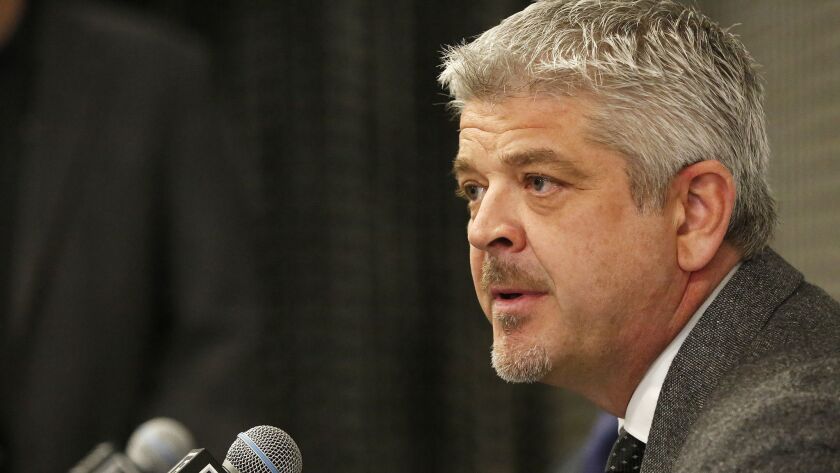 The remote control in Todd McLellan's living room got a good workout over the winter and early spring.
From the comfort of his home in picturesque Kelowna, Canada, in the Pacific Northwest, McLellan watched all 31 NHL teams. His attention gravitated toward the Kings as their season deteriorated, and he followed their aired-out dysfunction to the end, until his phone rang with Kings general manager Rob Blake on the line.
But even then, "I didn't know what Rob's plan was here," McLellan said Wednesday.
That was soon laid out and sold to McLellan, who was willing to take on the Kings over multiple other coach openings in the league. McLellan liked the people in the organization, notably his former pupil, Blake, and the directive to install a framework for the team get back into contention — eventually.
"We know where we're at right now," McLellan said. "The project's big. It's going to take a lot of heavy lifting, a lot of buy-in from players, management, coaches, and if we can all come together over time, we'll get it going the right way."
Blake said the Kings will buy out the $3 million remaining on McLellan's contract with the Edmonton Oilers. He signed a five-year contract with the Kings, valued at about $25 million, that was finalized Tuesday to end a competition with at least one other team.
McLellan met with the Buffalo Sabres and said it was a "great experience" and a terrific coaching job for whoever gets it. He was not linked to any other jobs, and Blake didn't get deep into interviews with other candidates.
"As extensive as this?" Blake said. "No. I knew who I wanted."
McLellan will fill out his staff with an assistant coach in the coming weeks. Assistant coach Dave Lowry will not be retained, Blake said. Assistant coach Marco Sturm and goalie coach Bill Ranford were already under contract and will stay on board.
The makeup of the Kings could change by the time McLellan coaches his first game, with the draft in June and start of free agency on July 1. Regardless, the Kings and McLellan recognize that they need to overhaul a culture.
"I think this team won [Stanley] Cups because of attitude and character, not because they were the most skilled team," McLellan said. "And it got them to the top of the mountain. Attitude and character can't take them deep into the valley now."
McLellan said the captaincy will remain with Anze Kopitar, whom he met with briefly before his introductory news conference, held at the team's dimly lit shooting practice area.
McLellan stressed the need to rebuild the defense but also said he'd like to play an entertaining style that conforms to today's fast NHL.
"We've got to present ways for them to enjoy playing the game," McLellan said. "We've got to present ways that are entertaining for the fans, and I'd like to see us play with pace. I'd like to see us attack."
McLellan was associated with high-octane power plays with the San Jose Sharks and said "we've got to get the confidence level back up in some individuals." One of McLellan's projects in that department is Ilya Kovalchuk, whose deadly shot was not effectively deployed and whose first season with the Kings soured into a diminished role, partly because of defensive disinterest.
"You can see he has a lot of things to offer, and we'll talk about that and we'll see where he's at, what he's willing to accept, and we'll go from there," McLellan said.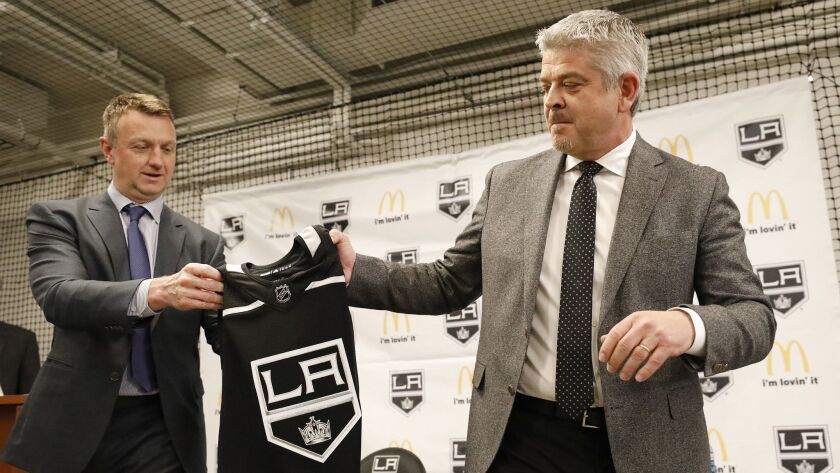 Blake was big on McLellan's teaching ability, particularly when it comes to explaining the systems they will implement. Blake saw it as a player under McLellan.
"My two years in San Jose really accentuated that part," Blake said. "Why are we doing certain things on the power play? Why are we doing things from the red line in? A lot of us just do those things, but there's an understanding to why we are doing it. I think it's a valuable lesson."
The travel-weary McLellan ran into Tyler Toffoli in Manhattan Beach on Tuesday night. The chance encounter was a glimpse of his soon-to-be Southern California life, an ironic twist because McLellan wore the villain hat with San Jose and famously lost a 3-0 series lead to the Kings in 2014.
McLellan finished a reporter's question about that series when he said, "Didn't go our way?" Then he framed it in a current, bigger picture.
"That was the prime of this organization, in my mind. When the team can do that, they have players, they have talent and they have the internal drive to get it done," McLellan said.
"I'll use that with the players now and say, 'Where are we at with that internal drive? Where are we at with the standards? Have we let them slip or can we get back to that?'"
Etc.
Toffoli and Cam Fowler of the Ducks were nominated for the King Clancy Trophy for community service. … Blake said there was no additional news from the end-of-season medical evaluations.
Sign up for our daily sports newsletter »
Twitter: @curtiszupke
---