Defensemen Oscar Fantenberg and Paul LaDue are fighting for Kings' roster spots
Defensemen Oscar Fantenberg and Paul LaDue essentially came of age for the Kings in the same game last spring.
In a double-overtime loss to the Vegas Golden Knights in Game 2 of their first-round playoff series, LaDue scored the Kings' only goal and Fantenberg played a career-high 41 minutes. The former showed his nose for offense and the latter an indefatigable presence.
Both are trying to springboard off that series into an opening-night roster spot.
LaDue, 26, played in just 26 regular-season games but they were important second-half games, and his comportment in the playoffs showed he was ready for a bigger role as a two-way defenseman who skates well.
"Just going off of last year, the experience of the playoffs, I think I know what I need to do," LaDue said. "I think I know what type of player I need to be to stay in the lineup and that's what I plan on doing this year. I'm excited for this year."
Fantenberg, 27, took the opposite path of LaDue in his rookie season. All but one of his 27 games was played in the first half before he was re-assigned to the minors, then called upon to play the regular-season finale and all four postseason games amid injuries to Derek Forbort and Jake Muzzin.
An experienced European player when he signed with the Kings, Fantenberg has trained under Par Johansson, a coach in Sweden who has worked with No.1 overall pick Rasmus Dahlin of the Buffalo Sabres, among others. Fantenberg has shown to be a smart puck mover but the question of consistency always comes up in his development to becoming an NHL regular.
"To be on the blue line, every night, every game — that's my goal for the season to maybe take another step and play bigger minutes and more games," Fantenberg said. "That's my goal for camp. I don't take anything for granted. I just want to work every day to be better and show the coaches they can trust me."
LaDue and Fantenberg would need to clear waivers to be sent down. That makes it a more difficult decision for Kings' management, as opposed to rookie Daniel Brickley, who would not need waivers to go to Ontario.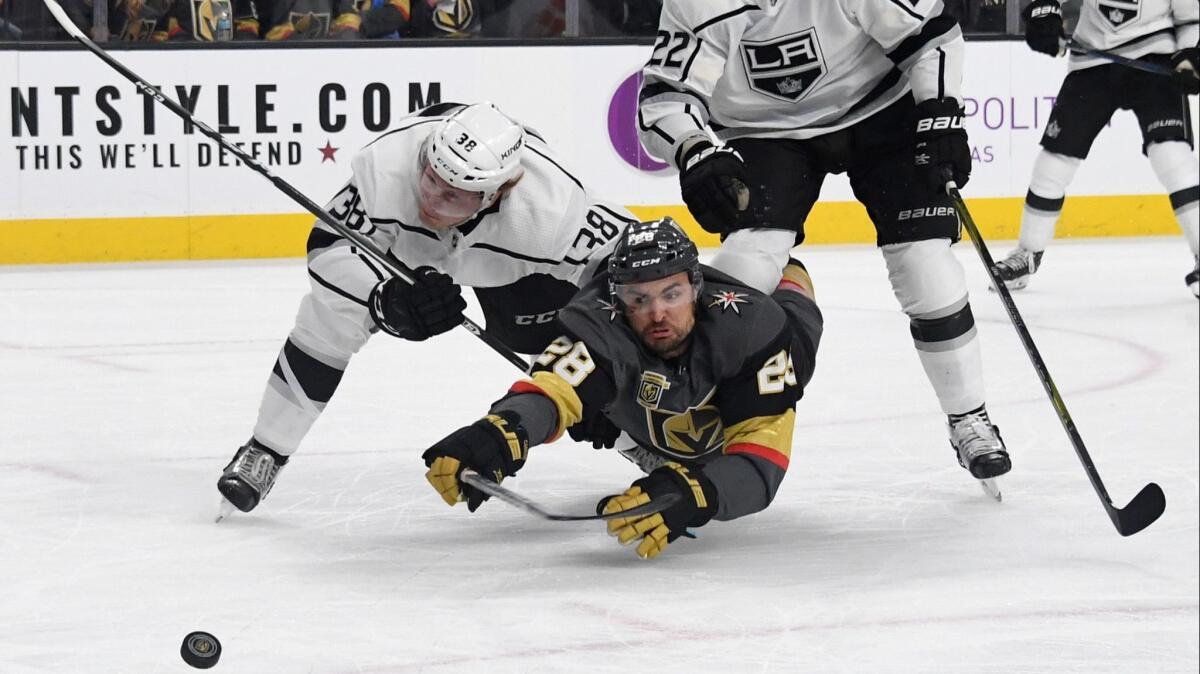 Brickley has mostly been paired with Drew Doughty in preseason, while LaDue and Fantenberg have often been with veteran Dion Phaneuf. That in itself has helped their development.
"He's one of the best I've seen with the young guys, helping us out, showing us the way and getting on us if we're slacking," LaDue said of Phaneuf. "It's been great. He's an easy guy to play with. He talks a lot. You know where he's at on the ice and he keeps the game simple."
Comtois shines
Max Comtois and Adam Henrique each scored twice and Andrej Sustr, Rickard Rakell and Jakob Silfverberg also scored for the Ducks in a 7-4 win Wednesday against the Kings at Honda Center.
It was a good sign for the group of young Ducks players like Comtois who seek to fill a void left by Corey Perry, out five months because of knee surgery. Comtois alluded to the camaraderie among those youngsters.
"We had a good rookie showcase in Vegas," Comtois said. "We had the chance to know each other and it would be nice to stay together."
The highlight for the Kings was a goal by Austin Wagner that showed off his speed when he beat two defenders to a puck and broke in on Ryan Miller.
"It feels good to get one in an NHL game, that's for sure, against a future Hall of Fame [goalie]," Wagner said. "It's a big accomplishment in my life, but it's just a building step."
The Kings rested nearly all of their veterans and recalled forwards Drake Rymsha, Boko Imama, Matt Luff and Sheldon Rempal.
Injury updates
Kings coach John Stevens is hopeful that Forbort (back) can get into a game before the preseason ends Saturday. Gabriel Vilardi (back) is skating on his own in a track suit.
There remains no timetable for Ryan Kesler (hip) and Patrick Eaves, who are both on skating programs, a Ducks official said. General manager Bob Murray has generally pointed to game No.10 as an approximate return for Eaves.
Free hockey
The Ontario Reign will play the San Diego Gulls at 7 p.m. Monday at Honda Center. The game is free but tickets must be reserved. Visit anaheimducks.com/GullsReign.
Twitter: @curtiszupke
Get the latest on L.A.'s teams in the daily Sports Report newsletter.
You may occasionally receive promotional content from the Los Angeles Times.