What we learned from the Kings' 4-1 win over the Ducks
Willie Desjardins has the pacing and the facial expressions down pretty good. Now if he can only emulate former coach and fellow Alberta, Canada, product Darryl Sutter with more wins.
His debut as Kings coach was successful on several levels. A 4-1 triumph against the Ducks at Staples Center gave the Kings two wins in a row for the first time this season, and glimpses of promise.
The Ducks continued to lose traction at 6-7-3 and find themselves searching for the same thing the Kings seek: emotional intensity.
Here's what we learned:
Desjardins is a good communicator. Players reported that their new coach talked a lot and set a tone on the bench. Some of this was probably out of necessity as a brand-new voice but it's a good sign.
"He's kind of got a real-level demeanor, and I think that calm demeanor helps you stay calm," Jack Campbell said. "I thought the boys really responded to everything he said and stuck to the game plan. It was just a really good start for us."
Desjardins took the emotional temperature of his team postgame, when he talked about getting a good start, something he has always implored his teams to do. That's been a big problem for the Kings.
"A big part of success is confidence," Desjardins said. "I don't think our confidence is great right now. I think at times we kind of fell back. But there's little adjustments we can make that will make us better."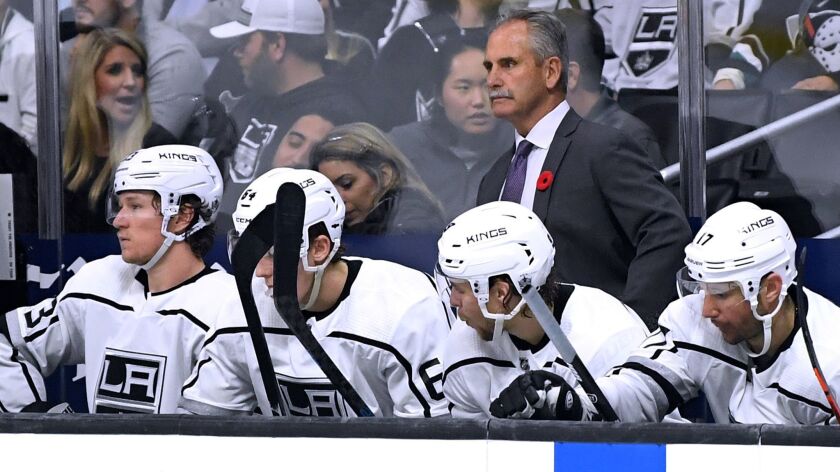 The presence of Brown cannot be underestimated. Brown is one guy, but it's not an accident that the Kings are 3-1 since their former captain joined them following a broken finger.
Brown's goal Tuesday gave him three goals in four games, and elevated the Kings' power play to 5 for 14 over the past four games.
"You look when Brownie comes back this year, he's an emotional leader out there," Kyle Clifford said. "He doesn't say a whole lot in the room, but he carries this team."
Ryan Kesler called out his team. The Ducks center was blunt after a charged rivalry game in which the Kings were more physical than they've been in a long time.
"We just got bullied out there," Kesler said. "They played their game and they pushed us around and we really had no response."
Kesler and the Ducks haven't gotten any traction this season. They were winless in seven straight, won one game, and then fell back Tuesday.
"Consistency. Identity," Kesler said. "We're trying to find all of that. Right now, I don't believe we have that, and we got to find it soon, because we're almost 15-20 games into the season. It's not good enough right now."
Twitter: @curtiszupke
---
Get the latest on L.A.'s teams in the daily Sports Report newsletter.
You may occasionally receive promotional content from the Los Angeles Times.