Prospects for Kings, Ducks built tight bond on junior hockey squad
Someday, perhaps in the near future, Gabriel Vilardi and Max Jones will go head to head in the Kings-Ducks rivalry.
Call it destiny meets acrimony, the future faces of the franchises fighting for every inch of ice at Staples Center and Honda Center like true frenemies.
But they'll always have April in Canada.
For a few weeks last spring, the two formed an unlikely partnership. Vilardi and Jones — the top forward prospects for the Kings and Ducks, respectively — were teammates on the Kingston Frontenacs, joining forces in a junior hockey playoff run. As if cast for a movie, there is the dark-haired Vilardi, a soft-spoken, skilled center and playmaker, with Jones, the edgy, tough, blond-haired winger.
"I think me and him just kind of complemented each other so perfectly," Jones said. "He was good down low, and I was also good down low. He's a shooter, he's a passer. He's everything that a guy like me needs to have on a line. He fed me the puck.
"For the other team, when we were on the ice, they were going to have a tough shift. Me and Gabe worked really well together, and I'm definitely going to miss playing with him and now, sooner or later, I'm going to have to play against him."
That could play out in the fall if Vilardi and Jones make the Kings and Ducks out of training camp. Vilardi, who turns 19 in August, must do so or return to Kingston. Jones, 20, is a good bet to shuttle between the minors and the Ducks.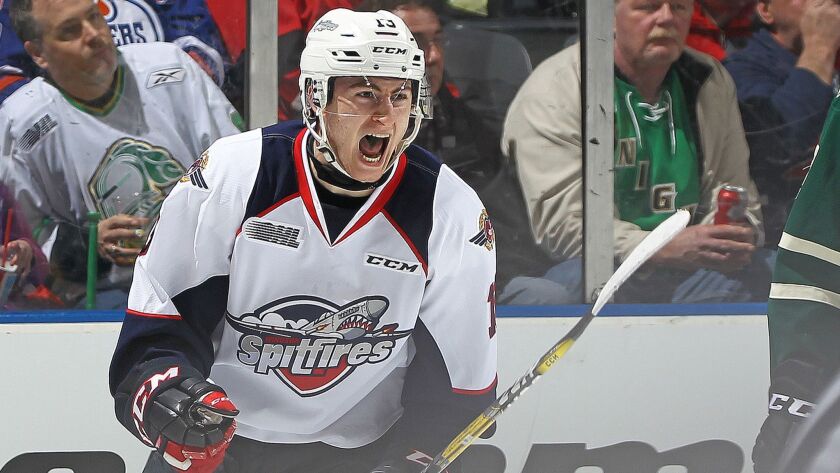 Their roads are uniquely parallel. Both are decorated junior players, having each won the Memorial Cup as champions. Both were traded to Kingston in January and overcame injuries. Both have a lot of eyes on them as the future of the organizations in one of the best rivalries in the NHL.
Jones and Vilardi faced each other before in the Ontario Hockey League, and when they became teammates there was an unspoken let's-do-this camaraderie. Jones only played 15 games for Kingston because of a broken thumb, but he initially played on a line with Vilardi and returned in the playoffs. Jay Varady, the former Kingston coach recently hired to coach the Arizona Coyotes' minor league affiliate, said "they totally changed the complexion of our group" as they helped get Kingston to the OHL Eastern Conference final.
"I've never played with anyone like him before," Vilardi said of Jones, a first-round pick in 2016. "He goes into a completely different zone on the ice. He goes crazy. That's how I describe him. But I like him a lot. He's hard on every puck. Every 50-50 battle, he's going in there with the mindset of 'I'm coming out with this puck.' "
If Jones sounds like the epitome of a player who's loved as a teammate and loathed as an opponent, there's a reason. He has been suspended twice, for an illegal hit and a cross check to the face. He also was ejected from that Game 4 of the conference final for unsportsmanlike conduct. The London [Canada] Free Press described him as "one of junior hockey's most dominant and misunderstood talents."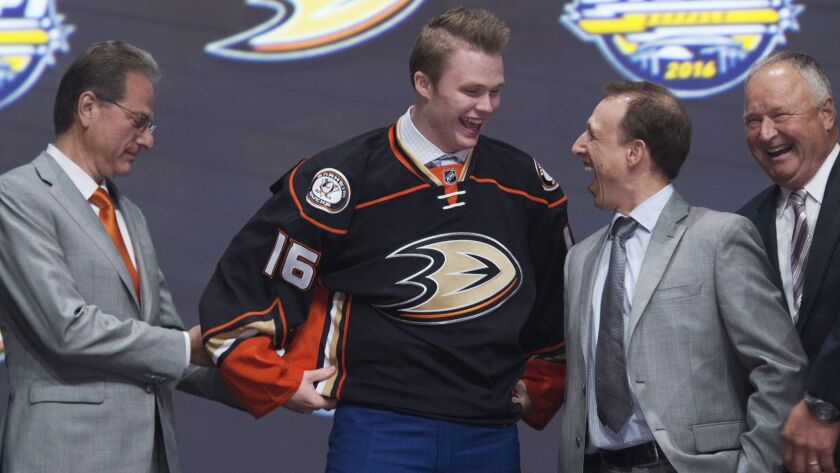 But the Ducks like that fire and want Jones to use it the right away to become an NHL player.
"It's a big step," said Todd Marchant, Ducks director of player development. "It's a much bigger step than moving from the amateur level to junior level and so on. There's lots to learn. Physically, he's there. He's a big strong kid. But now it's about learning the pro game."
Vilardi got a glimpse of the pro routine just from hanging around the Kings, from last June through November, to rehabilitate a back injury. He returned to the ice in January and totaled 58 points in 32 regular-season games with Kingston, his hometown team.
"He filled our net," said Akil Thomas, the Kings' second-round draft pick who played against Vilardi in the OHL.
Vilardi's real impact was his 22 points in 16 playoff games as his highlights were nightly videos on Twitter. It was a refreshing sign for a teenager who dealt with an injury that kept him out for months. The Kings kept close tabs on him, as did Varady.
"We had a lot of communication," Varady said. "[I'd ask] 'How are you? How do you feel?' He'd always say, 'Yeah, play me more.' There was really no sign of a lingering injury."
For Vilardi, simply sleeping in his own bed, 15 minutes from the rink, was a plus for someone with a nomadic hockey existence.
"It was definitely nice getting to live at home again," Vilardi said. "I didn't get the chance to do that [because] I moved out when I was 14. It was good to do that again, but I played with pretty good players, so they definitely helped me out a lot."
The Kings' highest draft pick since 2006, at 11th overall, Vilardi is under a microscope. Warren Rychel, his coach for the Windsor Spitfires, said he's "99% " sure that Vilardi is an NHL player next season.
Vilardi isn't ready to throw out percentages. Last month was his first development camp with the Kings and September will be his first training camp, where he will try to get the puck from Anze Kopitar, Jeff Carter and the like.
"There's still a lot of summer left and I'll keep on working hard and hopefully come camp time I'll be ready to go and hopefully impress the staff here," Vilardi said.
One trait that will help Vilardi is his work ethic. Mike Donnelly, director of player personnel, said that the drive to make the Kings is prevalent.
"Just knowing Gabe and his personality, he's going to want to make our hockey team," Donnelly said. "One thing that we've always noticed about Gabe is that, at his age, he's very mature. He's almost like a pro. When he's doing his workouts, when he's doing his rehab, he's focused. For a young kid, it's an extraordinary attribute to have."
Jones, like Vilardi, knows the clock is ticking on his NHL career. As both wrapped up their respective development camps, they made plans to meet up and take their minds off hockey for an afternoon at the beach.
"Me and him are really close," Jones said. "We did pretty well for ourselves up there [in Kingston]. He's a good friend of mine. He probably always will be."
Twitter: @curtiszupke
---
Get the latest on L.A.'s teams in the daily Sports Report newsletter.
You may occasionally receive promotional content from the Los Angeles Times.