Kings' Matt Greene proves to be a killer against Rangers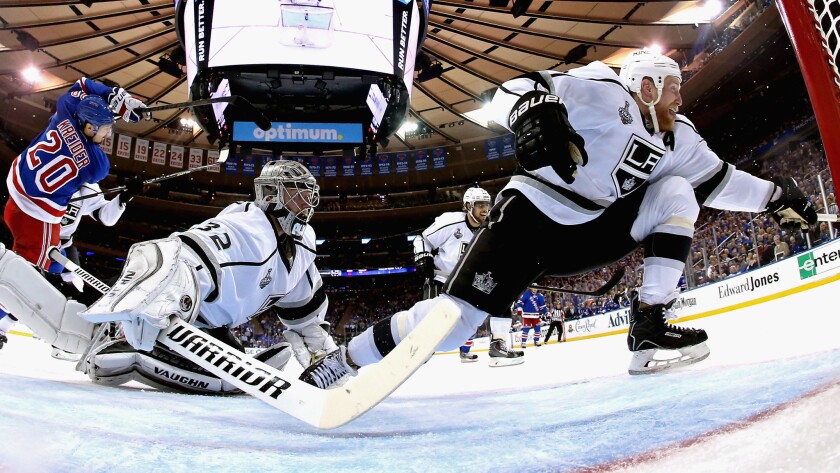 Reporting from New York —
Defenseman Matt Greene really is the face of the Kings' penalty-killing unit.
Not the face, in terms of its No. 1 asset. That would be Kings defenseman Drew Doughty.
But Greene's bloodied face could be considered the poster for the Kings' penalty killers in the Stanley Cup Final.
That was his fate in Game 1 against the New York Rangers, requiring stitches. On Monday in the Kings' 3-0 victory over the Rangers in Game 3, Greene and his penalty-killing comrades were flawless. The Rangers went zero for six with the man advantage and Greene had one sequence in which he blocked two shots on one second-period penalty kill.
Kings captain Dustin Brown lauded Greene and Willie Mitchell.
"I think that's what Greener is all about," Brown said.
"I thought him and Mitchie, especially on the PK were awesome tonight for us. Not only blocking the shots but the low battles, winning puck battles below the goal line against their big forwards that allowed us to clear the puck and give us a breather.
"I thought our PK was awesome and an extension of our five-on-five."
Kings winger Marian Gaborik paid homage to the last line of defense, goalie Jonathan Quick. The Rangers outshot the Kings, 32-15, and Quick had his sharpest game of the Stanley Cup Final.
"He was unbelievable," Gaborik said. "He was our cornerstone there. Our penalty killing was great, and he was the best penalty-killer out there. He had a great game."
Greene talked about the necessary adjustments for Game 4.
"Again, we can't be taking that many penalties," he said. "We gave up four in the second and then a couple more. You don't want to be killing penalties like that in a big game. We were lucky Quickie was on his game tonight, but we've got to be a lot better in terms of just taking penalties."
It was suggested that his bloodied face from Game 1 and the heavy playoff facial growth made him look like a Norse warrior.
"Just a guy with a bad beard," Greene said.
Twitter: @reallisa
---
Get the latest on L.A.'s teams in the daily Sports Report newsletter.
You may occasionally receive promotional content from the Los Angeles Times.