Jeff Carter makes a good read and delivers in Kings' 5-4 win over the Flames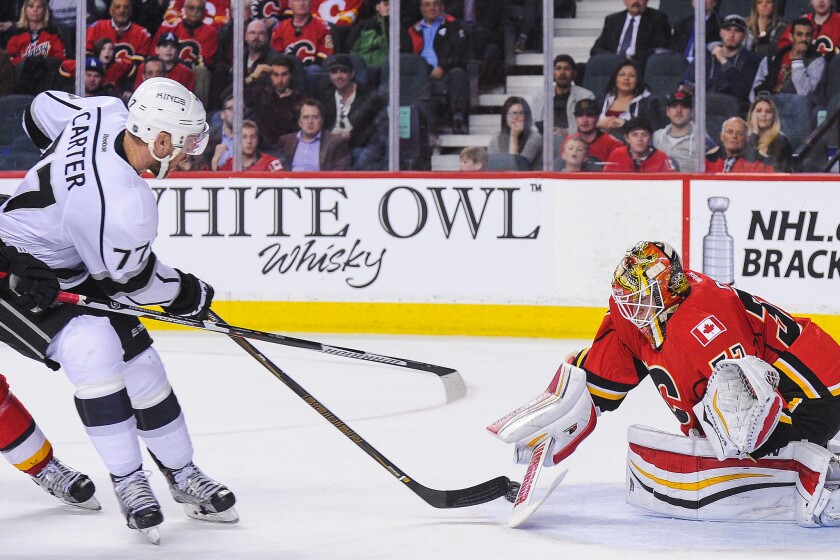 REPORTING FROM CALGARY, Canada —
It wasn't Jhonas Enroth's finest hour in goal for the Kings. He struggled with his positioning twice in the game Tuesday, permitted the Calgary Flames to take a third-period lead.
But in a game that went back-and-forth all night, Kings center Jeff Carter scored 40 seconds into overtime to give the Kings a 5-4 come-from-behind victory at the Saddledome, giving them 99 points on the season and a franchise-record 47 victories.
"I think they kind of got crossed up at the blue line there," Carter said. "He [the Flames' Sean Monahan] kind of fumbled the puck and I just jumped on it."
Carter, smiled, adding: "It's one of those plays. I made a read and either it's going to work out or they're going back three-on-two on our net."
Kings winger Kris Versteeg forced overtime by scoring with only 36 seconds remaining in regulation in a game that neither goaltender — Enroth or Flames' Joni Ortio — will want to feature in their highlight reels.
"We played last night, got in late, this has been a long stretch of games again," Kings Coach Darryl Sutter said. "And it's a historic game for our team — most wins in franchise history, so it's pretty cool."
Enroth, starting in goal to give Jonathan Quick the night off, had a tough go of it. But Ortio was no sharper, which turned the game into an old-school affair, back-and-forth until the last shot.
"You know what, we get out of the first period and our team doesn't give up a scoring chance and the score is 1-1," Sutter said. "That's part of being a backup goalie — you've got to come in and steal a game sometimes."
Said Carter: "Again, not our greatest game. But this time of the year, we'll take two points and win."
Quick is expected to be in goal for the Kings' remaining two games, including Thursday's pivotal meeting with the Ducks that will in all likelihood decide the Pacific Division champion. Both teams have 99 points.
A year ago, in the final week of the regular season, the Kings missed the playoffs, eliminated officially after losing to the Flames.
This year, the roles have been reversed.
One difference: The Kings have won 12 times in overtime this season and twice in shootouts.
It was clear that it was going to be one of those nights for Enroth early in the opening period, when he vacated the crease to play the puck behind the Kings' net. Unfortunately, he and Drew Doughty got their signals crossed, allowing the puck to squirt free to the Flames' Mikael Backlund. In a real Keystone Kops sequence, Backlund's centering pass accidentally deflected off Anze Kopitar's skate into the net.
Kopitar made up for that gaffe by setting up Milan Lucic for consecutive goals, the seond one putting the Kings ahead 14 seconds into the second period. At that point, the Kings had held a wide edge in the play through the first half against a Flames team testing a handful of young players, one of whom — rookie Hunter Shinkaruk — tied the score out of a goal-mouth scramble with 4:09 to go in the second.
The Flames went ahead on a power-play goal by Mark Giordano 33 seconds into the third, but the Kings' Andy Andreoff scored an unassisted goal 32 seconds later to tie it again. Calgary's Derek Engelland gave the Flames a 4-3 lead before Versteeg tied it.
"Wins haven't come easy for us on the road, losing five in a row on the road before this one," Lucic said. "It took all the way until the end to get it into overtime. First shift of overtime we make it count."
The Kings were playing without defensemen Alec Martinez, out with an undisclosed ailment, as well as defenseman Rob Scuderi and forward Kyle Clifford, who were scratched by Sutter. In their place, Kevin Gravel, Jamie McBain and Nick Shore all played.
"It feels good. Obviously we haven't been playing the way we've wanted to," Kings defenseman Jake Muzzin said. "To come away with two points is huge for our club. To see some smiles on the guys' faces again is nice."
Follow Lisa Dillman on Twitter @reallisa
---
Get the latest on L.A.'s teams in the daily Sports Report newsletter.
You may occasionally receive promotional content from the Los Angeles Times.