What we learned from the Kings' overtime win over the Flames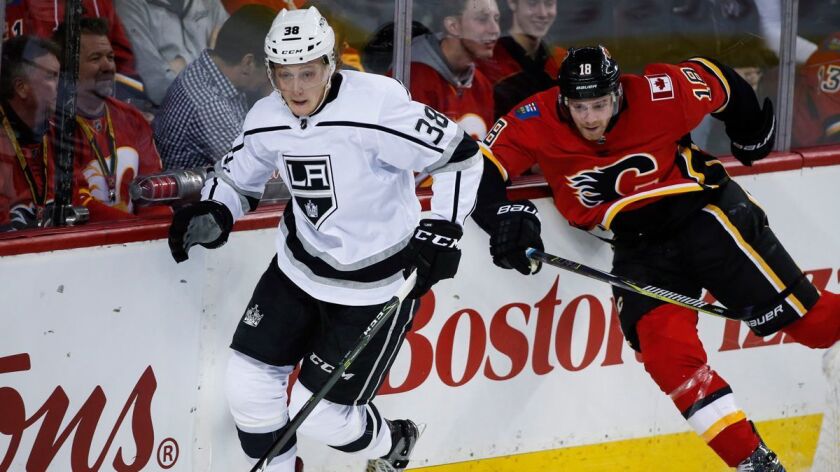 Reporting from Calgary, Canada —
The Kings will be the only team in the NHL that will not be playing a game Thursday, the day before the All-Star weekend begins.
They earned it.
A stout defensive effort emphasized by 27 blocked shots was the undergirding to a 2-1 overtime win Wednesday against the Calgary Flames at Scotiabank Saddledome. The Kings, sigh, gave up the first goal again but regrouped for a desperately required two points, especially with a rash of injuries coming at their four-day break.
Here's what we learned:
They got back to their defensive identity. They spent more time in front of the net and on the perimeter to close down lanes. Christian Folin turned in one of his best games with eight blocked shots and a season-high 20 minutes, 57 seconds of playing time. His body lift of Matthew Tkachuk in the third period summed up the Kings' night.
Kings coach John Stevens is always keen on defense, and he was asked about the 27 blocked shots.
"That was my favorite number in there," Stevens said. "That's something we've talked about. It's a reflection of the commitment to keep the puck out of your net. Every puck that doesn't get there doesn't have a chance to go in."
This was a Drew Doughty game all the way through. It started when Doughty acted like he was felled by Tkachuk against the end boards. Later, in the second period, Doughty was given an unsportsmanlike conduct penalty, presumably for tossing his stick like a golfer who just missed an easy putt. It ended with Doughty taunting Flames fans at the buzzer.
That was after Doughty barely came off the ice during the overtime and set up the game-winner with a fake slap shot-pass to Tanner Pearson.
It only confirmed that Doughty often drives the Kings, and it should be a fun weekend seeing him in the three-on-three tournament that is the All-Star game.
Pearson is money in overtime. He recorded his second overtime goal this season and the sixth overtime goal of his career. Pearson has struggled to match the 24-goal standard he set last season. Wednesday was his 10thh goal but he's making them count.
Asked what it is about him and overtime, Pearson said, "I don't know, but I like it."
Twitter: @curtiszupke
---
Get the latest on L.A.'s teams in the daily Sports Report newsletter.
You may occasionally receive promotional content from the Los Angeles Times.