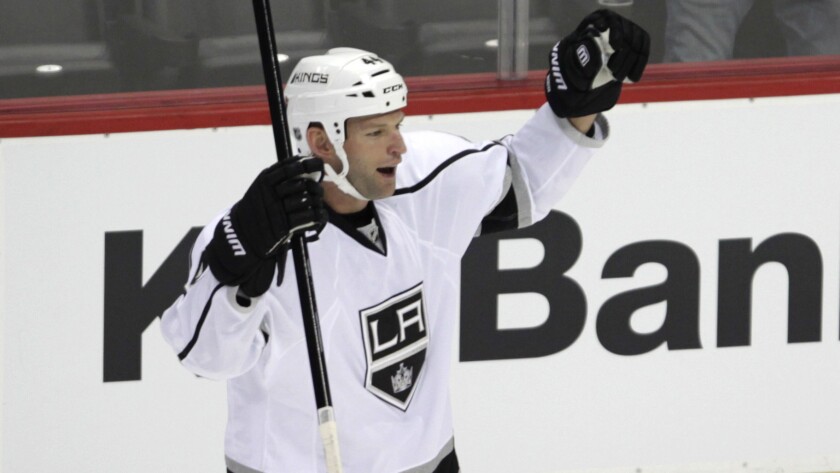 Robyn Regehr was glad to serve as an unofficial cheerleader after he injured his knee during the opener of the Kings' second-round playoff series against the Ducks last spring and couldn't crack the lineup once he healed.
"It was difficult at times, but I knew I had a certain role to play at that point," he said. "I really enjoyed it and made the most of it, getting a chance to cheer these guys on and try to pick them up when they maybe were a little bit down, or keep them level when things were getting a little bit too high."
The burly defenseman was happy to retire his pompoms and return to the lineup Wednesday, his first game since May 3.
"I was working quite hard this summer to get back physically to where I felt I needed to be, and by the end of the summer I was feeling pretty confident and strong with the knee," said Regehr, who is so highly respected by his teammates that Kings captain Dustin Brown handed him the Stanley Cup before anyone else. "I had no problems throughout preseason, which was nice. Got banged around a little bit, made some hits, took some hits. It felt comfortable, which was good."
Regehr's role this season won't change: heavy hitter, reliable penalty killer, fearless shot-blocker. But his address has changed a bit. With Willie Mitchell gone via free agency, Regehr is the Kings' oldest player at 34. That means he gets the biggest locker stall at the team's El Segundo practice facility.
"There's no change in the approach at all. I just think I'll be the butt of a few more jokes and maybe a little bit more ribbing from the guys," he said, laughing. "I moved into the corner suite here. I think that's where they put the old guys."
Oldies, maybe, but goodies.
"It was good to have him back," said his next-locker neighbor, Drew Doughty. "He's a steady defenseman back there for us. Makes the right plays. Plays physical. His veteran presence is key as well."
Name game
Defenseman Jeff Schultz, who played in seven playoff games last season but no regular-season contests, was among the 52 names submitted by the Kings to be engraved on the Cup. Colin Fraser, who played 33 regular-season games, was not included. Owner Ed Roski Jr., Senior Pro Scout Rob Laird and AEG executive Ted Fikre had their names engraved in 2012 but withdrew from consideration this time so others' names could be engraved. "We're all about teamwork and that was a selfless act from a number of team players," said Dan Beckerman, chief executive of AEG.
TONIGHT
AT ARIZONA
When: 6 PDT.
On the air: TV: FS West, Radio: 790.
Etc. The Kings will be without forward Trevor Lewis and defenseman Jake Muzzin when they play the renamed Arizona Coyotes in the renamed Gila River Arena. Coach Darryl Sutter said both have "frustrating injuries." The Kings were 2-3-0 last season against the then-Phoenix Coyotes.
---