Kings are facing uncertainty as trade deadline looms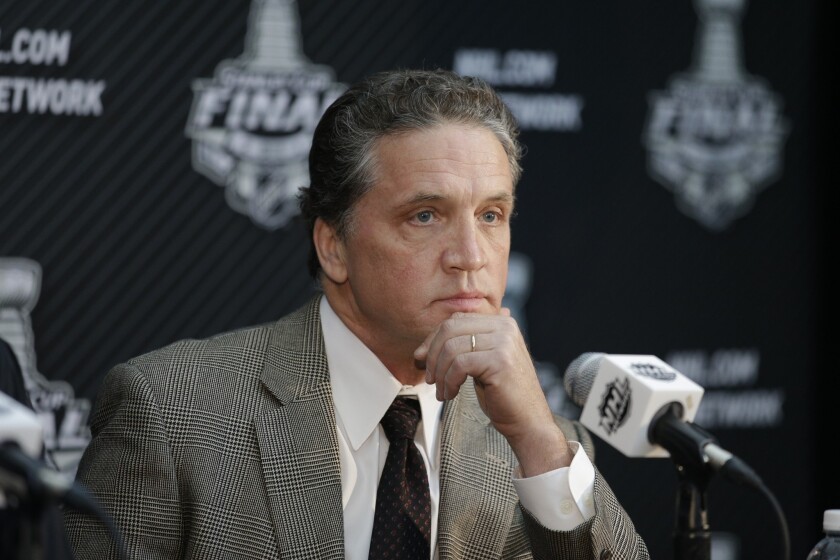 Reporting from TAMPA, Fla. —
And now, for his next magic trick before the trade deadline …
Columbus 3.0?
His team is cratering in the standings — having won once in its last eight games — and Kings General Manager Dean Lombardi is contemplating the present and the murky future. The NHL's trade deadline is less than a month away, March 2.
"Go back three, four years," Lombardi said Friday. "There's only been three deals that have been game changers. You run across the [trade] ticker and fourth-line guys become Gordie Howe."
The Kings play Tampa Bay on Saturday and travel to face Columbus on Monday. Lombardi crafted a deal to get Marian Gaborik out of Columbus last year and acquired Jeff Carter from the Blue Jackets in 2012. Both seasons ended with a championship.
"That's the problem right now," Lombardi said. "Everybody thinks we're going to pull a rabbit out of the hat."
Naturally, speculation will kick up a notch or two Saturday if Toronto's senior vice president and General Manager Dave Nonis attends the Kings-Lightning game, as Lombardi is expecting. Other than the usual noise surrounding the Maple Leafs, Lombardi said his sense around the league is that it has "actually been pretty quiet," on trade talks.
The uncertainty over defenseman Slava Voynov's legal situation has tied the Kings' hands, for the moment, in terms of making a move. Voynov is scheduled to go on trial on March 2, facing a felony domestic violence charge to which he has pleaded not guilty.
Adding to the mix, there is the guessing game over next season's salary cap. It's almost like trying to run a scavenger hunt in the dark.
"I'm not the lone voice in the woods here," Lombardi said, "when I say a lot of these teams are doing the same thing we are — that we don't know what we can do — because we're unsure of the cap.
"It does put a chilling effect, in some cases, on the market."
One of Lombardi's pet peeves has been the widely held assumption that the veteran-laden Kings will pull it together before it's too late, that they have the ability to flip the switch.
"Let's get real," he said. "This has been going on all year. We show signs, like [against] Chicago, we played well. Boston, it looks like we're coming. Then we get this.
"This has been a yearlong thing. This whole flick-switch thing, which is the kiss of death, if you look at history. So the only difference now is you're in February, right?"
Always entertaining, Lombardi managed to slide in a reference to neutrinos, which are subatomic particles. He was talking about the mood in the dressing room.
"You don't even have to be the general manager or the coach to get a feel for the room," he said. "You can sense it. It's weird. But you know what? It's not weird. Fifty years from now, these brain scans and the understanding of neutrinos, we're going to find out there is a scientific basis for that innate feeling we get that we can't explain."
Two potential points vanished from the standings Thursday when the Kings blew a third-period lead against Florida on miscues by defenseman Jake Muzzin and forward Tyler Toffoli.
Kings Coach Darryl Sutter was blunt about the mistakes again on Friday. But it is also his way to try to bolster the team's psyche.
"We have a good understanding of where we're at and how hard it is to make the playoffs, and I think we got past all the other stuff," Sutter said. "We're in a position where it's going to be tough. We know that.
"We thought we played really well last night, and that's what we want to do tomorrow. We made two critical errors that cost us the hockey game. Those guys cannot make those mistakes. You make those mistakes and you're going to lose games, and it cost us a game last night."
Pearson's recovery
Kings left wing Tanner Pearson, who is with the team on this trip, remains on crutches, but there have been encouraging signs regarding his rehabilitation following surgery on his broken left leg.
Another example of the tight nature of the Kings: Pearson lives with goalie Martin Jones, but stayed at teammate Anze Kopitar's house after surgery. And there was Kopitar's cute dog, Gustl, on hand for emotional support.
"Gustl was on point in the comforting process, that's for sure," Pearson said, smiling.
KINGS VS. TAMPA BAY
When: 2 p.m. PST, Saturday.
Where: Amalie Arena.
On the air: TV: FS West; Radio: 790.
Etc.: Defenseman Jason Garrison was injured Thursday in the Lightning's 5-3 win over Dallas and is considered day to day. Interesting note about Tampa Bay's leading scorer, Tyler Johnson: He has performed better on the road, where he's collected 13 of his 19 goals and 18 of his 32 assists.
Twitter: @reallisa
---
Get the latest on L.A.'s teams in the daily Sports Report newsletter.
You may occasionally receive promotional content from the Los Angeles Times.