Kings' losing streak reaches nine games as Hurricanes beat them 6-1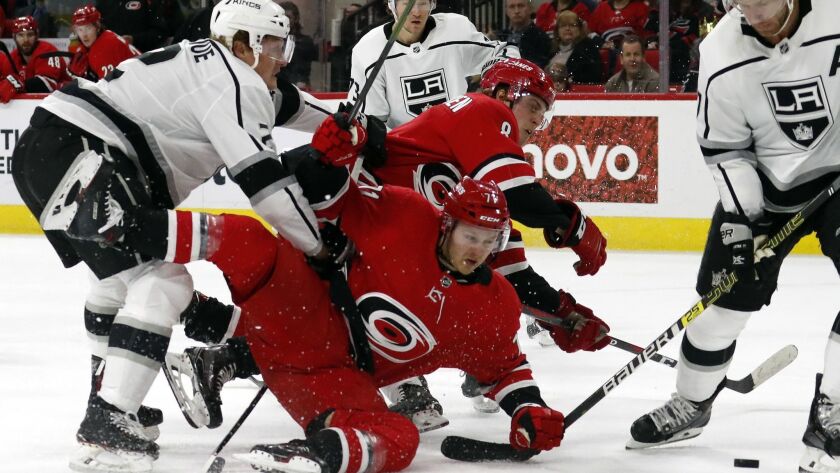 Reporting from RALEIGH, N.C. —
A season of dysfunction melted down into one awkward, uncomfortable scene roughly six minutes into the game.
Jonathan Quick and his infamously short fuse skated to the Kings bench, leaned in and vented angrily at coach Willie Desjardins. Quick thought he was run over on the first of six Carolina Hurricanes goals, and Desjardins did not challenge for goalie interference.
Quick was livid, adding to the ugliness of a 6-1 loss Tuesday, the Kings' ninth in a row, and Desjardins later said he likely should have challenged the goal. Quick didn't go near the bench in the second period. Not even for water.
"You've got to appreciate how competitive he is," Desjardins said. "He felt that that was the call. He's battled a lot for this team. He's an incredible heart-and-soul guy. He's been with this team for a long time.
"We weren't good enough for him tonight, or the last game either. We haven't been good enough for him. It's unfair to him it came out like that."
Quick was not available to reporters afterward. His teammates stepped up for him off the ice better than they did on it.
Sign up for our daily sports newsletter »
"If the rest of us did that, we would have played a little better," defenseman Derek Forbort said.
Forbort sat right next to Desjardins when the argument happened. Quick was bowled over when Carolina's Saku Maenalanen pushed Dion Phaneuf into him. Desperately sprawled, Quick crawled back to his crease when Dougie Hamilton fired it into the open net.
Desjardins said the interference wasn't definitive.
"No, it wasn't clear," he said. "I think it could have gone the other way. It was just a call that, we didn't think we were going to get the call. It was early. I probably should have challenged it. I think Quickie's a pretty smart guy. He felt that there was some contact there, so we probably should have challenged it."
Quick was left in goal for the next five goals before Jack Campbell replaced him at the start of the third period. The mess got messier.
Jeff Carter committed a nasty high-sticking penalty. Forbort and Kyle Clifford received misconducts and were sent to the locker room early.
The Kings finished the four-game trip without a win and are 0-6-3 in their last nine, the third-longest losing streak in franchise history. A big thread in that streak is in the inability to help out Quick and Campbell. Tyler Toffoli said it stretches longer than nine games.
"That's kind of how we've felt all season long," Toffoli said. "I think him and Jack, and Cal [Petersen], when he was here, obviously we haven't performed and they've had to make pretty incredible saves to keep us in games."
Dustin Brown scored the only goal for the Kings, on a night at PNC Arena dedicated to former teammate Justin Williams.
The affable Williams was omnipresent in the pregame show and during the game and he participated in the Hurricanes' popular "Storm Surge" celebration. This time, Hurricanes players skated under an illuminated "Bunch Of Jerks" sign on the ice, a mocking response to how commentator Don Cherry recently described their celebrations.
It couldn't have been further from the vibe in the other locker room.
Said Forbort, "We're definitely letting the frustration get the best of us right now, and we've got to find a way to stop or it's going to be a pretty embarrassing end of the year."
Twitter: @curtiszupke
---
Get the latest on L.A.'s teams in the daily Sports Report newsletter.
You may occasionally receive promotional content from the Los Angeles Times.