Column: Quick, Martinez step up as Kings show signs of life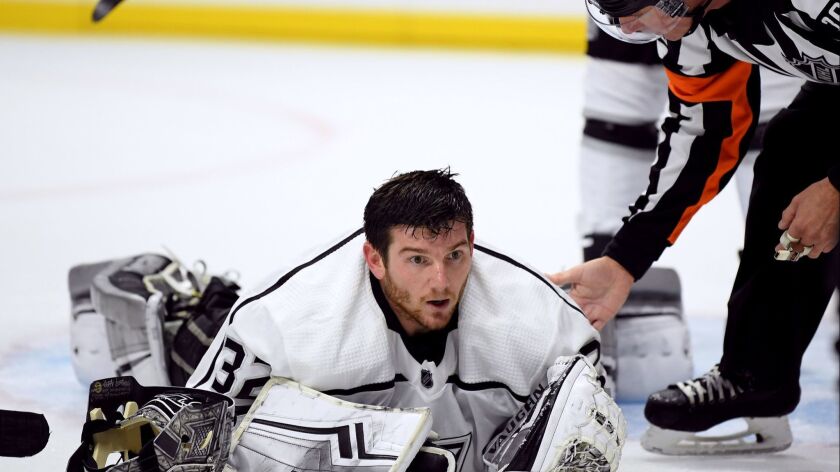 The Kings, who entered Sunday night's game as the NHL's lowest-scoring team, met the next-to-worst scoring team, the Carolina Hurricanes, and managed to claw out a 2-0 victory Sunday night at Staples Center thanks mainly to the superb goaltending of Jonathan Quick.
After the Kings won an offensive-zone faceoff, defenseman Alec Martinez drove to the net and redirected a pass from Jake Muzzin past Carolina goaltender Petr Mrazek with 2 minutes 13 seconds left in the third period. Kyle Clifford almost walked the puck into the empty net with 53 seconds left to clinch the victory, which was made possible by the sharp and confident performance from Quick.
The two-time Stanley Cup winner, who has been limited to six games this season because of knee surgery, kept the Kings in a plodding game by making 34 saves, highlighted by a nimble pad stop on Lucas Wallmark from point-blank range during the second period and strong work during a two-man advantage Carolina gained for 91 seconds in the third period. This was, remarkably, his first victory this season.
"He was incredible," Martinez said after Quick's first shutout of the season and the 50th of Quick's career. "We wouldn't have been in contention if not for him."
The victory provided the Kings a happy ending to a day that began with news of more injuries. Winger Ilya Kovalchuk underwent an ankle bursectomy on Sunday, a procedure that removed the inflamed bursa sac in his foot, and he's expected to be out for four weeks. He had five goals and 14 points in his first 14 games but had gone 11 games without a point and had been getting little ice time from interim coach Willie Desjardins. In addition, forward Adrian Kempe was scratched from Sunday's lineup because of what was called an upper-body injury. He's day to day. Desjardins used a lineup that included seven defensemen and 11 forwards, and the end result was the 19th time in 27 games this season the Kings had two goals or fewer.
Before the news about Kovalchuk and Kempe became public the Kings claimed winger Nikita Scherbak, a 2014 first-round draft pick, off waivers from the Montreal Canadiens. Intrigued by his speed and recognizing the team's shortcomings in that area, general manager Rob Blake risked little by picking up the Russian winger, who will be 23 later this month. Scherbak was sent to the minor leagues after he couldn't crack Montreal's lineup out of training camp and he was on injured reserve because of a lower-body injury. It's not clear when he will be able to join the Kings or when he will be fit to play.
"He's a skill player, first-rounder one time," Desjardins said after the morning skate. "He's got some speed, so I think it gives us some chance to look at a guy."
Young players should be given bigger roles, and soon. Clifford, Nate Thompson, and Dion Phaneuf aren't part of the team's long-term future, but Matt Luff, Austin Wagner and Paul LaDue might be part of the group that leads the Kings up from the depths they're occupying now. If management is worried about selling tickets — a reasonable concern — sell the rebuilding process to fans as an emotional investment in the kids who will be the next generation of leaders here.
Sunday's game was the first for the Kings in December and the first of a four-game homestand. Flipping the calendar apparently reinforced the dire nature of their situation. "We're at that point where we have to win games just to stay alive," Dustin Brown said after the morning skate. "This is the hole we put ourselves in so we've got to keep working to try to get ourselves out of it, and it's going to take everybody."
Defenseman Drew Doughty also recognized the urgency to take advantage of home ice. "This is huge for us," he said. "We want to be a team that other teams don't want to come into our arena and play us."
Quick made them impossible to score against on Sunday, but they owe him and their other goalies more support. Although their penalty killing was good enough to neutralize the Hurricanes' five-on-three advantage, the Kings' own power play was blanked in four opportunities. Their power play ranks in the bottom five in the NHL and should be far more effective than it has been so far. That's on the coaches as well as the players.
On Sunday, though, they found a way to win. They haven't done that often enough to believe this will trigger a dramatic turnaround but it showed they have some life left in them.
Follow Helene Elliott on Twitter @helenenothelen
---
Get the latest on L.A.'s teams in the daily Sports Report newsletter.
You may occasionally receive promotional content from the Los Angeles Times.