Column: Kings lose winning touch at home in 2-1 shootout loss to Islanders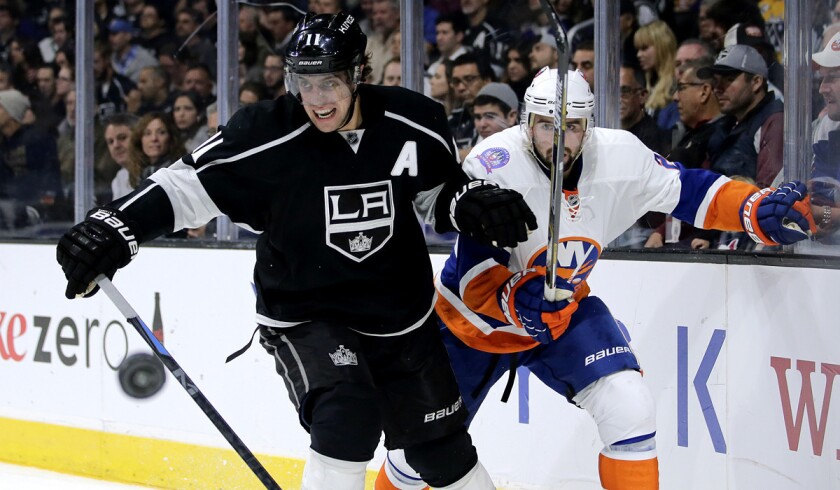 There are no style points to be won in the NHL, but there are consolation points to be banked and lessons to be taken when one point is the reward instead of two.
The Kings got a mild wake-up call Thursday at Staples Center but got one point from a 2-1 shootout loss to the New York Islanders, who completed an impressive sweep of the Ducks and the Kings on back-to-back nights.
The game got away from the Kings "a little bit," defenseman Drew Doughty said, and he was right. The Kings, playing their first home game after a 1-3-1 trip, took the lead three minutes and 49 seconds into the game only to have the Islanders match it on a power-play goal before the first period ended.
That's the way things stayed until Islanders forwards Kyle Okposo and Frans Nielsen scored on Jonathan Quick in the shootout, while Islanders goaltender Chad Johnson stopped Anze Kopitar and Jeff Carter.
Quick made 25 saves and Johnson made 28.
"I thought we played OK in the first, and the second wasn't great, obviously," Doughty said of the period in which the Islanders outshot the Kings, 12-5. "The third period was pretty even, but we gave up too many chances against and we've got to bear down on our scoring opportunities too."
For Coach Darryl Sutter, that inability to score was at the heart of his team's first loss at home after six consecutive home wins. The Kings are 6-1-1 at home this season.
"We held a top team to one goal and we would have liked to score one more," Sutter said. He singled out Anze Kopitar and winger Marian Gaborik by saying, "I don't think Gabby and Kopi generated very much tonight."
Then again, neither did anyone else. The absence of Justin Williams, who experienced blurred vision after being struck near the eye on Tuesday in Dallas, wasn't enough to explain the Kings' lack of offensive pressure. Jordan Nolan replaced Williams alongside Kopitar and Gaborik and stayed there until the late stages of the game, when Sutter instead moved Dustin Brown up to the top line.
Williams' absence, incidentally, ended his consecutive-games-played streak at 225 that went back to Oct. 7, 2011. His status is day to day while he waits for swelling in the area to subside and for his vision to clear up.
The Kings have overcome such adversity before. They couldn't do it Thursday.
"We've got to be better," Doughty said. "We want to be a good team at home and tonight we weren't."
The Kings' defense was far better than their offense, but they made their collective job tougher by giving the Islanders five power plays, including a double-minor on Brayden McNabb in the second period.
"You want to stay out of the box as much as you can," Kings defenseman Jake Muzzin said. "You're giving their top players a chance to score, so you want to stay out as much as you can, and we have to do a better job at that."
Dwight King's inadvertent deflection of a shot that Mike Richards had thrown toward the net — King said he initially thought the goal belonged to Richards — put the Kings ahead at 3:49 of the first period. But the Islanders matched that during a power play, at 16:32 of the first period. With Richards in the penalty box, Islanders forward Brock Nelson waltzed in on net and took a shot that got between Quick's arm and the post for Nelson's seventh goal this season.
The Kings had two power plays in the third period but couldn't convert either chance. They produced some dangerous chances on the second advantage but were denied by Johnson.
"I thought we were good in spurts tonight," Muzzin said. "We had some penalties and stuff we have to clean up, but I thought we did a pretty good job."
But pretty good isn't good enough, especially at home, and they know it.
"We would have liked to get two points. It's more focusing on our game," King said. "It's still early in the season. You like to get all the wins you can at home. It's just cleaning up transition plays, be smarter with the puck, more or less decisions out there that help you be a good home team."
Twitter: @helenenothelen
---
Get the latest on L.A.'s teams in the daily Sports Report newsletter.
You may occasionally receive promotional content from the Los Angeles Times.