Jake Muzzin has been a tower of strength for the Kings through a turbulent season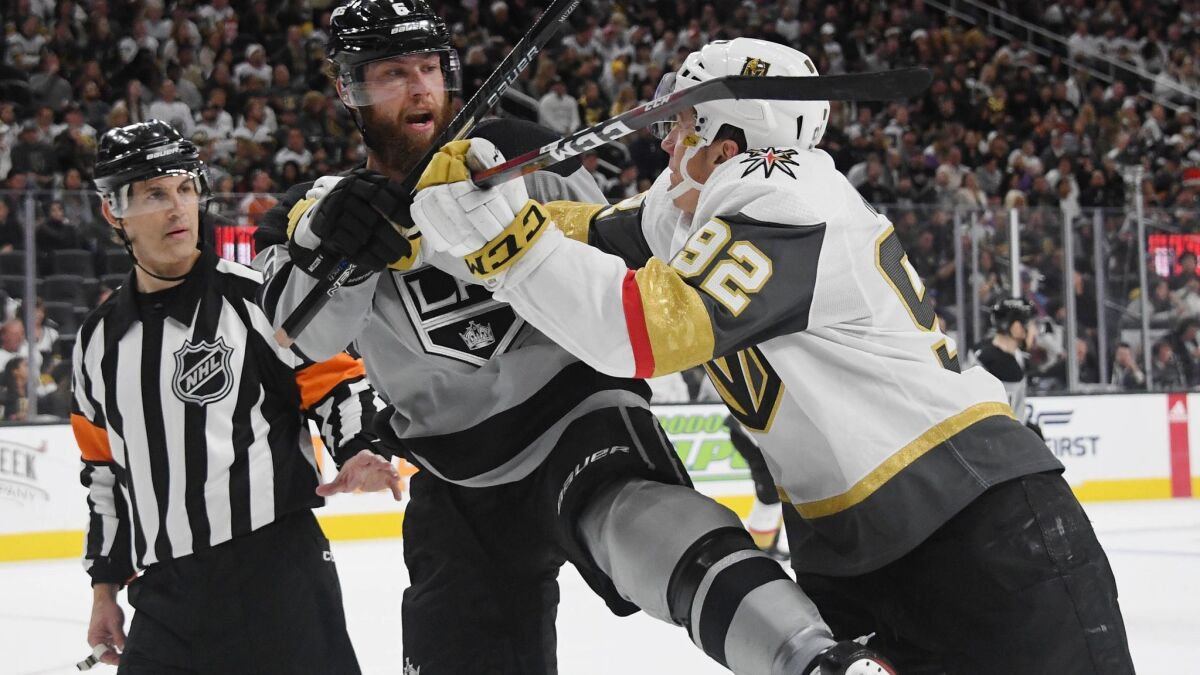 Jake Muzzin has a lot on his plate these days, so much so that he sometimes leans on teammates for advice.
But this has nothing to do with bodying up the best forwards in the NHL every other night, killing penalties or blocking shots. Muzzin and his wife, Courtney, are expecting their first child, a daughter, in April. Many of the Kings are fathers, notably four-time dads Dustin Brown and Ilya Kovalchuk, so Muzzin can ask them what to expect when you're expecting.
"Everyone has just said, 'Get ready for your world to be rocked,' " Muzzin said.
It's a joyous personal time for Muzzin, in contrast to a season of uncertainty for him and the Kings in which Muzzin has turned into the one setting the example from the back end. Muzzin leads the Kings in hits and blocked shots and a plus-eight rating, in addition to looking like their best shutdown defenseman on some nights.
That's heady talk considering the Kings boast regular Norris Trophy candidate Drew Doughty, again their All-Star representative. But for some stretches this season, such as December, Muzzin's play has been impressive and his voice loud. At least twice, after losses, Muzzin has uttered an expletive to reporters in describing his frustration. He's been equally raw owning up to and breaking down those losses.
Doughty has taken notice, especially when Dion Phaneuf was injured. "We lack a lot of that," Doughty said. "He's done a good job of being vocal and doing it the right way."
Doughty points to Muzzin's successful partnership with rookie Sean Walker because "that just shows big-time leadership because it's not easy to play with a first-year guy and show him the ropes."
The irony is that Muzzin's assertiveness coincides with his name among those Kings veterans mentioned as the subject of trade speculation. General manager Rob Blake isn't commenting on such talk, but the Kings are believed to be taking a hard look at moving some of their older players as the Feb. 25 deadline approaches.
Muzzin represents a part of their last championship, the mountaintop of a resourceful, stick-with-it career path that began with his free-agent signing eight years ago.
He beat a path to former coach Darryl Sutter's doghouse in those first seasons and eventually forged a strong partnership with Doughty and Alec Martinez. ,,
Muzzin sees that progression as natural because of injuries and the organization's development of future defensemen like Walker.
"There's been a need for veterans to step in and help and be more vocal and try to help these young guys develop their game in the NHL," Muzzin said. "It's been a learning experience for me. Some guys learn differently. Some guys need a kick in the [rear]. Some guys, you can't be too hard on. You kind of have to kind of observe the personality of the guy and what makes them go."
Kings coach Willie Desjardins coached against Muzzin with the Vancouver Canucks and said he didn't fully know Muzzin's game and personality until he got to the Kings. The same goes for assistant coach Marco Sturm, whom Desjardins handed defensive responsibility.
"For a coach, he's unbelievable, because he's in the game every game," Sturm said. "He wants to be the difference. He knows when he screws up, that he has to be better. Those things really bother him, too.
"I think that's something [that], especially the younger guys, will definitely learn from him. It's just how they can see how he is, even on the bench, just because he wants to be good. That's the thing. That's his mentality."
Sturm and Desjardins both said they were surprised at Muzzin's offensive potential. He has a sneaky good shot and an ability to keep the puck in the zone at the blue line. All four of his goals this season are in five-on-five play.
He might never be an offensive machine, but Muzzin takes pride in an overall game.
"I've definitely been more consistent this year, which has always been a focus of mine: to be consistent every game. Try to provide that stability [as] a good strong defender for the team," Muzzin said. "It's been a focus of mine and it's been better this year."
Muzzin was on the ice for two even-strength goals in a 3-1 loss Monday to the San Jose Sharks. But he made his presence known with a hit on Logan Couture in the third period.
That could sum up Muzzin's intent this season: It's about the details, until the horn sounds and the opposition's world gets rocked.
UP NEXT
VS. OTTAWA
When: Thursday, 7:30 p.m.
On the air: TV: FS West; Radio: iHeartRadio (LA Kings Audio Network).
Update: Martinez could return Thursday after Desjardins said, "I think there's a good chance he'll be able to go," following a 14-game absence because of an upper-body injury. Ottawa center Matt Duchene is not with the team because of the impending birth of his first child, according to the Ottawa Sun. Jean-Gabriel Pageau made his season debut Sunday. He was out with an Achilles tendon injury. The Senators beat the Kings 5-1 with 36 saves from Craig Anderson on Oct.13.
Twitter: @curtiszupke
Get the latest on L.A.'s teams in the daily Sports Report newsletter.
You may occasionally receive promotional content from the Los Angeles Times.