Takeaways from the Kings' 4-3 loss to the Florida Panthers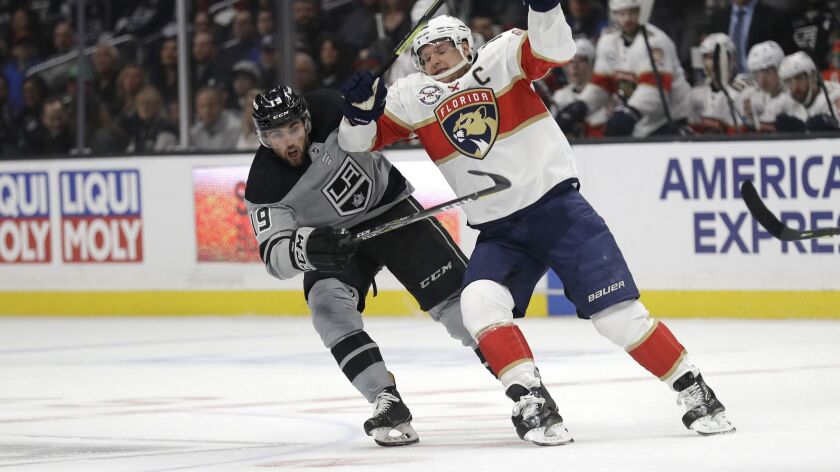 File it under "What This Season Has Come Down to for the Kings":
Ilya Kovalchuk and his 35 career goals against the Florida Panthers was scratched. Dustin Brown, who has made a name in front of the net, has a new position away from it on the power play.
Such is the late-season phase for the Kings as they play out the string in the name of building toward next season. They are evaluating their organizational depth while trying to be competitive, and it has resulted in the aforementioned awkward lineup moves.
Little of it has resulted in wins. Their 4-3 loss to Florida was their 15th in 17 games, and it checked off a new way to lose in the form of Jonathan Huberdeau's goal that barely crossed the line. It needed to be reviewed, of course, but there was no ambiguity about other aspects of Saturday.
Here's what we learned:
Jeff Carter was noticeable. Carter was point-less in 14 of 15 games before Saturday and he still has not scored since Jan. 15. But he made a nice play on Brendan Leipsic's third-period goal with a strong carry into Florida's end and two whacks on net that allowed Leipsic to convert on the rebound.
Carter is the first to admit this is a down season. He might still be impacted by a serious ankle tendon injury from last season, and there are nights when he looks like what he is: a 34-year-old with a lot of miles on his body.
Carter recorded his 700th point as he tries to stay positive. Asked if anything sticks out in his 969 games, Carter said, "A lot of games. It's fun coming to the rink every day. There's a lot of ups and downs, but when you see the guys every morning, it puts a smile on your face."
Austin Wagner got significant time. Wagner played more than 12 minutes and got six shifts in the third period. That last part is notable because interim coach Willie Desjardins hasn't been liberal in giving that late time to younger players. Wagner deserved more ice time after he scored the Kings' only goal Thursday, a courtesy that was not extended to Matt Luff, who was promptly sent to the minors after he scored the only Kings goal in a two-game stretch.
Sign up for our daily sports newsletter »
Wagner didn't score Saturday but was credited with six hits in an afternoon of otherwise little note for the Kings' rookies. Carl Grundstrom was quiet outside of his first NHL minor penalty and Matt Roy was on the losing end of a score-tying two-on-two goal by Florida. One exception was Kurtis MacDermid and his heavyweight fight with Josh Brown.
The kids are learning in a losing culture. Is it ideal to develop prospects while losing game after game? The Kings are at least giving their rookies a crash course in how to handle adversity.
Roy, Wagner, Grundstrom, Sean Walker and Kurtis MacDermid are all thrown into a losing fire. Jonny Brodzinski and Paul LaDue, too.
"It's good that they're getting NHL games in, but to come to a team that's in last place, [there's] no direction right now," Drew Doughty said. "Obviously we're playing for something, but we're playing for nothing, and it's tough for these guys.
"I guess it's a good opportunity that they're getting some ice time and getting some more playing time than they probably would have if we were in the playoff race, so I think it's good in that sense."
It should be noted that one reason the Kings didn't want Jaret Anderson-Dolan up with them this season is they didn't want the 19-year-old to be in a losing culture. Anderson-Dolan is currently on fire with 43 points in 32 games with his junior team, the Spokane Chiefs, thanks to a Chiefs-record tying nine-game goal-scoring streak that ended Saturday.
Twitter: @curtiszupke
---
Get the latest on L.A.'s teams in the daily Sports Report newsletter.
You may occasionally receive promotional content from the Los Angeles Times.