Hockey hopefuls jump into net as Kings hold tryouts for emergency goaltender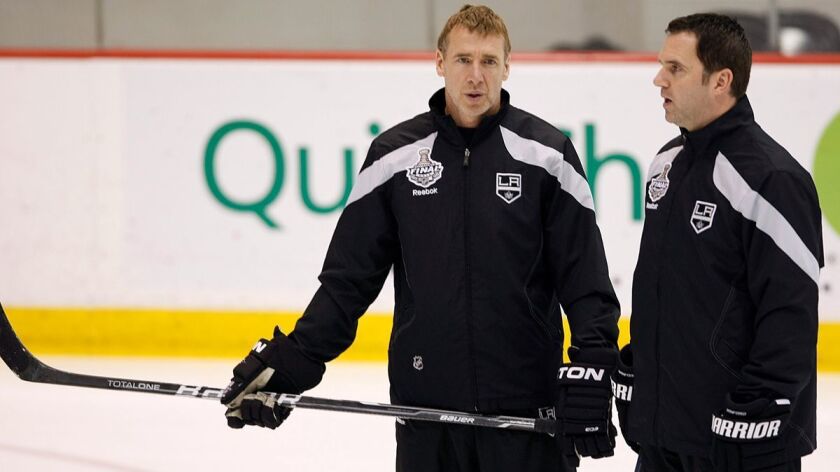 They came from different backgrounds, from as young as 21 up to 58. There were men and women, short and tall, in various practice jerseys that represented teams from Alvernia (Pa.) University to, well, the Kings.
Among the roughly 35 people who auditioned Wednesday to be an emergency goaltender for the Kings was Nick Dube, after he flew in from Vermont the night before.
"I wouldn't miss it for the world," said Dube, 23, who played club hockey for the University of Vermont and works for a marketing company.
Dube's expression was one of exhaustion and joy, fitting for a tryout that was half fun and half serious. The NHL mandates that a team have an emergency goalie available in case its two goalies cannot play. From Wednesday's pool, the Kings plan to pick three candidates who could be used in such a situation at home.
Kings goalie coach Bill Ranford said nearly 1,000 people responded to the call, open to anyone who had not signed a contract to play in a professional league.
"I think it's exciting for California hockey that a thousand goalies would show interest in this event," Ranford said.
Tommy Faust, 28, came from Rancho Cucamonga. He's played since he was 6 but was taken aback by the extended workout and the number of shots he faced.
"I'm exhausted but I've still got that smile on, though," Faust said. "I'm super excited to be here."
Faust — who is not related to Kings broadcaster Alex Faust — said his brother, Billy, recently got the emergency backup role for the Nashville Predators.
"It would be cool to be able to say we were both emergency backups," Faust said.
The goalies faced shots from former Kings players Derek Armstrong, Jaroslav Modry and Daryl Evans, among others, and worked out for about two hours.
Josia Flutts was one of four women to try out. She wasn't quite ready for that length of a workout and was also nervous because she knew there would be some high-quality goalies competing.
Still, "It was an amazing experience," she said.
Flutts, 28, from Corona, is a college administrator at Chapman University and took the summer off to climb Mt. Whitney.
"This is kind of the end of my summer," Flutts said. "It's a great way to end it. I can't complain."
Roster cutdown
The Kings made a big roster cut, from 60 players to 33. Those reassigned to the minors included defenseman Kevin Gravel, who played in 49 games last season.
In addition to veteran Brooks Laich, the remaining players include rookie forwards Jonny Brodzinski, Justin Auger and Alex Iafallo, defensemen Paul LaDue, Oscar Fantenberg and Kurtis MacDermid and goalie Jack Campbell.
Etc.
Recently waived forward Jordan Nolan was claimed on waivers by the Buffalo Sabres. … Michael Mersch and Andrew Crescenzi were placed on waivers. … Andrei Loktionov was released from his tryout contract. … Jeff Zatkoff cleared waivers and was reassigned.
curtis.zupke@latimes.com
---
Get the latest on L.A.'s teams in the daily Sports Report newsletter.
You may occasionally receive promotional content from the Los Angeles Times.