Injured Kings center Jeff Carter is finally back on ice skating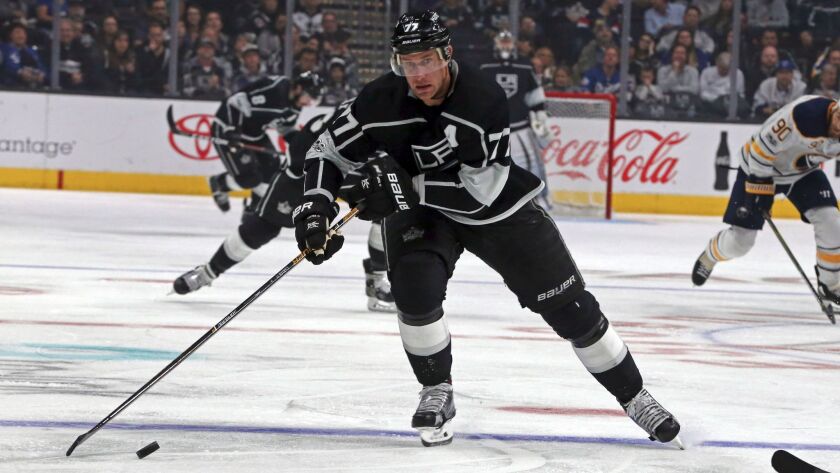 The long road of recovery for Jeff Carter has seen a significant sign of progress, just as the Kings changed out some parts to prevent the wheels from falling off.
Carter has begun skating on his own, according to general manager Rob Blake on Tuesday in what represents the biggest news yet in Carter's comeback from a lacerated ankle tendon that has kept him out since Oct.18. The Kings' leading goal-scorer from last season is still out indefinitely, but his second-half return seriously would upgrade the Kings lineup as the Feb.26 trade deadline inches closer.
In the meantime, the Kings seek answers within the organizational roster and that led to the recalls of forward Michael Amadio and defenseman Paul LaDue. It also led to Adrian Kempe being moved to top line left wing in practice, and Trevor Lewis centering the second line with Tanner Pearson and Tyler Toffoli, a day after the Kings took their fourth straight loss.
"We're in a situation we are now where we've lost several games in row," coach John Stevens said. "I think it's time to take a different look at a couple different things."
Amadio and LaDue are expected to help shake up a lineup gone stale. Amadio is the hottest player in the American Hockey League with a 17-game point streak and 28 points during that run, playing on a line with veteran Matt Moulson. Amadio was up with the Kings this season and said getting sent down was motivation. He scored his first NHL goal Nov. 2, and he's more comfortable at this level.
"It was nice to get to know the guys last time, and get to know them a little bit," Amadio said. "Just coming back up for a second time they made it a lot easier on me, making me feel at home. It's been awesome."
LaDue gives the Kings a right-shot defenseman in the two-way mold of Alec Martinez. LaDue did not crack the Kings lineup this season despite his 22-game experience last season. Those spots went to Kurtis MacDermid and Oscar Fantenberg, who were reassigned Tuesday.
Like Amadio, LaDue is motivated and more confident coming back up.
"I kind of know the pace of the game," LaDue said. "It's obviously going to be a little bit different than what I'm used to this year. But I know what I have to do to play good up here, and I'm prepared to do it."
MacDermid was a minus player in six of his past seven games and tended to have difficulty with mobility against elite players. Fantenberg was useful on the power play but inconsistent defensively. In another move, veteran Jussi Jokinen was put on waivers. He was scratched in seven of 25 games with the Kings after they got him for Michael Cammalleri in a Nov. 14 trade.
That Amadio and LaDue have been up with the Kings signifies a change in the organization, which in past years did not often have room to shuttle younger players up and down to get their feet wet in the NHL. They're not saviors but they're not new, either, in Stevens' eyes.
"Those two kids have been here long enough," Stevens said. "I don't think there's any fog in terms of what's expected of them as players or how we play."
Twitter: @curtiszupke
---
Get the latest on L.A.'s teams in the daily Sports Report newsletter.
You may occasionally receive promotional content from the Los Angeles Times.