Kings goalie Jack Campbell to undergo knee surgery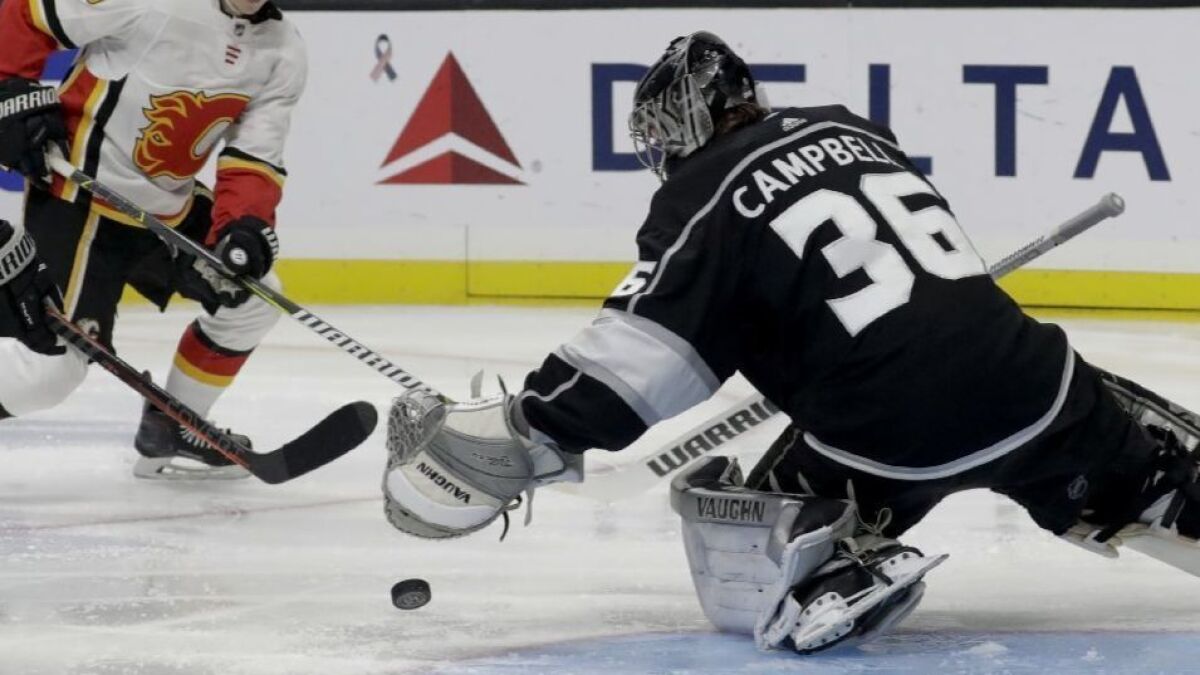 From his new view on the bench, Kings goalie coach Bill Ranford cringed internally.
Early in the second period Saturday, Nate Thompson got pushed into teammate Jack Campbell and pinned the goalie's legs underneath him. Ranford thought Campbell was done for the night.
"I was surprised that he finished the game," Ranford said. "When I saw his leg got caught under him, and any time you see it kind of snap out, you know it's usually not good."
The image of Campbell grimacing skyward should be the Kings' new logo. Their cursed net claimed another goalie Monday with the announcement that Campbell will need surgery for torn knee cartilage. It is the second such injury in two weeks for a Kings goalie after Jonathan Quick's surgery Oct.30.
Campbell is expected to be out four to six weeks. Quick is on track in his recovery, general manager Rob Blake said in an email. That recovery is believed to be about a month from his surgery, and Ranford said they would soon decide whether Quick can start skating this week.
Goalies become available on the waiver wire but the Kings, tight against the salary cap, will stick with Peter Budaj and rookie Cal Petersen.
"There's no external options right now," Ranford said. "Peter won [27] games two years ago and that's the guy we need him to be, and Cal's a young up-and-comer. We just need them to be good. We don't need them to be great. We just need them to be good. That's what Jack was giving us, and that's what we need from them."
Coach Willie Desjardins will choose between the 36-year-old Budaj, a veteran of 365 games, and Petersen, 24, who has yet to make his NHL debut. The Kings play their first back-to-back games this week and would play about 10 games before Quick's projected return.
"Well, I think we'll see both guys as we go forward," Desjardins said. "Peter's been around and he's battled hard with us, so he's certainly going to get a chance. Cal coming in, I think it helps for him to get a chance for us to see the game a little bit, get comfortable. Both guys will see some time. They've both waited for it, and it's their chance, and it's a good chance for them."
Budaj's last NHL start was in December, for the Tampa Bay Lightning. He was injured most of last season and the idea was to get back in an NHL net on his merit.
"It's not the situation I want to get in, obviously," Budaj said. "It's a disappointing thing for our team to lose Quickie and then 'Soupy' [Campbell]. We've just got to roll with the punches. Nobody said the road is going to be easy. Injuries unfortunately happen."
Petersen has worked for this moment, however unfortunate. His NHL debut will arrive five years after he was drafted by the Buffalo Sabres. One of the first things Petersen did was call his parents in Waterloo, Iowa.
"I was definitely smiling to get the opportunity, despite the circumstances," Petersen said. "It's a proud moment for me and a proud moment for them, too, because they put a lot of effort [in] for me to have this opportunity. To be able to show it to them, it's really special for me."
Petersen and Budaj's numbers with the Ontario Reign are reflective of a team that had given up the third-most goals in the AHL through Sunday. But those who work closely with Petersen say his mindset is his biggest strength.
"If you really watch his games, it's been tough for our goalies on our team," said Dusty Imoo, a goalie development coach for the Kings. "We're going through some things. It's been a good thing for him, strength-wise, mentally, because you can get really down when you're not putting up the numbers and not winning.
"I think he's totally ready for this opportunity. I'm not going to say he's ready to be an NHL starter yet, but I'm not worried about him at all coming into this scenario."
It can't get much more extreme. The Reign started Charles Williams on Sunday, and they are soon expected to call up the equivalent of an organization's No. 6 goalie.
Three games into his interim coaching stint, Desjardins already has his hands full trying to conjure a semblance of offense. He has said that they would likely have to sacrifice some defense to induce scoring. But Desjardins corrected that Monday with the latest injuries affecting the most important position on the ice.
"We might have to go back a little bit and be a little bit more defensive right now," Desjardins said. "This team's always been successful because of how they defended. We might have to work on defending a little bit more. We'll put some pieces in place, but we have to defend well."
UP NEXT
VS. TORONTO
When: Tuesday, 7:30 p.m.
On the air: TV: FS West; Radio: iHeartRadio (LA Kings Audio Network).
Update: Toronto's Morgan Rielly leads NHL defensemen with seven goals and has 21 points in 17 games. The Maple Leafs are 3-3 since Auston Matthews suffered a shoulder injury. The Kings reassigned Matt Luff.
Twitter: @curtiszupke
---
Get the latest on L.A.'s teams in the daily Sports Report newsletter.
You may occasionally receive promotional content from the Los Angeles Times.